By Pam Martens and Russ Martens: September 8, 2021 ~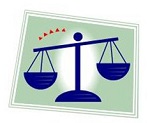 Natalie Mayflower Sours Edwards received her Ph.D. in 2007 from Virginia Commonwealth University. Her dissertation was titled: "Core Competences Required to Lead an Executive Level at the Department of Homeland Security."
On Friday morning, September 3, Edwards began serving a six-month sentence, to be followed by three years of supervised release, in the Federal Prison Camp known simply as "Alderson" in Alderson, West Virginia. There is currently a notice on the prison camp's website that reads: "All visiting at this facility has been suspended until further notice." This means that a woman who set out to help her country ferret out criminal money laundering now finds herself unable to even visit with her husband or her 16-year old daughter.
Edwards is the heroic former Treasury official who tried in vain to get her superiors in the federal government to act on her concerns. Left with no other options to get action, she turned over documents to a BuzzFeed News reporter that became the core of the FinCEN Files, a collaborative investigation involving BuzzFeed News, the International Consortium of Investigative Journalists and 108 other news organizations.
In effect, Edwards spawned an international news bureau focused on exposing the flow of dirty money around the globe by big name banks such as JPMorgan Chase, Deutsche Bank, HSBC, Standard Chartered, and Bank of New York Mellon. One in-depth report at the International Consortium of Investigative Journalists (ICIJ) captures the magnitude of Edwards' service to the public interest with this headline: "Global banks defy U.S. crackdowns by serving oligarchs, criminals and terrorists: The FinCEN Files show trillions in tainted dollars flow freely through major banks, swamping a broken enforcement system."
Part of that broken enforcement system is FinCEN itself. FinCEN is an acronym for the Financial Crimes Enforcement Network, a unit of the U.S. Treasury Department where banks are required to report suspicions of illicit money transactions. The filing forms are known as SARs, short for suspicious activity reports. Edwards turned over more than 2,000 of these SARs to her media contact at BuzzFeed News.
What Edwards found, and is borne out by the reporting that followed her document disclosures, is that banks file these reports simply to cover their behinds, then they continue laundering the money for the same corrupt officials. FinCEN is either structured to look the other way and/or too afraid of the political heft of the banking lobby to take any meaningful actions to counter this vast illicit money machinery.
Edwards' leaked documents, and the attendant international media coverage, unearthed a mind-numbing level of money laundering at global banks. That, in turn, provided the momentum for the United States Congress to pass critical anti-money laundering legislation in January.
Senator Sherrod Brown said this following the passage of the legislation:
"These anti-money laundering and corporate transparency reforms were long overdue. The Anti-Money Laundering Act and the Corporate Transparency Act, which passed the Senate today and are on the way to the President, provide new tools to crack down on anonymous shell companies and on big banks that enable criminals or have lax anti-money laundering compliance programs. We know that criminals have long been adjusting their tactics to get around our laws. This bill will enable us to get ahead of them, and stay ahead of them."
Brown had to rally support to override a veto by then President Trump to get the legislation passed.
Edwards' heroic actions thus not only resulted in award-winning journalism around the globe (including the FinCEN Files being named as a finalist for the 2021 Pulitzer Prize in International Reporting) but her courageous whistleblowing sparked this critically-needed legislation to protect the banking system of the United States and thus the nation's national security.
Edwards deserves a pardon from President Biden, not to be sitting in a Federal Prison Camp where she cannot have visitors because COVID-19 is skyrocketing in the state of West Virginia.
Please consider signing the Pardon Petition for Edwards and forwarding it to your email contact list with a note asking your friends and family to do the same.
For how other whistleblowers have been treated when they attempt to expose corruption at the mega banks on Wall Street, see our past reporting below.
Related Articles:
Tom Mueller's New Book Shows How Whistleblowers Are Increasingly Left to Do the Job that Law Enforcement Won't
Both Wall Street and Its Regulators Fire Whistleblowers
At a Time of Political Darkness in America, Our Whistleblowers and Activists Give Us Reason to Hope
3-Count Felon, JPMorgan Chase, Caught Laundering More Dirty Money