By Pam Martens and Russ Martens: September 7, 2021 ~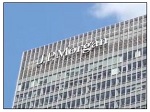 JPMorgan Chase has created its own digital coin called JPM Coin. The bank announced last October that the JPM Coin was being used commercially for the first time by "a large technology client to send payments around the world," according to reporting at CNBC.
According to JPMorgan's website, the JPM Coin currently represents just U.S. dollars but the bank anticipates that it "will be extended to other major currencies, subject to market demand."
According to the trademark application for JPM Coin that was filed with the U.S. Patent and Trademark Office, the JPM Coin is defined as follows:
"Downloadable and recorded software for use in connection with transferring, managing and processing cryptocurrency, digital currency, virtual currency, and digital tokens based on blockchain technology."
JPM Coin runs on the Quorum blockchain, a network the bank developed as a private version of the Ethereum network, whose native crypto currency is Ether. According to a press release issued last fall, JPMorgan Chase sold Quorum to ConsenSys on August 25, 2020. (It just so happens that the co-founder of the Ethereum network, Joe Lubin, is also the founder of ConsenSys.)
The same press release indicates that JPMorgan Chase made "a strategic investment" in ConsenSys, adding this:
"Since the launch of Quorum in 2016, ConsenSys and J.P. Morgan have collaborated to make Ethereum the platform of choice for enterprises building secure and customizable business networks at scale."
"Secure" is clearly a term of art in the crypto world as opposed to being what a typical banking client of a major bank would consider "secure." The Ethereum platform has been the target of multiple hacking operations, including last month's $610 million hack of the Poly Network, a company that facilitates crypto transfers between different blockchains. And that was not the first time Ethereum has been involved in a hack.
Last September, a book by the former Bloomberg News reporter, Matthew Leising, was released by Wiley. The book title did little to buttress the idea of Ethereum as a "secure" platform. It read: "Out of the Ether: The Amazing Story of Ethereum and the $55 Million Heist That Almost Destroyed It All."
That former heist occurred in 2016, and yet, the following year major global banks including JPMorgan Chase, UBS, Credit Suisse, Bank of New York Mellon were among the founding members of the Enterprise Ethereum Alliance, which said its goal was to "augment Ethereum, enabling it to serve as an enterprise-grade technology…."
In an August 5 letter, SEC Chair Gary Gensler responded to concerns about crypto platforms raised by Senator Elizabeth Warren. Gensler wrote:
"The use of stablecoins on these platforms may facilitate those seeking to sidestep a host of public policy goals connected to our traditional banking and financial system: anti-money laundering, tax compliance, sanctions, and the like…
"Unlike other trading markets, where investors go through an intermediary, people can trade on crypto trading platforms without a broker — 24 hours a day, 7 days a week, from around the globe.
"I believe we need additional authorities to prevent transactions, products, and platforms from falling between regulatory cracks. We also need more resources to protect investors in this growing and volatile sector."
JPMorgan Chase's deep involvement in this "volatile sector," which now includes its own crypto coin and blockchain investments, should warrant the immediate attention of its federal regulators.
Money laundering has been cited by regulators as a key attraction for international actors using crypto. And JPMorgan has a tainted history when it comes to money laundering. On January 7, 2014, the bank was charged with two felony counts by the U.S. Department of Justice over its money laundering failures with the business bank account it maintained for decades for Bernie Madoff, who was running the largest Ponzi scheme in history.
Last September, the International Consortium of Investigative Journalists (ICIJ) released a report on how global banks continued to launder money for corrupt individuals and government officials. The report had much to say about JPMorgan Chase.
It seems to be long past the time for federal watchdogs to open the hood and take a long, careful look at JPMorgan's crypto and blockchain operations. The bank is, after all, the largest federally-insured bank in the United States, backstopped by the American taxpayer.