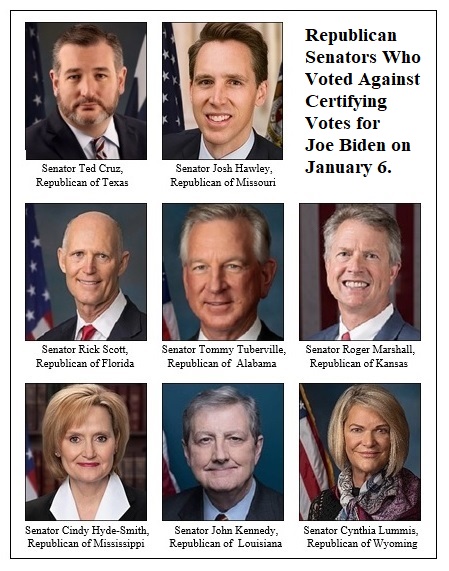 By Pam Martens and Russ Martens: January 20, 2021 ~
The FBI has asked the public for help in collecting evidence surrounding the siege at the Capitol on January 6 — an insurrection that left five people dead, dozens injured, and Congressional members' offices ransacked and laptops stolen. The violent scenes at the Capitol played out live on TV, humiliating the United States around the world. The world will watch President-Elect Joe Biden's inauguration today, surrounded by 25,000 National Guard Troops in Washington, D.C. These images will further undermine the standing of the United States among world leaders.
Because the FBI seems to have ignored for decades the serial warning signs regarding Charles Koch, Koch Industries and their intrusions into  elections, we're providing the FBI a simple and clear roadmap today.
Charles Koch is the billionaire Chairman and CEO of Koch Industries, one of the largest private corporations in the world. Koch Industries is a conglomerate with interests in fossil fuels, refineries, chemicals, paper products and extensive trading operations. For the past forty years, Charles Koch has been involved in a stealthy network of front groups that seek to gut the federal government of its regulatory functions and kill off popular federal programs like the U.S. Post Office, Social Security and Medicare.
To understand the full scope of Koch's involvement in the events of January 6, let's first remember what actually fomented the attack on the Capitol. It was based on the Big Lie that the election had been stolen from Donald Trump through voter fraud — something that Trump's own cyber security chief, Chris Krebs, and Attorney General, William Barr, dismissed as lacking a factual basis. The playbook for the Capitol attack on January 6 was to intimidate Republican members of the Senate and House into refusing to certify the election results, thus withholding the Presidency from Joe Biden.
These are the red flags that lead to the doorstep of Charles Koch and Koch Industries and should play a significant role in any serious investigation conducted by Congress, the FBI, or U.S. intelligence agencies.
Red Flag # 1: There were only eight Republican Senators who refused to certify the votes for the challenged states of Arizona and/or Pennsylvania. (All Democrats voted to certify all states.) Those Republican Senators are: Ted Cruz of Texas; Josh Hawley of Missouri; Rick Scott of Florida; Tommy Tuberville of Alabama; Roger Marshall of Kansas; Cindy Hyde-Smith of Mississippi; John Kennedy of Louisiana; and Cynthia Lummis of Wyoming.
Every Republican Senator who refused to certify the election results on January 6 received funding from Koch Industries PAC.
On January 2, ten Senators joined with Senator Ted Cruz to announce that they planned to "vote on January 6 to reject the electors from disputed states as not 'regularly given' and 'lawfully certified' " until an emergency audit was commissioned. Six of those Senators backed down from challenging the certification after the attack on the Capitol occurred. Those six Senators were: Ron Johnson of Wisconsin; James Lankford of Oklahoma; Steve Daines of Montana; Marsha Blackburn of Tennessee; Mike Braud of Indiana; and Bill Hagerty of Tennessee. All six of these Senators have also been on the receiving end of campaign largesse from the Koch Industries PAC and/or Koch family members.
The money to these 14 Senators from Koch-related entities has been documented by Alex Kotch and David Armiak in a January 5 report at the Center for Media and Democracy. Kotch and Armiak also note that Koch-funded Super PACs boosted the election chances for Blackburn, Daines, Hawley and Marshall, writing that Americans for Prosperity Action has "spent $11.9 million" to promote those candidates.
The authors also note that the Koch-backed Freedom Partners Action Fund, "dropped nearly $3 million into the Wisconsin Senate race to support Johnson and attack his liberal opponent, Russ Feingold."
Wall Street On Parade also looked at data compiled by the Center for Responsive Politics based on Federal Election Commission records. We found that since 2012 Koch Industries has ranked between the second to six largest donor to Ron Johnson in every fundraising cycle. The Center's data also shows that Koch Industries was the number one donor to Senator Lankford in the current 2019-2020 cycle. (The money comes from the Koch PAC, employees or family members of employees of Koch Industries, not the corporation itself.)
Red Flag # 2: At least three of the "nonprofit" groups that fomented the Big Lie that the election had been stolen and actively solicited thousands of people to turn out for the January 6 event were funded by Koch Industries or its front groups.
According to the TrumpMarch.com website, which was sponsored by Women for America First, its "Coalition Partners" for the January 6 event at the Capitol included the Rule of Law Defense Fund; the Tea Party Patriots; and Turning Point Action, among others. The TrumpMarch.com website has since been taken down but it was captured on January 2, 2021 (give it a little time to load) by the Internet Archives' Wayback Machine.
Rule of Law Defense Fund is the dark money arm of Republican Attorneys General Association (RAGA), a group that is raising millions of dollars from corporate felons in order to elect the highest law enforcement officers at the state level. (See our in-depth report of January 14, 2021.) According to IRS filings made by RAGA, it has received $511,400 from Koch Industries and a subsidiary since 2014.
A division of Koch Industries, i360, has a massive voter database that some suggest is far more sophisticated than that of the Republican National Committee. The database includes phone numbers of people likely to turn out for an event of this nature. Its program, Predictive Dialer, says it can "scale call volume quickly so you aren't let down as you ramp up your campaigns, from hundreds of outbound calls per hour to more than 100,000." The Congressional Committees that are investigating the attack at the Capitol need to ascertain if Koch's i360 services were used to make robo calls for the event.
As originally reported by Jamie Corey at the watchdog group, Documented, the dark money arm of RAGA made robo calls to boost turnout for the January 6 event at the Capitol. The message was as follows:
"I'm calling for the Rule of Law Defense Fund with an important message. The 'March to Save America' is tomorrow in Washington D.C. at the Ellipse in President's Park between E St. and Constitution Avenue on the south side of the White House, with doors opening at 7:00 a.m. At 1:00 p.m., we will march to the Capitol building and call on congress to stop the steal. We are hoping patriots like you will join us to continue to fight to protect the integrity of our elections. For more information, visit MarchtoSaveAmerica.com. This call is paid for and authorized by the Rule of Law Defense Fund, 202-796-5838."
Another of the Coalition Partners, Turning Point Action, Tweeted that it was "honored to help make this happen, sending 80+ buses full of patriots to DC to fight for this president." The Tweet was first reported by DailyDot.com.
Turning Point Action is a dark money group that does not report its donors to the Federal Election Commission. However, according to the Center for Media and Democracy, its sister group, Turning Point USA, has received $610,000 from Donors Trust since 2017. (We should note that the IRS has not posted the 990 tax filings as yet for Donors Trust's tax years of 2019 and 2020 so it is quite possible that the cash haul is far greater than $610,000.)
Charles Koch's footprints are all over Donors Trust, another dark money group, as we exclusively reported in 2010. (See Koch Footprints Lead to Secret Slush Fund to Keep Fear Alive.) We wrote at the time:
"There are shades of Charles Koch all over Donors Capital and Donors Trust. Two grantees receiving repeat and sizeable grants from Donors Capital are favorites of the Koch foundations: George Mason University Foundation and Institute for Humane Studies. Another tie is Claire Kittle. A project of Donor's Trust is Talent Market.org, a headhunter for staffing nonprofits with the 'right' people. Ms. Kittle serves as Talent Market's Executive Director and was the former Program Officer for Leadership and Talent Development at the Charles G. Koch Charitable Foundation. Then there is Whitney Ball, President of both Donors Capital Fund and Donors Trust. Ms. Ball [now deceased] was one of the elite guests at the invitation-only secret Aspen bash thrown by Charles Koch in June of this year, as reported by ThinkProgress.org. Also on the guest list for the Koch bash was Stephen Moore, a member of the Editorial Board at the Wall Street Journal. Mr. Moore is a Director at Donors Capital Fund. Rounding out the ties that bind is Lauren Vander Heyden, who serves as Client Services Coordinator at Donors Trust. Ms. Vander Heyden previously worked as grants coordinator and policy analyst at the Charles G. Koch Charitable Foundation."
According to the April 1, 2020 report at the Center for Media and Democracy, "In 2014-15, the Koch's Knowledge and Progress Fund gave $5.3 million to Donors Trust, and the Charles Koch Foundation has given $980,000 to it since 2014. The connected Donors Capital Fund, to which Koch family foundations have also contributed large sums, donated $100,000 to TPUSA [Turning Point USA] in 2016."
Another Coalition Partner for the January 6 event, Tea Party Patriots, has received at least $200,000 from Freedom Partners, a Koch front group. Tea Party Patriots has also received donations from Donors Trust.
We are unable to report if Women for America First, which obtained the permit for the speeches and rally that preceded the march on the Capitol, has ties to Koch funding because it is such a new group that it has yet to file an IRS 990 form. However, its Chair, Amy Kremer, held previous positions in two tea party groups. The tea party movement was a Koch Industries and Big Tobacco creation, as insider Jeff Nesbit explains in his book, Poison Tea: How Big Oil and Big Tobacco Invented the Tea Party and Captured the GOP.
Red Flag # 3: Charles Koch and Koch Industries were heavily vested in wanting to ensure that Donald Trump had another four-years as President.
One of the Koch front groups that played a major role in the 2016 election was Freedom Partners, which closed up shop in 2019.  It was hard to tell where Freedom Partners begins and Koch Industries ends. When the group was still active in 2018, we took a look at its Board of Directors. We found that all but one of its Board Members was a current or former Koch company employee. According to the Center for Media and Democracy, Freedom Partners ended up with 12 of its former employees working in the Trump Administration.
Freedom Partners Action Fund, a related organization that ran attack ads against Democrats, had received at least $14 million from Charles Koch and his trust before it shuttered its operations.
Freedom Partners laid down their marching orders for the Trump administration in a formal memo and their handmaidens in the Trump administration delivered: from the withdrawal from the Paris Climate Accord to the massive tax cut for corporations and one percenters to the gutting of federal regulations and putting industry lobbyists in charge of federal agencies.
But that was just the beginning. Koch Industries law firm, Jones Day, sent 12 of its law partners to staff up key positions in the Trump administration on the very day Trump was inaugurated. Jones Day has since removed the press release it issued at the time but you can read the reporting on it at the American Bar Association Journal. Wall Street On Parade also reported on it at the time, finding it unusual that the Trump transition team would give so many key slots to Jones Day when its partners had supported Hillary Clinton for President. This is another matter worthy of Congressional and FBI investigation.
Red Flag # 4: Koch Industries, through its ownership of i360, was deeply entangled in the campaigns of members of Congress who voted against certifying the votes for Joe Biden. (What kind of intelligence agencies and FBI would allow a private fossil fuels conglomerate like Koch Industries to directly run campaign activities for federal candidates for Congress?) We broke the news in 2018 that Koch Industries had purchased i360. We obtained that information from an internal newsletter at Koch that was available online and from the fact that help-wanted ads for i360 sent applicants to apply at Koch Industries. (The company hasn't denied our reporting over the past two years.)
We reported this at the time:
"The i360 website says that its database now has information on 199 million voters from all 50 states; information on 290 million consumers with 700+ data points; information on precinct election returns as well as data from the Census, NOAA, the Bureau of Labor Statistics and geo-spatial data; individual sentiment information on candidates and issues from its social media operations; and information from its grassroots groups (read Americans for Prosperity) and paid door-to-door knockers who are using a sophisticated hand-held device to update the database in real time in the pivotal weeks before an election.
"But i360 is far more than just a voter database. It has social media targeting operations and really scary data collection that reaches into people's homes. Consider this from their website:
'Through an exclusive partnership with D2 Media Sales, the strategic relationship between DirectTV and Dish, i360 is able to identify households that meet your target criteria and serve ads uniquely to those households – no matter which stations or programs they are watching. With dozens of i360 custom segments pre-matched to more than 20 million DIRECTV and DISH homes, campaigns can now reach the largest addressable TV advertising platform in the nation. One-to-one television targeting combines the emotional impact of TV advertising with the precision and accuracy of direct mail marketing – resulting in the most cost-effective and high impact buying solutions."
According to Federal Election Commission records, a number of Republican House Reps who objected to the certification of Biden's win utilized the services of i360. For example, Mike Johnson of Louisiana paid i360 $15,580 for what he called "electronic media expense." Elise Stefanik of New York paid i360 more than $128,000 which she tagged as telephone service, web service, equipment rental, or simply "subscription." Barry Moore of Alabama paid i360 $12,815 in 2020 for fundraising mailouts and ad buys.
Senator Tommy Tuberville, who objected to the certification of Biden's win, also engaged the services of i360 in 2020. Tuberville paid i360 $50,875 for data subscriptions and making phone calls. As the Capitol was under siege and Trump was watching these scenes on TV, he spoke with the newly-sworn in Senator Tuberville by phone, urging Tuberville to make more objections to the certification of the vote, according to reporting at CNN. At around 7 p.m., Trump's attorney, Rudy Giuliani, made a second call to Tuberville. The call went to voice mail. Giuliani left this message for Tuberville, according to CNN, based on a report from The Dispatch:
"Sen. Tuberville? Or I should say Coach Tuberville. This is Rudy Giuliani, the President's lawyer. I'm calling you because I want to discuss with you how they're trying to rush this hearing and how we need you, our Republican friends, to try to just slow it down so we can get these legislatures to get more information to you. I know they're reconvening at 8 tonight, but it … the only strategy we can follow is to object to numerous states and raise issues so that we get ourselves into tomorrow — ideally until the end of tomorrow…"
The nagging question, of course, is what Trump and Giuliani had planned for "tomorrow."