By Pam Martens and Russ Martens: October 26, 2023 ~
Most people in America have never heard of the newly elected Speaker of the House of Representatives, Congressman Mike Johnson of Louisiana. Billionaire Charles Koch, the fossil fuel kingpin and self-anointed head of the right-wing political money machine, probably likes it that way.
Koch is likely hoping that Americans will just breathe a sigh of relief that the House of Representatives finally has a leader and not look any deeper into who was handed the reins.
According to OpenSecrets.org, the nonprofit watchdog of campaign money, the largest industry supporting Johnson since his first federal campaign in 2015 is the oil and gas industry, which has infused $338,000 into Johnson's campaign coffers. Of that amount, $30,000 came from the Koch Industries PAC, where Charles Koch has sat as the Chairman and CEO for 56 years.
Within hours of the news that Johnson was the new House Speaker, the Sierra Club released this statement:
"Since he first launched his House campaign in 2015, Johnson has received more money tied to the oil and gas industry than any other industry. At the same time, Johnson has a long track record of downplaying and being dismissive of the climate crisis. In 2017, Johnson remarked, 'The climate is changing, but the question is, is it being caused by natural cycles over the span of the Earth's history? Or is it changing because we drive SUVs? I don't believe in the latter. I don't think that's the primary driver.'
"Additionally, Johnson has worked repeatedly to undermine the Endangered Species Act and weaken protections for those species covered by it."
Nonprofits funded by Charles Koch and family-related trusts have also been behind much of the climate denial propaganda. In 2012, the New York Times published documents which had been leaked from The Heartland Institute. The documents showed that the group was planning a tailored curriculum for high schools to spread skepticism about climate change. The documents also showed that the Charles Koch Foundation had contributed $25,000 in 2011 and was anticipated to contribute $200,000 in 2012 to the Heartland Institute.
The Heartland Institute is a climate science denier that has received more than $26 million from two Koch-related groups, Donors Capital Fund and Donors Trust, according to the Conservative Transparency Project using publicly available 990 IRS tax filings.
Charles Koch is now effectively functioning as a puppet master in Washington, pulling levers here and there and everywhere. As we wrote previously:
"Imagine a country that allows a private fossil fuels conglomerate (or its billionaire boss, Charles Koch, the 17th richest person in the world according to Forbes) to get away with the following:
Meet secretly with big political donors twice a year to plot a coordinated strategy to put their chosen people in public office;
Meet at his private club with a sitting Supreme Court justice who will then rule on key legislation that benefits his interests;
Fund an organization that then sluices money to the wife of the Supreme Court Justice;
Run a highly sophisticated voter registration database, data mining and get-out-the-vote operation called i360, in order to pack Congress with people who will pursue an antiregulatory agenda;
Install dozens of its lawyers and operatives into the highest offices of the federal government;
Run a sprawling, opaque trading operation that could potentially be raising the prices of the fossil fuel products it sells via the futures market;
Continue to operate major factories in Russia, ignoring sanctions and a murderous regime waging an unprovoked war on Ukraine, until a pressure campaign forced it to say it will look for an exit strategy;
Fund a sprawling network of taxpayer-subsidized front groups to deny climate change and foment hate;
Provide funding to groups involved in sending a mob to attack the seat of government of its own home country on January 6;
Fund groups that use dark money and propaganda to put lifetime justices on the highest court to pass legislation friendly to the fossil fuels conglomerate.
Congressman Mike Johnson is also a propagandist for Donald Trump. Below is a sampling of what he has posted on his Twitter (X) page in the past: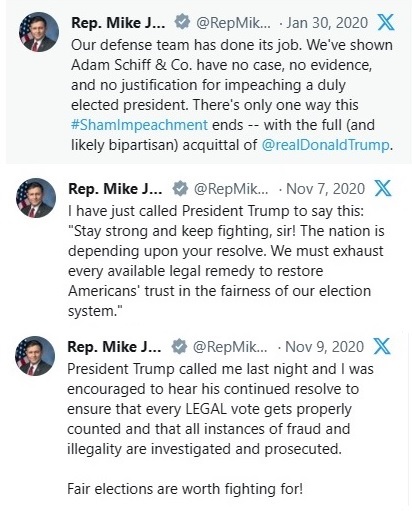 Johnson and his wife, Kelly, who calls herself a "pastoral counselor," have their own podcast, "Truth Be Told," which panders to the religious right while attempting to prop up the political career of Donald Trump. (Multiple episodes start out with a few minutes of unknown voices saying how smart Johnson is and how wonderful the couple is. So much for humility. Trump's voice can also be heard in this opening saying, "Mike Johnson, what a great guy.")
In an August 25, 2023 podcast, Johnson called charges against Donald Trump "bogus charges," implied that the U.S. Department of Justice did not have a case against Trump but had instead been "weaponized" against a political candidate. Johnson also potentially tainted the jury pools that will hear criminal cases against Trump by declaring "it's not racketeering," "it's not a crime."
Johnson has a law degree and has been a practicing attorney in the past. He should know better than to make such statements in advance of seeing the evidence that is presented at trial.