By Pam Martens and Russ Martens: October 24, 2023 ~
The Dow Jones Industrial Average of 30 big-cap stocks closed out last year on Friday, December 30, 2022 at 33,147.25. After setting a year-to-date low of 31,819.14 on March 13 of this year during the banking crisis (a negligible decline of 4 percent year-to-date), the Dow climbed its way back to a year-to-date high of 35,630.68 on August 1. Since then, the Dow has been setting sharply lower lows – a sign of deterioration in its components. The Dow again went negative year-to-date last Friday, October 20, closing at 33,127.28.
Equally notable, 20 components of the Dow 30, or two-thirds of the components, were negative year-to-date as of the close yesterday, October 23. Ten of the Dow's components were down by double-digits year-to-date, through October 23. (See chart below.)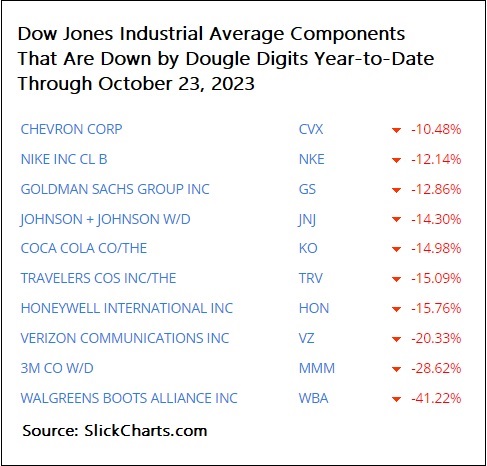 The Dow index reading would be looking far worse were it not for four components which have seen hefty gains this year. Through Monday, October 23, Salesforce has soared by 52 percent; Microsoft is up 37 percent; Apple is sporting a gain of 33 percent; and Intel is in the green by 28 percent.
The broader S&P 500 Index, at first blush, gives the impression of having a good year. The S&P 500 closed at 3,839.50 on December 30, 2022. On Monday, October 23, the S&P 500 closed at 4,217.04, for a year-to-date gain of 9.8 percent.
The problem for the S&P 500 is that only three stocks represent a large chunk of those gains. As of the close on Monday, October 23, Nvidia (ticker NVDA) is up 194 percent year-to-date on Artificial Intelligence (AI) hype; Meta Platforms (Facebook) has gained 161 percent; and Tesla has put in a robust share price growth of 72 percent year-to-date.
Nvidia is trading at a nose-bleed Price-to-Earnings ratio of 106; Meta is at a PE of 36 while being sued by dozens of state attorneys general for addicting children to its social media platforms; and Tesla is trading at a PE of 70 as its Auto-pilot driver assistant program gets a real vetting in a courthouse following a death and injuries.
The Fed had this to say on the subject of elevated asset valuations and market liquidity in its Financial Stability Report that it released last Friday:
"Valuations in equity markets increased modestly from an already high level since the May report. The pace of equity price increases exceeded that of expected earnings, and the forward price-to-earnings ratio rose to a level further above its historical median…
"Market liquidity refers to the ease and cost of buying and selling an asset. Low liquidity can amplify the volatility of asset prices and result in larger price moves in response to shocks. In extreme cases, low liquidity can threaten market functioning, leading to a situation in which participants are unable to trade without incurring a significant cost."
Given that the U.S. currently has a non-functioning legislative branch of government; a leading Republican contender for the 2024 presidential election who is facing 91 criminal felony counts; a deadline to fund the U.S. government approaching on November 17 with currently no Speaker of the House; a war raging in the Middle East and another in Europe; and credit rating agencies scrutinizing ratings on the biggest U.S. banks – perhaps this isn't the best time to get out over one's skis in the stock market.