By Pam Martens and Russ Martens: February 21, 2023 ~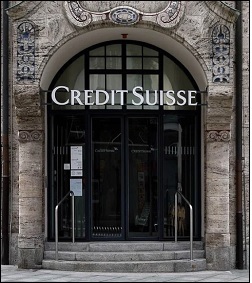 The shares of Credit Suisse can't find a bottom. They plunged to a new intraday low this morning in Europe to trade at the equivalent of $2.79 – down over 6 percent from their previous close.
Sparking the continued exodus out of Credit Suisse shares is the growing concern that the exodus of client assets from Credit Suisse has not found a floor. Reuters is reporting this morning that the Swiss financial regulator, FINMA, is investigating remarks made by Credit Suisse Group Chairman Axel Lehmann to the media in early December, which suggested that client asset outflows had stabilized. Simple math indicated they had not.
When Credit Suisse reported its earnings results in early February, CEO Ulrich Koerner had told Wall Street analysts that 85 percent of the client asset outflows in the last quarter of 2022 had occurred in October and November. That meant that approximately 15 percent of the outflows came in December.
And yet, Reuters reported that Lehmann had told the Financial Times in an interview that appeared online on December 1 that following the asset outflows in October, they had "completely flattened out" and "partially reversed."
As far as investigations go at Credit Suisse, this is more of a kerfuffle than a full-blown scandal. Credit Suisse has reliably served up really big scandals on a regular basis.
In late March and April of 2021, Credit Suisse lost $5.5 billion from the highly-leveraged, highly concentrated stock positions it was financing via tricked-up derivatives for Archegos Capital Management, the family office hedge fund of Sung Kook "Bill" Hwang. Archegos blew up on March 25, 2021 after it defaulted on margin calls to the banks financing its trades. An internal report for the Board of Directors of Credit Suisse by the outside law firm Paul, Weiss, Rifkind, Wharton & Garrison found that the bank "was focused on maximizing short-term profits and failed to rein in and, indeed, enabled Archegos's voracious risk-taking."
In October of 2021 Credit Suisse paid $547 million to settle with criminal and civil authorities in the U.S. and U.K. for making an $850 million fraudulent loan in Mozambique where a significant part of the funds went for kickbacks to Credit Suisse employees and Mozambique government officials.
Credit Suisse is also embroiled in legal battles over selling billions of dollars of Greensill Capital debt to investors as low risk. Greensill filed for insolvency in March of 2021.
Then there was the spygate scandal. FINMA reported in October of 2021 that Credit Suisse had engaged in seven separate spying operations on its Board members, former employees and third parties. (You can't make this stuff up.)
Credit Suisse, unfortunately, is a G-SIB (Global Systemically Important Bank) which is interconnected via derivatives to the mega banks on Wall Street. Given that reality, one would expect the share prices of other mega banks to be tanking along with Credit Suisse. The fact that this is not happening is mysterious – to say the least. In early October of last year, contagion appeared to be in full swing. See our report: Shhh! Don't Tell the Fed or Mainstream Media that Systemic Contagion at Wall Street Banks Is Already Here.
We'll be taking a more in-depth look at this interesting situation in the days ahead.