By Pam Martens and Russ Martens: November 9, 2022 ~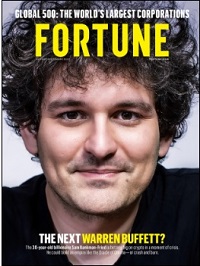 The August/September cover of Fortune Magazine raised the titillating question as to whether crypto billionaire Sam Bankman-Fried might be the next Warren Buffett – a man whose investment acumen has survived more than seven decades. Less than three months later, the public has its answer. Bankman-Fried's crypto empire has turned to ruins in one week.
As it turns out, folks don't have a lot of confidence in the crypto exchanges that hold their crypto. The equivalent of bank runs seen in the early 1930s, before federal deposit insurance was enacted by Congress in 1933, can wipe out a crypto exchange in a week's time.
According to Reuters, Bankman-Fried's crypto exchange, FTX, saw $6 billion of withdrawals in a 72-hour span through yesterday, leaving the exchange teetering amid questions about its solvency.
Changpeng (CZ) Zhao, the CEO of the competitor crypto exchange, Binance, who helped to spark the concerns about FTX, is now attempting to play the white knight and buy the troubled FTX. Or not.
According to Tweets from CZ, there are quite a few loopholes to the deal moving forward. CZ has given himself the escape routes of doing due diligence ("DD"), a "non-binding" Letter of Intent, and prominently noted in his Tweet that "Binance has the discretion to pull out from the deal at any time."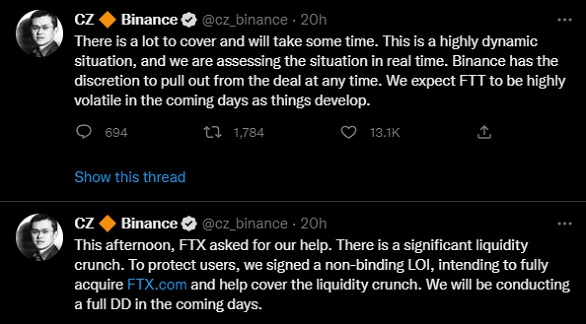 We can see why CZ might want to buy himself some time before moving forward. According to CoinGecko, at 7:24 a.m. (ET) this morning, the FTX token, FTT, had lost 81.7 percent of its value over the span of the last seven days.
Despite all the hoopla stirred up by mainstream media about crypto being the hottest thing since sliced bread, on June 29 of this year Bank of America released its crypto survey findings, which included a stunning data point. Bank of America researchers noted that: "Ultimately, crypto assets comprise less than 1% of overall US household financial assets. The Bank of America survey suggests relatively few people view crypto assets as a reliable long-term investment."
"Reliable" is the operative word in the above sentence. For the big picture on the reputational hits that crypto has taken this year, we offer the following 2022 articles from Wall Street On Parade:
May 16, 2022: Crypto's Crash: 100-to-1 Leverage Goes Poof!
May 26, 2022: Stable Coin and Cryptocurrency Investors Are Not the Only Ones in Tears: Ten Crypto Mining Stocks Have Fallen by 50 to 80 Percent Year-to-Date
June 17, 2022: As the Speeding Crypto Train Crashes, Scientific and Engineering Experts Tell Congress that Both Crypto and Blockchain Were a Sham from the Beginning
June 21, 2022: Has Crypto Endangered Federally-Insured Big Banks? Ask State Street
July 6, 2022: Crypto Billionaire Sam Bankman-Fried Is Dangling $1 Billion in Political Donations; But He Wants Dangerous Crypto Derivatives Trading in Return
July 28, 2022: Senate Banking Committee Will Hear Today About Getting "Pig Butchered" and an Explosion in Crypto Con Men Preying on the Unwary