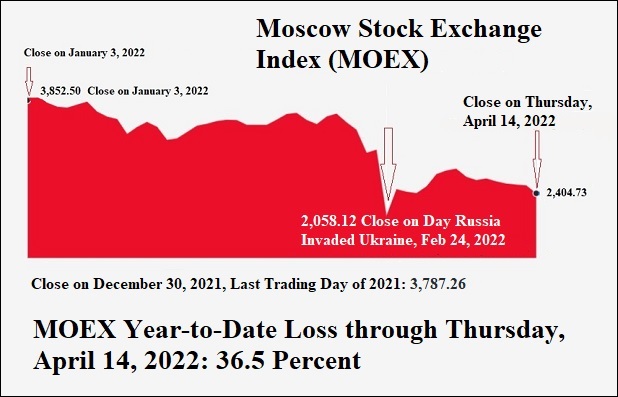 By Pam Martens and Russ Martens: April 14, 2022 ~
The Moscow Stock Exchange Index, known as MOEX, tanked 4.9 percent on Thursday to close at 2,404.73. The Index is now down 36.5 percent year-to-date.
The stock exchange had shuttered stock trading after the trading session on February 25, 2022, the day after the Russian military invaded Ukraine. The Moscow Stock Exchange did not reopen for stock trading until March 24.
The Russian government had previously announced on March 1 that its Finance Ministry would use up to $10.3 billion from the National Wealth Fund to prop up share prices of Russian companies by buying up shares on the exchange. Those funds would appear to be running out as the MOEX had a rough tumble on Thursday and closed near the lows of the day.