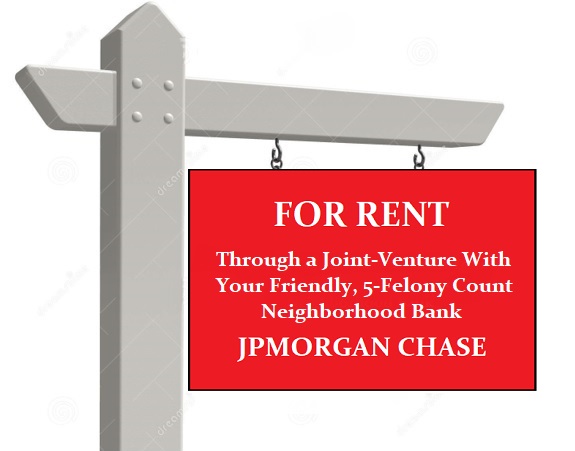 By Pam Martens and Russ Martens: June 24, 2021 ~
If you've been following our reporting of JPMorgan Chase since Chairman and CEO Jamie Dimon has been at the helm, you're aware of one striking fact: this bank has a pattern of getting into bed with unsavory characters: Bernie Madoff, check. Racketeering traders, check. A sex trafficker of children, Jeffrey Epstein, check. Money launderers, check. The guy who bragged on his resume that he knew how to game electric markets, check.
Despite an unprecedented record of five felony counts from the U.S. Department of Justice since 2014, to which it admitted guilt, and the reputational damage this has done to its brand, JPMorgan Chase's asset management unit made the unusual decision last year to form a joint venture with an SFR (Single-Family Rental company) whose tenant complaints are so eye-popping that they fill pages on the internet and have been the focus of television and magazine reporting.
The SFR company is American Homes 4 Rent. It is not just buying up homes from distressed homeowners as Wall Street vultures did after the 2008 financial crash. According to a press release on May 4, the joint venture with JPMorgan Asset Management was engaged in its "sixth and seventh newly built single-family rental home communities…."
The two communities announced on May 4 were Brentwood in Mooresville, North Carolina and Westbrook Lake in Cumming, Georgia. Brentwood was to become a rental community of 234 homes while Westbrook Lake would be a smaller, 95-home community.
When the joint-venture was first announced in May of 2020, the parties said they had closed a month earlier on single-family home communities consisting of 34 homes "in the Sovana and Spring Valley areas of Las Vegas."
The plan, according to the press release in May of last year, was for the joint venture "to deploy $625 million of equity and develop approximately 2,500 purpose built single-family rental homes across multiple high-growth markets in the West and Southeast."
American Homes 4 Rent is a publicly-traded REIT (Real Estate Investment Trust) that is traded on the New York Stock Exchange. Its 10-K (Annual Report) filing with the Securities and Exchange Commission indicated that as of March 31, 2021 it owned 53,984 single-family properties in 22 states.
That same SEC filing also indicated that the Georgia Attorney General's office was investigating the company regarding landlord-tenant matters.
Less than two years ago American Homes 4 Rent landed on a local CBS news program over allegations of tenant abuses. The news reporter, Harry Samler, displayed a screenshot of a Better Business Bureau profile of American Homes 4 Rent. It showed that the BBB had received 716 complaints over the prior 3 years and 289 complaints over the last 12 months. The BBB had affixed a warning above the company's name, reading: "Pattern of Complaints."
We looked at the current BBB web page for American Homes 4 Rent. It shows 786 complaints. Yelp also has 15 pages of complaints against the company.
One frequent complaint against American Homes 4 Rent is that tenants can wait days for an air conditioning repair. Since many of the rental homes are in the southeast, that's a serious problem in the summer. Tenants have complained online that their homes have reached over 90 degrees.
This air conditioning problem was also buttressed in an article in The Atlantic magazine in February of 2019. Author Alana Semuels writes as follows:
"The air-conditioning in Jennifer Callahan's Florida home was wired incorrectly; when she complained that it was unsafe for her four-month-old baby to be in the house, where temperatures could reach 100 degrees, the American Homes 4 Rent office told her she was a 'drama queen' and did not send someone to repair it for a week and a half, she told me. American Homes 4 Rent did not return multiple requests for comment."
Another frequent complaint is that American Homes 4 Rent invents fictional damage done by the tenant in order to not return their security deposit when the tenant moves out. One Yelp poster broke down the charges like this:
"The vinyl flooring (we were charged $1512 for) in the bathrooms and kitchen that were already pulling up and needed to be replaced before we even moved in. You can see the damages in the original photos from before move-in. Even on the itemized list it states flooring needs 'Replacement' but nothing about damages. Power washing ($125) that the maintenance already came out and did. Trim Trees ($300) that were not overgrown. Mulch shrub bed ($88) that were not mulched when we arrived. Replacing an outside GFCI plug ($40) that we never used and had no idea needed repair. Removal of bee nest ($45) that was made after we moved out as there were no bee nests on property when we vacated. Replacement of Zone controller ($190) which we never used as we were told the sprinklers did not work when we moved in. Rust on a pipe ($25) that sits outside. Pest service ($75) with no explanation other than one blurry picture of what appears to be one dead house fly on a windowsill. Dishwasher service ($75) which was not leaking or damaged when we left. Replacement of weather stripping in door ($25) which was chewed up from a previous resident's pet as the damage is clearly from an animal and we do not even have a pet. Rebuild toilet ($30) which we reported to maintenance and they even came out to fix it not once, but twice while we lived in the house. Sliding Door Lock ($20) which was broken when we moved in, and the door was 'locked' with a wooden 2×4 in the sliding track. We did not place the 2×4 in the door so the property manager must have known about this issue before we moved in."
The Atlantic magazine article suggested these charges might be a profit formula cooked up at American Homes 4 Rent. Author Semuels writes:
"Tenants also say that rather than taking advantage of economies of scale, the rental companies are taking advantage of their clients, pumping them for fines and fees at every turn. This impression is backed up by the financial reports of the companies themselves. American Homes 4 Rent increased the amount of money it collected from 'tenant charge-backs' (essentially billing tenants for repairs after they move out) by more than 1000 percent between 2014 and 2018, according to company earnings reports, though it only grew the number of homes it owned by 70 percent over that period."
We reached out to the media relations office of JPMorgan Chase asking if they vetted the background of American Homes 4 Rent before they embarked on this joint venture. We did not hear back.
JPMorgan Chase is not the only Wall Street behemoth getting into the single family home rental business. The Wall Street Journal reported on Tuesday that Blackstone Group "has reached a deal to acquire Home Partners of America Inc., which owns more than 17,000 houses throughout the U.S." The Journal reports that Home Partners of America "buys homes, rents them out and offers its tenants the chance to eventually buy."
Blackstone is well-remembered by neighborhoods in the south in the aftermath of the Wall Street crash of 2008. It bought up tens of thousands of foreclosed homes at distressed prices and then rented them to struggling families through a company it formed called Invitation Homes. Blackstone sold its remaining shares in Invitation Homes in 2019.