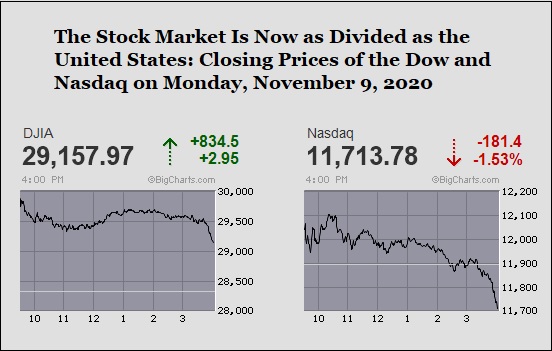 By Pam Martens and Russ Martens: November 10, 2020 ~
Yesterday was the first trading day for the stock market since the networks called the presidential election for Joe Biden on Saturday. The Dow Jones Industrial Average closed up a whopping 834.5 points — which was actually near its lows of the day. The Dow was up 1,516 points shortly after the opening bell yesterday. The optimistic reaction in the Dow came from two pieces of news. Before the market opened, Pfizer announced that early data from it COVID-19 vaccine trial indicated that the vaccine may be 90 percent effective. That sent Dow futures soaring and a big move at the open of the market.
The second piece of news being digested by the stock market was that the Democrats did not get the landslide victory that some polls had suggested. That suggested to the market, rightly or wrongly, that there won't be a big crackdown on reforming corrupt practices on Wall Street or a crackdown on fossil fuels. Big winners among Dow stocks included: JPMorgan Chase up 13.54 percent on the day; Goldman Sachs up 6.79 percent; and Chevron, up 11.60 percent.
One would have thought that an 800+ move in the Dow would have lifted all boats. It didn't. Losers included stocks that had benefitted from people staying at home because of the pandemic and loading up on household products or doing home improvements themselves. The promise of a vaccine and work normalization caused some investors to take profits in the stay-at-home trade: Walmart lost 1.53 percent; Procter & Gamble gave up 3.66 percent; while Home Depot shed 5.02 percent.
The sell-off in the Nasdaq came from two sources. First, investors ran from Nasdaq stocks that had benefited from people staying at home. Zoom Video Communications, which has allowed so many people working from home to video conference with colleagues and peers, took a hit of 17.37 percent yesterday. Netflix, the movie streaming service whose stock has soared this year as people avoided theaters, gave up 8.59 percent yesterday. Peloton, which makes workout equipment for the home as an alternative to going to the gym, shed a whopping 20.29 percent.
Big Tech in the Nasdaq took a hit yesterday as well, out of fear that Democrats would pursue antitrust cases against the tech giants. Amazon gave up 5.06 percent on the day; Facebook closed down 4.99 percent; Microsoft lost 2.38 percent; while Apple shed 2.00 percent.