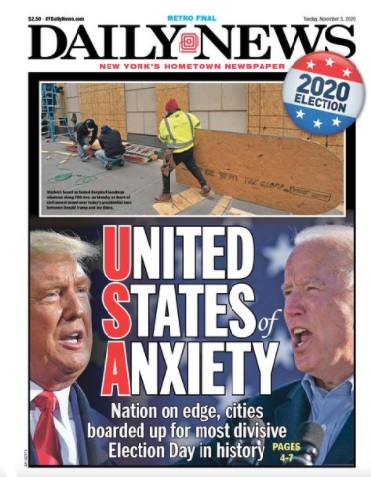 By Pam Martens and Russ Martens: November 3, 2020 ~
The eagerly anticipated and yet also dreaded day has finally arrived. In the interest of preserving this day lest post-traumatic-stress-disorder kicks in and eviscerates the nightmares of the last four years from our memory banks, we thought we would capture in photos the vibes of what the American presidential election has come to.
The front cover of the New York Daily News, in the photo above, perfectly captures the queasy stomachs that the majority of Americans are experiencing today. But in an utterly bizarre action, at 6:50 a.m. this morning, futures on the Dow Jones Industrial Average were suggesting that the stock market would open up more than 400 points. There is definitely some invisible hand buying up futures on maximum leverage to move the market higher this morning.

If you need further evidence of fake market optimism for corporate stocks this morning, consider what national retailers that cater to the one percent think about what might happen today. Stores in Soho and on Fifth Avenue in Manhattan have boarded up their display windows with vast swaths of ugly brown plywood. Retailers taking cover include Tiffany & Co., Dior, Chanel, Louis Vuitton, Bloomingdale's and Macy's flagship store. Likewise, Washington, D.C. is preparing for flying projectiles with hotels, shops and restaurants decked out in plywood.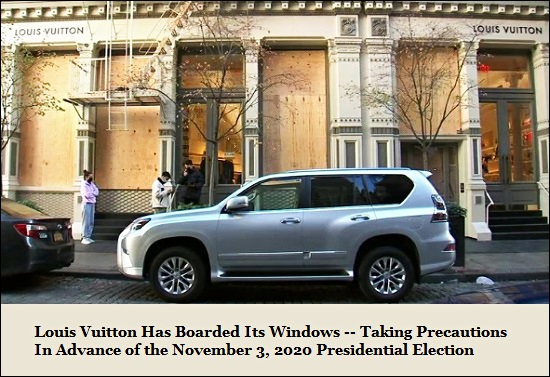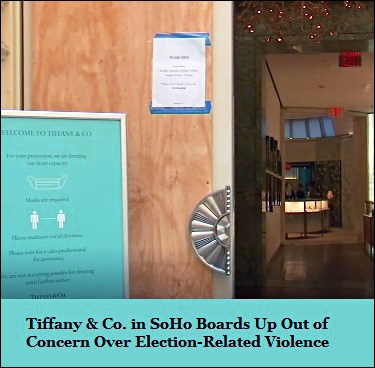 FiveThirtyEight has a survey up this morning showing how various pollsters are calling the national vote. YouGov has Biden leading Trump by 10 points, 53 percent to 43 percent. Quinnipiac University gives Biden an 11-point lead. FiveThirtyEight's composite of all major polls shows Biden leading in the national vote by 8.4 points.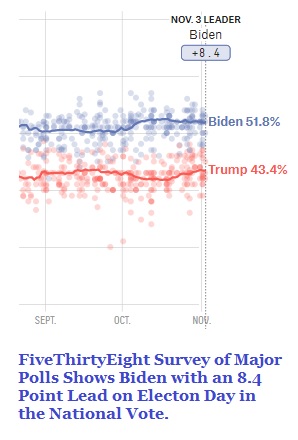 Another means of taking the pulse on the prospects for Donald Trump getting a second term is a story running this morning at the financial news cable channel, CNBC. It reads in part:
"Deutsche Bank is looking for ways to end its relationship with President Donald Trump after the U.S. elections, as it tires of the negative publicity stemming from the ties, according to three senior bank officials with direct knowledge of the matter.
"Deutsche Bank has about $340 million in loans outstanding to the Trump Organization…
"In meetings in recent months, a Deutsche Bank management committee that oversees reputational and other risks for the lender in the Americas region has discussed ways in which it could rid the bank of these last vestiges of the relationship, two of the three bank officials said."
Let that sink in for a moment. Deutsche Bank has been repeatedly charged with violations of federal law like money laundering for Russian oligarchs, rigging the interest rate benchmark known as Libor, selling fraudulent mortgage securities, and so forth. And yet Deutsche Bank fears further reputational damage by being linked to the President of the United States. This is the surreal reality Americans now confront daily.
On a lighter note, since we must now grasp for an inkling of humor wherever we can find it, there is the scene in the video below of Donald Trump dancing on stage to the song, "YMCA," at a campaign rally. Comedian Seth Meyers said Trump's dance moves look like a roach caught in a glue trap. The awkwardness reminded us of the infamous scene of Elaine dancing in a Seinfeld episode, which we have also included below for a moment of levity on this anxiety-riddled election day.