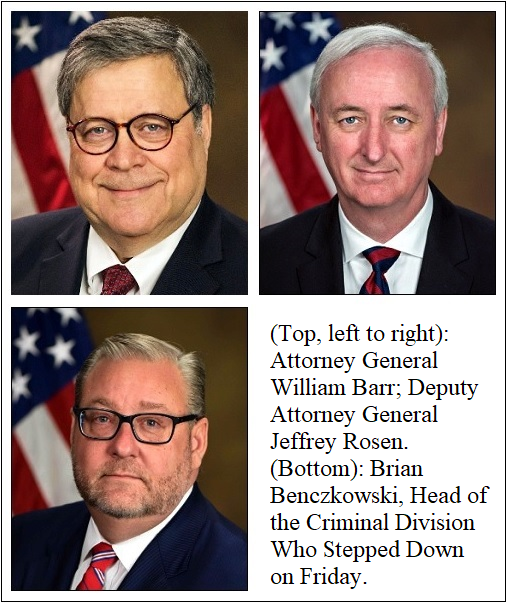 By Pam Martens and Russ Martens: July 6, 2020 ~
Three of the top men at the U.S. Department of Justice who have been involved in negotiations as to whether Goldman Sachs, for the first time in its history, will be charged with a criminal felony and hit with a multi-billion dollar fine, received large sums of money from the law firm, Kirkland & Ellis, before joining the Trump administration.  Kirkland & Ellis is the law firm defending Goldman Sachs in the criminal case.
The top dog at the Justice Department, Attorney General William Barr, worked as "Of Counsel" to Kirkland & Ellis prior to joining the Justice Department. Barr's financial disclosure form shows that Kirkland & Ellis paid him $1,188,257 and a $50,000 bonus for 2018. In addition to the money from Kirkland & Ellis, Barr made another $2.6 million in fees and from cashing out stock options for his work as a member of the Boards of Directors at Dominion Energy, Time Warner, and Och-Ziff Capital Management, a hedge fund that paid a $213 million criminal fine in 2016 to settle charges with the Justice Department that it had engaged in "a widespread scheme involving the bribery of officials in the Democratic Republic of Congo (DRC) and Libya." (Och-Ziff Capital Management has subsequently rebranded itself as Sculptor Capital.)
Brian Benczkowski, who stepped down last Friday as head of the Criminal Division of the Justice Department, indicates on his financial disclosure form that he received a salary and bonus from Kirkland & Ellis of $847,500. Benczkowski joined the Justice Department in July 2018 and had worked at Kirkland & Ellis since 2010.
Both Barr and Benczkowski state in their financial disclosure forms that they would continue to participate in the Kirkland & Ellis Defined Contribution Plan but that the law firm would no longer make contributions on their behalf to the plan.
The Financial Times reported in April 2019 that both Barr and Benczkowski had received ethics waivers to participate in the Goldman Sachs criminal case, despite their recent ties to the law firm representing Goldman Sachs.
Benczkowski's job as head of the Criminal Division is to be filled by his Deputy,  Brian Rabbitt, a Trump loyalist who came to the administration from the corporate law firm, Williams & Connolly, where he specialized in government investigations. Rabbitt has hopped through jobs as a White House lawyer, policy advisor to SEC Chair Jay Clayton, and then as Chief of Staff to Barr before becoming Rosen's Deputy. Rabbitt has no background to suggest that he is qualified to oversee a department of 600 criminal prosecutors.
On June 11, the New York Times reported that lawyers for Goldman Sachs "have asked Deputy Attorney General Jeffrey Rosen to review demands by some federal prosecutors that Goldman pay more than $2 billion in fines and plead guilty to a felony charge, according to three people briefed on the matter."
The Deputy Attorney General, Jeffrey Rosen, worked for Kirkland & Ellis for 29 years prior to joining the Trump administration. Rosen's first financial disclosure form showed that he had received compensation of $1,567,335 from the law firm and would be permanently receiving annual payments of approximately $189,505 from the law firm's Defined Benefit Plan.
The criminal case involving Goldman Sachs has been dragging on at the Justice Department since at least 2016. Goldman raised over $6 billion in bond offerings for a Malaysian sovereign wealth fund known as 1MDB. According to the Justice Department, $4.5 billion of that was "misappropriated" and used "to fund the co-conspirators' lavish lifestyles, including purchases of artwork and jewelry, the acquisition of luxury real estate and luxury yachts, the payment of gambling expenses, and the hiring of musicians and celebrities to attend parties." Goldman made more than $600 million in fees from the bond offerings.
Two of Goldman's senior bankers, Ng Chong Hwa (a/k/a Roger Ng) and Timothy Leissner, were indicted by the Justice Department for "conspiring to launder billions of dollars embezzled from 1MDB," and "paying bribes to various Malaysian and Abu Dhabi officials." Leissner pleaded guilty in the matter and is awaiting sentencing. Roger Ng's trial has been delayed because of the COVID-19 pandemic but is currently expected to begin in Manhattan in January of next year.
The alleged mastermind of the scheme, a Malaysian national known as Low Taek Jho (a/k/a Jho Low) is believed to be hiding out in China. He has also been indicted by the U.S. Justice Department.
Representing Goldman Sachs in the matter at Kirkland & Ellis is Mark Filip, who has swung multiple times through the doors of public service and corporate law. Filip was nominated by former President George W. Bush to be a federal judge in the Northern District of Illinois and served in that position from 2004 to 2008. He became the Deputy Attorney General briefly during the first year of the Obama presidency.
During Filip's tenure at the Justice Department, he wrote a memo that is known as the Filip Factors, which is viewed as making it easier for a corporation to coordinate and defend itself in a criminal investigation. On October 12, 2018, Benczkowski, then head of the Criminal Division, said this about Filip's memo in a speech at New York University:
"During my last tour at the [Justice] Department, I was privileged to work closely with then-Deputy Attorney General Mark Filip as we drafted the Department's Principles of Federal Prosecution of Business Organizations, which many practitioners colloquially refer to as the 'Filip Factors.' When we were drafting the Principles a decade ago, we made a conscious decision to break from the prior practice of issuing policy by memorandum and instead placed the Principles in what was until recently called the United States Attorney's Manual. That guidance has endured, and continues to define the primary factors applied to corporate enforcement cases across the Department."
Attorney General Barr now appears to be frantically rearranging the deck chairs on the Goldman Sachs 1MDB Titanic. Around 9 p.m. on Friday evening, June 19, Barr released a statement announcing that Geoffrey Berman, the U.S. Attorney (i.e. top federal prosecutor) for the Southern District of New York (where Goldman Sachs is headquartered), would be "stepping down." Barr said President Trump would be naming Jay Clayton, the sitting chair of the Securities and Exchange Commission, to fill the slot.
There were a number of defects in Barr's announcement, which quickly became clear. First, Berman had no intention of "stepping down," and released his own statement later that evening to that effect. Secondly, Barr was planning to break with protocol and not allow Berman's Deputy to fill the slot until Clayton could be confirmed by the Senate. Barr said in his statement: "On my recommendation, the President has appointed Craig Carpenito, currently the United States Attorney for the District of New Jersey, to serve as the Acting United States Attorney for the Southern District of New York." Berman ultimately agreed to step down the following day when Barr said that Berman's Deputy, Audrey Strauss, would be allowed to step in for him.
Adding to the suspicions that this move was connected to the 1MDB matter, Clayton's former law firm of two decades, Sullivan & Cromwell, was also up to its ears in representing Goldman Sachs in the criminal investigation. According to Sullivan & Cromwell's website, Nicolas Bourtin, Managing Partner of the law firm's Criminal Defense and Investigations Group, "is representing Goldman Sachs in criminal and regulatory investigations in six jurisdictions" involving the 1MDB matter.
An additional problem was that Senator Lindsey Graham, Chair of the Senate Judiciary Committee, came out quickly and said it was customary for a nominated U.S. Attorney to only move forward toward a confirmation hearing if both Senators from the State involved recommended him. Both New York Senators, Kirsten Gillibrand and Chuck Schumer, said they would not recommend Clayton. Schumer went so far as to tell Clayton to withdraw from the nomination or face "overnight ruin" of his reputation. The full context of Schumer's statement was this:
"Forty-seven years ago, Elliott Richardson had the courage to say no to a gross abuse of presidential power. Jay Clayton has a similar choice today: He can allow himself to be used in the brazen Trump-Barr scheme to interfere in investigations by the U.S. Attorney for the Southern District of New York, or he can stand up to this corruption, withdraw his name from consideration, and save his own reputation from overnight ruin."
Thus far, Clayton has not withdrawn his nomination. Schumer may have been a bit naïve in placing the blame completely on Barr and Trump. As it turns out, Clayton told a House Financial Services Committee hearing on June 25 that it was "entirely" his idea to ask for the job as U.S. Attorney for the Southern District of New York – never mind that he did not have one scintilla of experience as a prosecutor.
According to a report at CNN, following the ouster of Berman, 65 law professors and faculty from Barr's alma mater, George Washington University Law School, sent a letter stating that Barr's actions "have undermined the rule of law, breached constitutional norms, and damaged the integrity and traditional independence of his office and of the Department of Justice."
Barr had hoped that Berman's ouster would look more like a promotion for Berman. Barr noted in a subsequent letter that he had offered Berman other positions in the Trump administration, including heading the Civil Division at Main Justice (the "main" Justice Department in Washington, D.C.). That's not a particularly attractive offer when it's looking increasingly like there may be a different administration in seven months. It should also be noted that the "Civil" Division cannot bring criminal cases or have a say in criminal cases.
With that as a backdrop, consider what just happened quietly on the eve of the 4th of July weekend. Barr removed the other top federal prosecutor in New York – this time in the very U.S. Attorney's office that is prosecuting the 1MDB case against the two Goldman Sachs bankers as well as conducting the ongoing investigation.
The story was spun in the mainstream media by the handful of outlets that bothered to carry the story, that Richard Donoghue, U.S. Attorney for the Eastern District of New York, would be getting a big promotion and becoming the top Deputy to the Deputy Attorney General Jeffrey Rosen. Forgive us for questioning how a Deputy to a Deputy is a big promotion.
Every press release that the Justice Department has released on the 1MDB matter has confirmed the fact that the prosecutions are being handled out of the U.S. Attorney's office for the Eastern District of New York. On the U.S. Attorney for the Eastern District of New York's website, it says this about Jacquelyn Kasulis, Chief of their Criminal Division: "Jackie led the Office's investigation and prosecution of three individuals, including two former Goldman Sachs bankers and a wealthy Malaysian financier for their participation in a multi-billion dollar money laundering and bribery conspiracy related to 1Malaysia Development Berhad (l MDB), Malaysia's investment development fund."
Kasulis has been with that U.S. Attorney's office since 2008. We have to wonder whether Barr will be offering her a move to Washington, D.C. any day now.