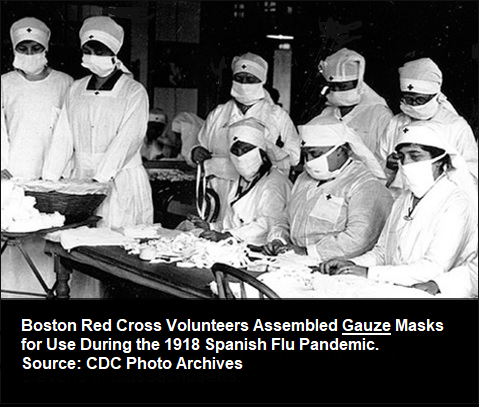 By Pam Martens and Russ Martens: April 3, 2020 ~
On March 23 we wrote this: "For want of a mask the largest economy in the world has been gutted, with Goldman Sachs now projecting that U.S. GDP could contract by as much as 24 percent in the second quarter." Now, in the past two weeks, 10 million Americans have filed claims for unemployment. Let that sink in, 10 million of our fellow citizens have lost their jobs in just a two-week period.
In the same article linked above, we showed a photo dated March 4 from the Associated Press of people packed together on a subway in New York City with almost no one wearing a mask. And then we explained why:
"On February 29, the Surgeon General Tweeted that the public should stop buying masks – despite scientific agreement that the virus is spread by sneezing, coughing and talking. The Surgeon General's advice may have made sense for people living on a 10 acre farm in New Hampshire but it was dangerous advice for people who can't afford taxis and are forced to ride a packed subway to work each day in Manhattan."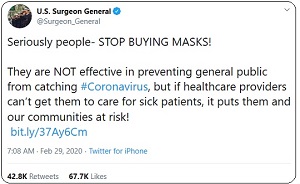 Because there were simply not enough masks to go around, the Surgeon General effectively lied to the American people.
Now, New York City is the global epicenter of the coronavirus with more deaths than anywhere else in the country. As of this morning, the New York Times is reporting a total of 51,810 cases and 1,562 deaths in New York City – which is 25 percent of the deaths in the entire United States, despite New York City representing just 2.6 percent of the U.S. population.
This past Monday, March 30, MSNBC news host, Chris Hayes, told his viewers this:
"At the beginning of this crisis, the World Health Organization and the CDC came out and basically said that if you're healthy, you just don't need to wear a mask around public to protect yourself or others from Coronavirus.
"Now, over the weekend, there was a rumbling the CDC was about to change its guidance to suggest Americans should wear protective masks, and while the CDC is now denying that reporting, and saying it is not updating its guidance, it is very hard to ignore the fact that the countries where masks are most prevalent, particularly in East Asia, are the ones doing the best job of battling the virus. [Italics added.]
"A prominent Chinese doctor was recently asked by Science magazine what mistakes are other countries making, quote, 'the big mistake in the U.S. and Europe in my opinion is that people aren't wearing masks.' "
Yesterday, April 2, the Washington Post published an OpEd by Joseph G. Allen, director of the Healthy Buildings Program at Harvard University's T.H. Chan School of Public Health. The title of the OpEd was this: "You Need to Wear a Mask. Here's How." Allen wrote this:
"The debate is over. You should be wearing a mask when you go out…
"First, masks of any type help prevent the user from infecting others by acting as a physical barrier that will block large droplets from coughs and sneezes. These droplets can travel up to 20 feet with a powerful sneeze, so six feet of social distancing is not always enough. And wearing masks is not just a good thing for those who are actively sick: Any one of us might be harboring this virus asymptomatically and could transmit it to others, cascading into a thousand new infections."
Allen also correctly pointed out that "Wearing a mask does not replace other important public health control measures such as hand-washing, social distancing, covering your cough and cleaning surfaces."
Allen critically noted that while N95 masks must be reserved for front-line health care workers, people can and should be making their own masks. Unfortunately, Allen suggested using a 100 percent cotton t-shirt, which this  tutorial on the proper way to make a mask recommends against. A T-shirt is knit, thus making it subject to stretching. The tutorial recommends using a double layer of high-thread-count 100 percent cotton from sheets or pillow cases made out of Percale or a list of other fabrics.
According to the CDC, the 1918 flu pandemic, known as the "Spanish Flu," resulted in the death of 50 million people globally and an estimated 675,000 people in the United States. The photograph above likely explains one of the numerous reasons that the Spanish Flu was not contained in the U.S. Red Cross volunteers were using highly porous gauze to make masks.
Yesterday, New York City Mayor Bill DeBlasio said this: "We're advising New Yorkers to wear a face covering when you go outside and will be near other people. Let's be clear, this is a face covering. It could be a scarf, it could be a bandana, something you create yourself."
NBC News is reporting this morning that "The White House is expected to urge Americans who live in areas of high coronavirus transmission to wear cloth face coverings to prevent the spread of the virus, a senior administration official told NBC News on Thursday night." Clearly, the whole country should be wearing properly-made, home-made masks so that their town doesn't become the next heavily impacted area.
It didn't need to take this long and the loss of this many lives and the U.S. economy to figure out the obvious. The Surgeon General's negligent Tweet on February 29 should have told Americans to stop buying N95 masks needed desperately by health care professionals and advised them on how to properly make their own masks. The Surgeon General should be held accountable and lose his own job along with the other 10 million Americans who didn't give out dangerously bad advice.