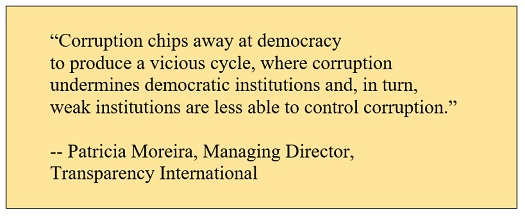 By Pam Martens: January 29, 2019 ~
The U.S. is no longer in the top 10, or even the top 20, of least corrupt nations. Transparency International's Corruption Perceptions Index for 2018 was released today and the United States has fallen four points deeper into corruption than last year. The U.S. now ranks below Luxembourg, Estonia and France, coming in at number 22 on the chart. In the Americas region, only Canada came in among the top 10 least corrupt nations, earning a number 9 ranking. (View the full list here.)
Zoe Reiter, Acting Representative to the U.S. at Transparency International said this about the report:
"A four point drop in the CPI score is a red flag and comes at a time when the US is experiencing threats to its system of checks and balances, as well as an erosion of ethical norms at the highest levels of power. If this trend continues, it would indicate a serious corruption problem in a country that has taken a lead on the issue globally. This is a bipartisan issue that requires a bipartisan solution."
The index ranks 180 countries and territories by their perceived levels of public sector corruption according to experts and business people. It reveals that the continued failure of most countries to significantly control corruption is contributing to a crisis in democracy around the world. While there are exceptions, the data shows that despite some progress, most countries are failing to make serious inroads against corruption.
If there was an index ranking corruption among the 50 U.S. states, New York would most likely capture the prize as the most corrupt. In 2013 we reported at CounterPunch that New York was "drowning in bribes and corruption." The problem has metastasized since then, with even the New York State Attorney General Eric Schneiderman falling; the long-tenured New York attorney to the current President of the United States, Michael Cohen, sentenced to three years in jail; two of New York's biggest Wall Street banks, Citigroup and JPMorgan Chase, pleading guilty to a criminal felony charge each for rigging currency markets; and Goldman Sachs presently facing criminal charges in Malaysia for its role in looting an investment fund. And that's just the tip of the iceberg.
That old maxim, the fish rots from the head, would seem to be the operative phrase in the United States today.