By Pam Martens and Russ Martens: May 18, 2017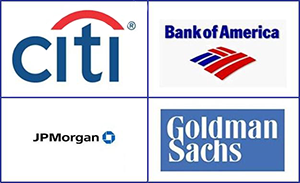 Four of the largest Wall Street banks that were counting on a powerful President Trump to roll back Dodd-Frank financial reform regulations lost a combined $37.60 billion in their market capitalization yesterday. The worst hit in terms of percentage decline was Bank of America, parent of the giant brokerage firm Merrill Lynch, which fell 5.92 percent for a market cap loss of $14.14 billion.
Goldman Sachs, which has become closely associated with President Trump as a result of a raft of its former partners and its immediate past President serving in his administration, fell an eyebrow-raising 5.27 percent yesterday for a market cap loss of $4.676 billion.
JPMorgan Chase and Citigroup added to the carnage.  JPMorgan Chase fell 3.81 percent with a hit to its market cap of $11.87 billion while Citigroup fell 4.02 percent, losing $6.91 billion in market cap.
Both Goldman Sachs and JPMorgan Chase are among the 30 stocks that make up the Dow Jones Industrial Average. They helped to fuel the carnage there. The Dow closed down 372 points.
None of these mega banks can afford hits to their common equity capital. A key strategy of ending too-big-to-fail, which dumps insolvent banks on the taxpayer for bailouts, is to strengthen the common equity capital at these behemoth institutions.
So when the troubles swirling around the President of the United States gut almost $40 billion from the shares of four major Wall Street banks, people in Washington pay attention.
Shortly after the market closed came the stunning news that Deputy Attorney General Rod Rosenstein, who only days earlier had indicated he was not considering appointing a Special Counsel to take over the investigation of Russia's involvement in the 2016 U.S. presidential election and its interactions with Trump campaign associates, did just that. Rosenstein signed an order naming former FBI Director, Robert Mueller, to become the Special Counsel for the inquiry.