By Pam Martens and Russ Martens: January 4, 2017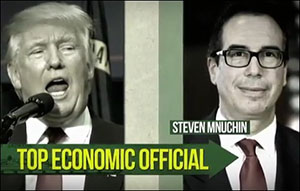 Over the span of the last two weeks, President-elect Donald Trump's U.S. Treasury Secretary nominee, Steven Mnuchin, has been the subject of multiple, scathing investigative reports by the media; earned a web site established by Senate Democrats dubbing him the "Foreclosure King" and soliciting complaints from the public; garnered a television ad campaign directed against him; and has been skewered by a devastating document leaked by someone currently or formerly connected to the California State Attorney General's Office, indicating that the bank Mnuchin ran from 2009 to 2015, OneWest, repeatedly violated California foreclosure law, including backdating documents and making illegal bids, in order to throw thousands of vulnerable people out of their homes.
Mnuchin is also a former Goldman Sachs partner and hedge fund operator who has never held public office before. His rapid rise to nominee for one of the highest posts in the U.S. government, which will also put him atop the Financial Stability Oversight Council (F-SOC), appears to be hinged to raising millions of dollars for Trump's political campaign as his National Finance Chairman. To millions of Americans, this looks like an unseemly political quid pro quo.
In a press release, Democratic Senator Jeff Merkley had this to say about the nominee:
"Donald Trump's choice of Mnuchin is not only a fundamental betrayal of his promise to stand up to Wall Street — it is a punch in the gut to the thousands of American families who were thrown out of their homes by Mnuchin's bank. The voices of these Americans should be heard loud and clear as the Senate examines his record and considers his nomination."
Senator Bernie Sanders weighed in with this:
"During the campaign, President-elect Donald Trump told the American people that he was going to change Washington by taking on Wall Street. But now that the election is over, Donald Trump's choice for Treasury Secretary is the same old, same old Wall Street insider who made a fortune during the financial crisis as millions lost their homes. If confirmed, Steve Mnuchin would be the third Treasury Secretary to come from Goldman Sachs in the last 17 years. That is not the type of change that Donald Trump promised to bring to Washington — that is hypocrisy at its worst. The last thing we need is another Treasury Secretary from Goldman Sachs and another broken promise from Donald Trump."
The negative television ads being run by the progressive group, Allied Progress, end with this statement: "We need a Treasury Secretary who will help us, not himself."
The growing and widespread criticism of Mnuchin by Democrats is well earned. Unfortunately, with the exception of Senator Sanders, the Democrats remained largely silent when outrageous issues concerning the character of President Obama's nominee for Treasury Secretary in his second term, Jack Lew, came to the fore. As Wall Street On Parade reported:
"Lew also cashed in his chips at Citigroup, taking a job there from 2006 through early 2009 that paid him millions, including a $940,000 bonus in early 2009 that was paid with bailout funds from the U.S. taxpayer after the company became insolvent from soured mortgage bets. Lew served as Chief Operating Officer of the very division that the SEC charged with hiding $39 billion of subprime debt off its balance sheet in Structured Investment Vehicles (SIVs).
"But that bonus was hardly the end of Lew's problems. He invested in a fund in the Cayman Islands at the very street address that the President had called a tax scam. [While working at New York University, Lew received] a $1.4 million loan from endowment funds at New York University, a taxpayer subsidized nonprofit, to buy a lavish home in the Riverdale section of the Bronx; he accepted forgiveness of large amounts of the loan and a reimbursement of the interest charged on the loan from the University.
"After negotiating a lush pay package to move to Citigroup, he somehow got a $685,000 'severance' payment from NYU. And, worst of all, when repeatedly asked in writing to explain the details of these transactions, he stonewalled the Senate Finance Committee. I'm not taking the word of Republican Senators on this; I did my own investigation and Lew was a master of intentional obfuscation, leading to the obvious question, what else is he hiding.
"From the editorial page of the Wall Street Journal, to the National Review, to liberal media like Democracy Now! and Rolling Stone, and this web site's exhaustive reporting,  Lew was ruled unfit to serve as U.S. Treasury Secretary by anyone who took a serious look at his mountain of specious deals."
Knowing that Lew was going to handily get the votes he needed to become Treasury Secretary, Senator Sanders still launched a courageous appeal to common sense, delivering the following remarks on February 27, 2013 from the Senate floor: (Excerpt.)
"…Mr. President, the next Treasury secretary will face enormous challenges. Let me give you a few examples of what I mean. The next Treasury Secretary will play a central role in regulating and overseeing Wall Street and large financial firms. Let us never forget: as a result of the greed, recklessness, and illegal behavior on Wall Street, millions of Americans lost their jobs, homes, life savings, and ability to send their kids to college.
"We need a secretary of the Treasury who does not come from Wall Street, but is prepared to stand up to the enormous power of Wall Street. We need a Treasury secretary who will end the current Wall Street business model of operating the largest gambling casino the world has ever seen and demand that Wall Street start investing in the job creating productive economy. Do I believe that Jack Lew is that person? No, I do not.
"The decisions made by the next Treasury secretary will determine whether financial institutions need another taxpayer bailout or do not. In my view, we need a Treasury secretary who will work hard to break up too-big-to-fail financial institutions so that Wall Street cannot cause another massive financial crisis. Do I believe Jack Lew will work to break-up large financial institutions? No, I do not.
"In 2008, against my strong opposition, the taxpayers of this country provided huge financial institutions with the largest bailout in the history of the world because, we were told, they were too big to fail. The Treasury Department provided $700 billion in financial assistance to the largest banks in this country, and the Federal Reserve provided over $16 trillion in virtually zero interest loans to these same financial institutions.
"What is the state of our financial system today? Today, the 10 largest banks in America are bigger than they were before the financial crisis began. Today, the six largest financial institutions in this country (J.P. Morgan Chase, Bank of America, Citigroup, Wells Fargo, Goldman Sachs, and MetLife) have assets equal to two-thirds of the Gross Domestic Product of this country – over $9.6 trillion. Today, six financial institutions (JP Morgan Chase, Bank of America, Citigroup, Wells Fargo, Goldman Sachs, and Morgan Stanley) issue two-thirds of all credit cards, half of all mortgages, control 95 percent of all derivatives, and hold nearly 40 percent of all bank deposits in this country…
"Mr. President, the next Treasury secretary will face enormous challenges to get this economy back on track, to reform Wall Street, to shrink our growing trade deficit, to reduce the enormous income and wealth inequality in this country, and to put millions of Americans back to work.
"After meeting with Mr. Lew in my office, after hearing his views in the Budget Committee, and after reviewing his record, I have come to the conclusion that Mr. Lew is not the right person to lead the Treasury Department at this time."
Lew was confirmed by the Senate with a 71-26 vote in his favor.
This is the state of American politics today: the disgraceful men of Wall Street are elevated to the highest offices in government to tailor and dictate policy to the peasants, regardless of which political party controls the White House.