By Pam Martens: August 11, 2014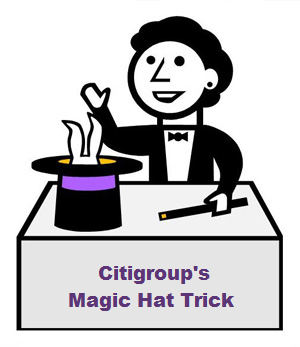 Meet the new, slimmed down, less complex, more manageable Citigroup. Or not.
Figuring out what Citigroup owns and what it has sold is getting harder by the day as a vast number of its subsidiaries in the 160 countries in which it operates have up and vanished from its public filings but do not actually appear to have been sold in many cases.
One can understand why the global bank's Federal regulators have thrown up their hands in despair and sent it back to the drawing board on its capital plans and so-called "living will" measures to unwind itself should its future insolvency threaten the financial system as it did in 2008.
According to Citigroup's annual 10K filing with the Securities and Exchange Commission, the number of Citigroup's subsidiaries have shrunk by a whopping 91.8 percent since December 31, 2008. Or not.
Take the case of Automated Trading Desk (ATD). One could certainly see why Citigroup would like to forget it owns that company. Citigroup paid $680 million for the company when it bought it in 2007. Five years later, it paid another $590 million to settle a class action lawsuit by ATD's key shareholders who alleged they had been defrauded.
Automated Trading Desk sounds like a principal subsidiary that should be included on Citigroup's Exhibit 21-01 as part of the 10K filing with the SEC. ATD says on its web site that it's a Citi company and describes itself thusly: "From our ever-expanding retail execution to the institutional markets to creating the first-ever automated pinks and bullies execution system, ATD is leveraging our technology to become a single source destination for all U.S. equity order flow." Automated Trading Desk also reports that it "trades in milliseconds" and "regularly" trades 200 million shares a day. That would mean it sees 1 billion share weeks — which suggests that it is a significant subsidiary of Citigroup.
Automated Trading Desk appears on Citigroup's filing as a subsidiary for year-end 2007 and year-end 2008. It disappeared from the list in 2009 and has never made a comeback since.
Then there is LavaFlow, an unregulated stock exchange known as a dark pool that is operated by Citigroup. Last month, the SEC brought and settled a case against LavaFlow for the improper use of customer information. The SEC described the company as follows:
"As of December 31, 2013, the LavaFlow ECN [Electronic Communications Network] was the largest ECN and the largest ATS (Alternative Trading System) as measured by dollar volume executed with over $361 billion in total dollar volume of executions for the fourth quarter of 2013." To be the largest dark pool on Wall Street with trade volume of $361 billion in one quarter sounds like a company Citigroup might want to mention in its 10K filing.
LavaFlow was present on Citigroup's 2008 SEC filing on its subsidiary list but by year end 2009 it had disappeared from the list, never to be seen there again.
On April 13, 2011, Citigroup issued its own press release on Business Wire, boasting that another of its dark pools, Citi Match, had executed €22.8 billion worth of trades in the first quarter of 2011 and was "the largest dark pool in Europe during February," according to a survey by Rosenblatt Securities. But Citi Match has never appeared on Citigroup's listing of principal subsidiaries.
One is starting to get the distinct impression that Citigroup may want its Federal regulators to think it is far more uncomplicated than it actually is – particularly when it comes to its juggernaut of dark pools and worldwide stock and derivatives trading activities.
In its filing for December 31, 2008, Citigroup told the SEC it had 2,245 subsidiaries. By December 31, 2009, just one year later, it was claiming just 187 principal subsidiaries. At the end of 2013, it reported that number at 184.
The number of pages Citigroup required in its SEC filing to list its subsidiaries went from 65 pages in 2008 to 5 pages at the end of December 2013, making the too-big-to-fail bank appear to have mightily slimmed down. But Citigroup's holding company assets were listed at $1.89 trillion as of March 31 of this year versus $1.85 trillion at the height of the financial crisis on June 30, 2009, according to consolidated balance sheet data for holding companies provided by the Federal Financial Institutions Examination Council's (FFIEC).
There also seems to be the general impression that too-big-to-fail banks were supposed to be exiting ownership of energy and commodity assets. But on August 20 of last year, Citigroup announced it was investing "structured equity" in a 218-megawatt Panhandle Wind Project. Citigroup said that "Panhandle Wind will sell power to Citigroup Energy Inc. under a long-term hedge offtake agreement."
According to Citigroup's most current subsidiary list, there is no such principal subsidiary as Citigroup Energy Inc.
Citigroup requires close scrutiny by Federal regulators and the public because of the unprecedented amount of support that it received from those same regulators to stay afloat from 2008 to 2010. The annual report (10K) that Citigroup filed with the SEC for 2008, details the stunning amount of money and deals that it required from its regulators to prevent a run on the bank:
"During 2008, the Company benefited from substantial U.S. government financial involvement, including (i) raising an aggregate $45 billion in capital [from the] U.S. Department of the Treasury (UST), (ii) entering into a loss-sharing agreement with various U.S. government entities covering $301 billion of Company assets, and (iii) issuing $5.75 billion of senior unsecured debt guaranteed by the Federal Deposit Insurance Corporation (FDIC) (in addition to $26.0 billion of commercial paper and interbank deposits of Citigroup's subsidiaries guaranteed by the FDIC outstanding as of December 31, 2008)…"
That was the part of the financial bailout iceberg sitting above the water that we could see. What we could not see was the more than $2 trillion in below-market rate emergency loans that the Federal Reserve had made to Citigroup from 2008 to at least 2010 to keep it from sinking. (Other Wall Street banks received trillions of dollars in loans as well.)
When the late Mark Pittman, a reporter for Bloomberg News, filed a Freedom of Information Act request for information about those loans in 2008, the Fed stonewalled turning over the information. Bloomberg News filed a federal lawsuit to obtain the information on November 7, 2008. After both a Federal District Court and the U.S. Court of Appeals for the Second Circuit had ordered the Federal Reserve to release the information, it still refused.
To keep the public in the dark as long as possible, an industry group representing Wall Street's biggest banks appealed the Bloomberg case to the U.S. Supreme Court. The Supreme Court declined to hear the case, leaving the Second Circuit's order to release the information in force.
On March 31, 2011, three years after Pittman's first FOIA request, the Fed finally released the information. The Dodd-Frank financial reform legislation, signed into law on July 21, 2010, before the public had the full set of facts, gave the Fed more regulatory powers over the very same Wall Street banks it had failed so miserably to regulate in the lead up to the crisis.