By Pam Martens and Russ Martens: July 27, 2023 ~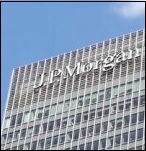 On July 5, Wall Street On Parade filed a Freedom of Information Law (FOIL) request with the New York State Department of Financial Services (DFS), the state agency that investigates and penalizes financial institutions for engaging in illicit activities. We were curious as to why the DFS had fined Deutsche Bank upwards of $150 million on July 7, 2020 for its illicit dealings with the sex trafficker of underage girls, Jeffrey Epstein, but had remained silent on any investigations or fines against JPMorgan Chase.
Our curiosity was heightened by the fact that Deutsche Bank had only a 5-year banking relationship with Epstein, from 2013 to 2018, while JPMorgan Chase had a 15-year banking relationship with Epstein, from 1998 to 2013.
When we examined the details in the consent order that the DFS had filed against Deutsche Bank, our curiosity was heightened further. According to the consent order, over the course of Deutsche Bank's relationship with Epstein, more than $800,000 in cold hard cash was withdrawn from Epstein's accounts.
On Monday, in a filing in federal court in lower Manhattan, the Attorney General of the U.S. Virgin Islands revealed that "Between September 2003 and November 2013, or approximately ten years, JPMorgan handled more than $5 million in outgoing cash transactions for Epstein — ignoring its own policy discouraging large cash withdrawals…."
Laundering $5 million in cash for a sex trafficking ring is 6.25 times that of laundering $800,000 for a sex trafficking ring, so we would have expected to see a fine by the NYS DFS of at least $937.5 million against JPMorgan Chase, especially given the fact that JPMorgan Chase is a recidivist criminal with five felony counts already brought against it by the U.S. Department of Justice and admitted to by the bank.
The Attorney General of the U.S. Virgin Islands is suing JPMorgan Chase in federal court and demanding more than $190 million in monetary damages as well as injunctive relief – meaning that the bank has to change the way it conducts its business. The U.S. Virgin Islands' lawsuit charges the following:
"Plaintiff, the Government of the United States Virgin Islands ('Government'), claims and will prove that Defendant JPMorgan Chase Bank, N.A. ('JPMorgan') violated the Trafficking Victims Protection Act, 18 U.S.C. §§ 1581-1597 ('TVPA'), by knowingly participating in and benefitting from Jeffrey Epstein's sex-trafficking and by obstructing investigation through its concealment of Epstein's suspicious transactions from law enforcement. Discovery confirms that JPMorgan knowingly, recklessly, and unlawfully provided and pulled the levers through which Epstein's recruiters and victims were paid and was indispensable to the operation and concealment of Epstein's trafficking. JPMorgan had real-time information on Epstein's payments that the Government did not and had specific legal duties to report this information to law enforcement authorities, which it intentionally decided not to do."
The federal court in Manhattan now has hundreds of internal emails, dozens of depositions, and thousands of documents backing up the claims being made by the U.S. Virgin Islands.
The U.S. Virgin Islands is approximately 1,600 miles from JPMorgan Chase headquarters in Manhattan. The DFS headquarters in Manhattan is approximately 5.9 miles from the Park Avenue headquarters of JPMorgan Chase at the time Epstein was a client. The DFS main office at 1 State Street in Manhattan is approximately 7.2 miles from Epstein's former mansion at 9 East 71st Street where school-age girls were being sex-trafficked, raped and sexually assaulted for years by Epstein and his rich pals, according to lawsuits filed and settled using funds wired out of both JPMorgan Chase and Deutsche Bank.
With such proximity to the scene of the hideous crimes, why has the public heard nothing about any investigation or fines or injunctive relief being leveled against JPMorgan Chase by the New York State Department of Financial Services?
Having filed our sunshine law records request on July 5, we waited anxiously for answers from the DFS. Yesterday, July 26, we received a one-page response from George Bogdan, Senior Attorney in the General Counsel's Office for the DFS.
We had asked for any documents that simultaneously included the phrases "JPMorgan" (or J.P. Morgan) and "Jeffrey Epstein" for the period of 01/01/2008 through 12/31/2019. Mr. Bogdan informed us that the DFS didn't have so much as one scrap of a record responsive to our request; that it was closing our request; and it didn't regulate or charter JPMorgan Chase Bank, N.A.
But when we checked the DFS portal showing entities regulated by the DFS, we found eight separate subsidiaries of JPMorgan Chase that are regulated by the DFS.
State attorneys general are empowered under the Trafficking Victims Protection Act, 18 U.S.C. §§ 1581-1597 ('TVPA') to bring cases against sex traffickers and those that aid them. Why hasn't this been done by the New York State Attorney General? Why is it being left to the Attorney General of the U.S. Virgin Islands?
More importantly, with the mountain of evidence against JPMorgan Chase that has been developed in the three separate Epstein-related lawsuits that have been filed in federal court in Manhattan, why hasn't the U.S. Department of Justice brought criminal charges against the bank for money laundering? The DOJ brought two criminal felony counts against JPMorgan Chase in 2014 for laundering money for Bernie Madoff's Ponzi scheme. Why the hesitation now?
There is a growing feeling among investigative reporters and other engaged Americans that when it comes to JPMorgan Chase and its Chairman and CEO, Jamie Dimon, who has presided over this unprecedented, decade long crime spree at the bank, the DOJ and regulators are simply afraid to take on the 1,000-attorney law firms that the bank hires to battle its way out of its crimes and get cushy deals like non-prosecution agreements and deferred-prosecution agreements.
Currently, in the three lawsuits against JPMorgan Chase related to Epstein in federal court (one by Epstein's victims, one by the U.S. Virgin Islands, and one on behalf of shareholders), the bank has the 1,000-attorney law firm of WilmerHale representing the bank and the 1,000-attorney law firm of Paul Weiss representing its Board in the shareholder lawsuit.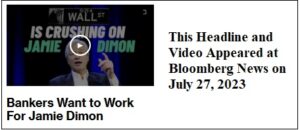 Bloomberg News, for its part, is running the equivalent of an infomercial for Jamie Dimon today (paywall). Its video, plastered on its digital front page, carries the headline: "Bankers Want to Work for Jamie Dimon." Seriously? So they can be charged with racketeering or deposed in a sex trafficking case? The video informs us that: "Wall Street is crushing on Jamie Dimon more than ever…Some bankers, many of whom have only worked in a low rate, cheap money environment, are looking to Dimon as the Wall Street captain they most want to work for."
This is not the first time we have caught Bloomberg News shilling for Dimon. (See Bloomberg News Bashes Wells Fargo While Canonizing JPMorgan Chase's CEO Jamie Dimon, Despite 3 Felony Counts at His Bank (written before the bank got another two felony counts) and The Craziest Video You'll Ever Watch on JPMorgan's Jamie Dimon.
One might be forgiven for thinking that the fact that billionaire Michael Bloomberg, majority owner of the parent of Bloomberg News, whose billions of dollars in wealth derive significantly from the tens of thousands of data and trading terminals it leases to JPMorgan's trading floors around the world, might be less than aggressive in reporting on the serial crimes at the bank with Dimon at the helm.
All of this matters greatly to every American. JPMorgan Chase is the largest federally-insured bank in the United States. Its deposit-taking bank, Chase Bank, has 4,916 branch offices in 49 U.S. states plus another 198 branches on foreign soil. As of December 31, 2022, JPMorgan Chase held $2.43 trillion in deposits, of which only 40 percent were insured by the Federal Deposit Insurance Corporation. (The other 60 percent of deposits either exceeded the $250,000 per depositor/per bank cap on insurance or were deposits on foreign soil which are not insured by the FDIC.)
To paraphrase Richard Nixon, Americans need to know if the largest bank in their country is a serial crook, incapable of changing its ways. If Big Law is standing in the way of that, the 1,000-attorney law firms need to be broken up along with the Too-Big-to-Fail banks. If you agree, please call your U.S. Senators today and demand action.