By Pam Martens and Russ Martens: April 12, 2023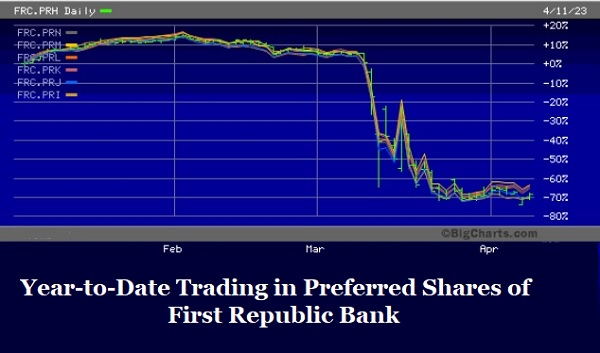 Four of the eleven big banks that announced on March 16 that they were going to dump a combined $30 billion of their own money as uninsured deposits into the plunging coffers of First Republic Bank were also the underwriters of $3.6 billion in preferred stock for First Republic Bank. Units of JPMorgan Chase, Bank of America, Morgan Stanley and Wells Fargo were underwriters of the majority of the preferred stock outstanding at First Republic Bank. UBS, which did not contribute to the $30 billion deposit infusion, was also one of the primary underwriters. UBS was otherwise occupied last month by having a gun put to its head by the Swiss government to "rescue" the tanking Credit Suisse. The Swiss government also denied shareholders on both sides of the deal the ability to vote on the matter.
All of First Republic's outstanding preferred stock was issued at $25 a share. Year-to-date those shares have lost 65 to 70 percent of their market value. As of yesterday's closing bell, the seven series of Preferred (Series H through N) closed between $5.86 and $6.52. (See chart above.)
Not only has investors' principal taken a big hit in these shares, but last Friday the bank announced that it was suspending dividend payments on all of its preferred stock series. First Republic Bank had previously announced the suspension of its dividend on its common stock on March 16. The common stock has plunged in value by 91 percent over the past 12 months. First Republic's common stock market value stood at $29.12 billion on March 31, 2022. At yesterday's closing price of its common stock at $14.13, its total market value stood at $2.64 billion.
Adding more potential liability to the "rescuers" of First Republic Bank is the fact that in this year's and last year's secondary offerings of common stock for First Republic – at dramatically higher prices than where the common stock trades today – units of the following bank rescuers participated as underwriters: JPMorgan Chase, Bank of America, Goldman Sachs and Morgan Stanley.
The Chairman and CEO of JPMorgan Chase, Jamie Dimon, has been given much media credit for the $30 billion "rescue" plan for First Republic Bank, notwithstanding the fact that S&P Global downgraded the credit rating on First Republic deeper into junk territory just three days after this plan was announced. There is also the troubling reality that the common stock share price continued to plunge after the rescue plan was announced and investment advisors in its wealth management unit have continued to flee, taking billions in assets with them to competitors.
Given all this, investors might be forgiven for asking themselves if Dimon's plan was a "rescue" or a box of explosives on a time delay.