By Pam Martens and Russ Martens: November 2, 2022 ~

The Saudis don't especially have a solid record of stock-picking when it comes to global banks.
Back on Saturday, November 10, 2007, Reuters ran a story about Saudi Prince Alwaleed bin Talal stating that Citigroup's share price was "ridiculously low" and he didn't plan to sell any of his large stake in the bank. The Friday before this story ran, Citigroup's share price had closed at $33.10. Six months later, on May 9, 2008, Citigroup's shares closed at $23.63. One year later, on November 10, 2008, Citigroup's shares closed at $11.21. By early 2009 Citigroup's stock was trading at 99 cents.
For the sordid details of how the U.S. government and the Fed helped Saudi Prince Alwaleed bin Talal and another large shareholder, Citigroup's former Chairman and CEO, Sandy Weill, from losing all their money in Citigroup, see our report: The Untold Story of the Bailout of Citigroup.
This was not the only time that the Prince would tout his view that the shares of Citigroup were undervalued. Reuters reported on October 23, 2017 that the Prince had said: "I am really happy with the investment in Citibank [owned by parent, Citigroup], because really right now even with the big jump right now. There is still plenty of room for Citigroup to go 100 and above." Citigroup closed that day at $73.53. It never got anywhere near $100. At yesterday's close, Citigroup had a share price of $46.22, which was actually $4.62 when adjusted for the 1-for-10 reverse stock split that Citigroup did on May 9, 2011. 
Since the Prince first touted the stock as a buy on November 10, 2007, it has been an absolute dog for long-term investors. Below is a chart showing how Citigroup's share price performance compares to that of the Dow Jones Industrial Average over the intervening years since November 2007 through yesterday's close.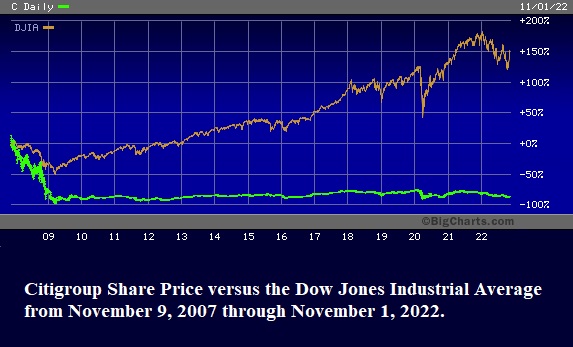 Precisely how much the Prince still holds in Citigroup stock is unknown, but Bloomberg reports that he still owns a stake in Citigroup.
Moral of the story: the Saudis may know oil but they don't seem to understand the vagaries of troubled global banks.
With that bit of background, consider what happened last week. The Saudi National Bank (SNB), which is majority owned by the Saudi government, announced that it would invest as much as $1.5 billion in Credit Suisse – whose shares have collapsed by more than half this year. The stock closed yesterday at $4.16. SNB called the share price of Credit Suisse "a steal."
The Saudi government might be a little bit embarrassed that it gave Credit Suisse a banking license in 2019 and Credit Suisse has a bank operating in Riyadh. How is it going to look for the Saudi banking industry if there's a panicky line of customers lining up outside the Credit Suisse branch to grab their money and run?
There are other global financial institutions that have received banking licenses in Saudi Arabia in recent years. The U.S. Department of Commerce's International Trade Administration reports that the Saudi Central Bank "has granted licenses to a number of new foreign banks to operate in Saudi Arabia, including Deutsche Bank, J.P. Morgan Chase N.A., and Industrial and Commercial Bank of China (ICBC)." (The wording is a bit awkward there: the banks aren't "new" by any measure. It's the Saudi licenses that have been "newly" issued.)
Adding to the intrigue of the Middle East's interest in Credit Suisse, the Financial Times reported this morning that the Qatar Investment Authority (QIA), the sovereign wealth fund of Qatar, will also be participating alongside the Saudi National Bank in the purchase of shares of Credit Suisse. According to the report, QIA already owns 5 percent of Credit Suisse's stock.
The Financial Times report also indicated that an investment company owned by a wealthy Saudi family, the Olayan Group, plans to retain "its stake of about 5 percent in the bank…." After the planned shares sales and rights offerings are completed, "between 20 and 25 percent of Credit Suisse stock" would be in the hands of Middle East investors, according to the article.
To address its crumbling share price, Credit Suisse announced last week that it would be spinning off its investment bank, dramatically cutting its headcount, and raising $4 billion through a share offering.
Update: The last sentence of the fourth paragraph has been updated to explain how Citigroup's current share price has been dressed up as a result of a 1-for-10 reverse stock split conducted by the company on May 9, 2011.