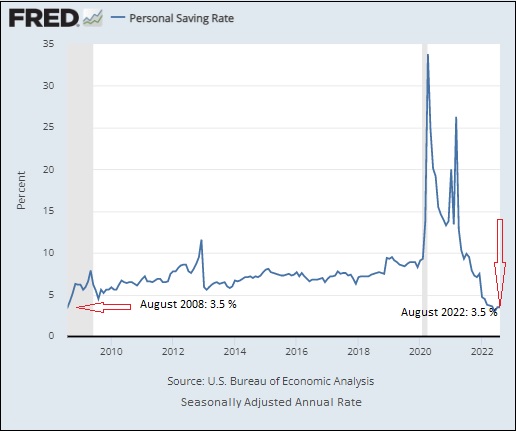 By Pam Martens and Russ Martens: October 27, 2022 ~
At Fed Chair Jerome Powell's press conference on September 21, he made a remark that went unchallenged by the bevy of reporters in attendance. Powell said this:
"This is a strong, robust economy. People have savings on their balance sheet from the period when they couldn't spend and where they were getting government transfers. There's still very significant savings out there, although not as much at the lower end of the income spectrum — but still, some savings out there to support growth. The states are very flush with cash, so there's good reason to think that this will continue to be a reasonably strong economy." (See the top of page 15 of the official transcript from the Fed.)
Powell's statement stands in stark contrast to the numbers coming out of the U.S. Department of Commerce's Bureau of Economic Analysis (BEA). According to BEA data, the Personal Savings Rate in the U.S. now stands at 3.5 percent, exactly where it stood in August of 2008 – in the midst of the worst financial crisis since the Great Depression.
The Personal Savings Rate spiked to 33.1 percent in April of 2020 as a result of two main factors. First, the World Health Organization declared COVID-19 to be a pandemic on March 11, 2020. That declaration came after 118,000 people in 114 countries had been confirmed to have contracted COVID-19 and 4,291 deaths had resulted. Personal savings escalated dramatically in the U.S. after March 11, 2020 as people stopped dining out, shopping in stores and taking vacations out of fear of contracting the virus.
In addition, from April 2020 to December 2021, the federal government made direct payments to individuals totaling $931 billion to help offset the severe financial impact of employment losses from the pandemic. The CARES Act, the Consolidated Appropriations Act of 2021, and the American Rescue Plan Act of 2021 authorized three rounds of Economic Impact Payments that went to approximately 165 million Americans.
The American Rescue Plan Act of 2021 also temporarily expanded the eligibility of the Child Tax Credit (CTC) to more families and increased the credit amounts. From July to December 2021, eligible families received advance monthly payments of half their total expected CTC, benefiting about 84% of children in the US.
But today, the worst inflation in four decades has put Americans back to the level of personal savings as in August of 2008. It is difficult to correlate Fed Chair Powell's assessment of the U.S. economy as "robust" when GDP has contracted for two consecutive quarters.
The financial strain on American households is showing up in growing debt loads. According to the New York Fed's "Quarterly Report on Household Debt and Credit" for the second quarter of this year, aggregate household debt now stands at an historic high of $16.10 trillion – an increase of $2 trillion since December of 2019, just before the onset of the pandemic.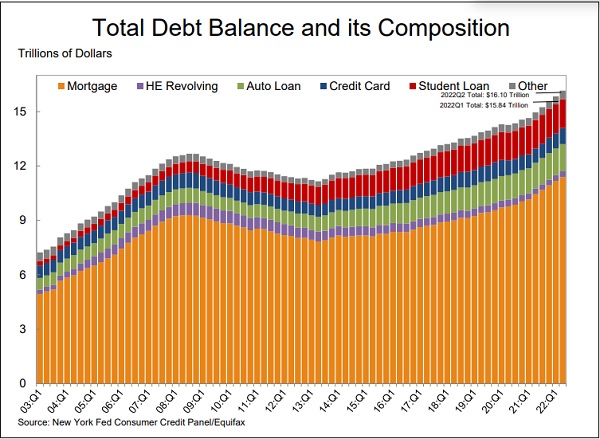 The mega banks on Wall Street, which originate the majority of household debt, will be able to boost their profits by raising interest rates on credit cards and mortgages and home equity loans while American consumers fall deeper into crippling debt and the mercy of Wall Street.
And, despite the saturation of political ads placing today's raging inflation at the feet of President Joe Biden, Congresswoman Katie Porter (who holds a Harvard Law degree) has documented that 54 percent of today's inflation is coming from corporate greed via the highest corporate markups on record. (See video below.)