By Pam Martens and Russ Martens: September 22, 2022 ~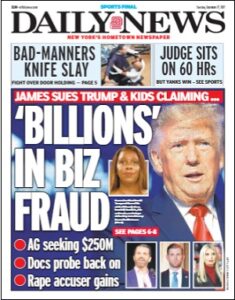 Yesterday, the New York State Attorney General, Letitia James, filed a 222-page lawsuit against former President Donald Trump, the Trump Organization, his three adult children (Donald Jr., Ivanka and Eric), and two company executives, Allen Weisselberg and Jeffrey McConney.
The lawsuit is the culmination of a three-year investigation and documents in meticulous detail a "staggering" pattern of fraud from 2011 through 2021.
A sampling of the more than 200 instances of fraud alleged by the New York State Attorney General is as follows:
"Relying on objectively false numbers to calculate property values. For example, Mr. Trump's own triplex apartment in Trump Tower was valued as being 30,000 square feet when it was 10,996 square feet. As a result, in 2015 the apartment was valued at $327 million in total, or $29,738 per square foot. That price was absurd given the fact that at that point only one apartment in New York City had ever sold for even $100 million, at a price per square foot of less than $10,000. And that sale was in a newly built, ultra-tall tower. In 30 year-old Trump Tower, the record sale as of 2015 was a mere $16.5 million at a price of less than $4,500 per square foot.
"In the 2012 Statement, rent stabilized apartments at Trump Park Avenue were valued as if they were unrestricted, leading to a nearly $50 million valuation for those units—but an appraisal accounting for those units' stabilized [rent] status valued them collectively at just $750,000;
"The Mar-a-Lago club was valued as high as $739 million based on the false premise that it was unrestricted property and could be developed and sold for residential use, even though Mr. Trump himself signed deeds donating his residential development rights and sharply restricting changes to the property – in reality, the club generated annual revenues of less than $25 million and should have been valued at closer to $75 million…
"Increasing the value of golf clubs to incorporate a 'brand premium' despite expressly advising in the Statements that brand value was not included in the figures and despite GAAP rules prohibiting inclusion of internally-generated intangible brand premiums. For example, in the 2013 Statement, the value of Mr. Trump's golf course in Jupiter, Florida was further inflated by fraudulently adding 30% for the Trump 'brand.' Combining the inflation from using the fixed-asset approach with the 30% brand premium, Mr. Trump claimed that a club he purchased for $5 million in 2012 was worth more than $62 million in 2013. The 2013 Statement included the same fraudulent 30% brand premium for six other golf clubs."
The lawsuit also charges that Trump's Statements of Financial Condition falsely claimed that outside professionals had provided the asset valuations. Instead, it alleges the following:
"To the extent Mr. Trump and the Trump Organization received any advice from outside professionals that had any bearing on how to approach valuing the assets, they routinely ignored or contradicted such advice. For example, they received a series of bank-ordered appraisals for the commercial property at 40 Wall Street that calculated a value for the property at $200 million as of August 1, 2010 and $220 million as of November 1, 2012. Yet in the 2011 Statement, they listed 40 Wall Street with a value $524 million and increased the valuation to $527 million in the 2012 Statement, and to $530 million in 2013—more than twice the value calculated by the 'professionals.' "
Attorney General James took questions from reporters at the end of her press conference. A reporter for Politico, Josh Gerstein, asked the following, highly relevant, question: (Scroll to 32:16 on video below)
Gerstein: "How did he get away with what you're saying he got away with, for such a long period of time. A lot of these transactions are with some of the largest financial institutions and insurance companies in the state of New York. Did they just not check anything that people tell them or they presumed it was true. Or did they have hints that these things were not true that they were being told. And what does it tell you about those institutions that they would take his word for it?"
Attorney General James said Deutsche Bank, the large German bank that was Trump's largest lender, was cooperating with her investigation. A more comprehensive answer is that all of the major banks that Trump dealt with have been, themselves, charged with repeated frauds. As Senator Bernie Sanders has frequently stated, the business model of Wall Street is fraud.
Today, right under the nose of the U.S. Department of Justice, JPMorgan Chase – the largest bank in the United States, which helped Trump out with a large loan in late 2021 – is a five-count felon, and was repeatedly given deferred prosecution agreements by the Justice Department since 2014. During that crime spree, both the Justice Department and the bank's Board of Directors have allowed the same Chairman and CEO, Jamie Dimon, to remain at the helm of the bank.
While Dimon has been allowed to threaten the financial stability of the United States with a giant bank built on frauds, the Republican Party put Donald Trump in the Oval Office and gave him the nuclear codes for four years. During those four years, 18 U.S. intelligence agencies saw nothing wrong with allowing Trump — a man who had taken his businesses through bankruptcy six times and was accused by 16 women of sexual assault or sexual harassment — to have access to the nation's Top Secret classified documents – eventually removing hundreds of classified documents to his resort hotel after he left office.
The Attorney General seeks the following restitution from the court:
Permanently bar Donald Trump, Donald Trump, Jr., Ivanka Trump, and Eric Trump from serving as an officer or director in any New York Corporation or similar business entity registered and/or licensed in New York state;
Bar Donald Trump and the Trump Organization from entering into any New York state commercial real estate acquisitions for a period of five years;
Bar Donald Trump and the Trump Organization from applying for loans from any financial institution registered with the New York Department of Financial Services for a period of five years;
Award disgorgement of all financial benefits obtained through the persistent fraudulent practices of an amount to be determined at trial and estimated to total at least two hundred and fifty million dollars ($250 million).
Permanently bar Allen Weisselberg and Jeffrey McConney from serving in the financial control function of any New York Corporation or similar business entity registered and/or licensed in New York state;
Appoint an independent monitor to oversee compliance, financial reporting, valuations, and disclosures to lenders, insurers, and tax authorities at the Trump Organization for a period of no less than five years, and other remedies.
James also announced that her office has made a referral for criminal prosecution to the Internal Revenue Service and the Justice Department's U.S. Attorney's Office for the Southern District of New York.
The brazen frauds documented by Attorney General James against Trump, together with the fact that the American people have been denied an explanation as to how Trump ever passed a background check to serve as U.S. President; to make more than 200 lifetime federal judge appointments; to appoint the heads of the CIA, FBI, Secret Service, Department of Homeland Security, Federal Reserve and so forth, demands an Independent Crime Commission to unravel the unprecedented threat that Trump posed (and potentially still poses) to the United States and to provide credible answers to the American people.
As it currently stands, a majority of Americans believe democracy is under serious threat in the U.S. America's foreign allies question if the U.S. can be trusted with national security secrets since Top Secret documents were allowed to go missing at Trump's Mar-a-Lago resort hotel for 18 months, and Trump appointees remain at the helm of key U.S. law enforcement/national intelligence agencies.