By Pam Martens and Russ Martens: July 8, 2022 ~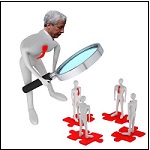 In 2018, Bloomberg reporters Peter Waldman, Lizette Chapman, and Jordan Robertson published a stunning expose on how JPMorgan Chase was spying on its employees, including after hours, using as many as 120 engineers from the data mining company Palantir Technologies Inc. According to the Bloomberg report, "It all ended when the bank's senior executives learned that they, too, were being watched, and what began as a promising marriage of masters of big data and global finance descended into a spying scandal."
But the surveillance program did not end. The bank simply developed its own proprietary spying system instead. Business Insider reporter, Reed Alexander, has reignited the scandal with the news that the internal surveillance program at JPMorgan Chase is now called "Workforce Activity Data Utility" or WADU.
According to Business Insider, the surveillance is fostering paranoia inside the bank with employees using the term "Big Brother" and "1984," a reference to the George Orwell book.
Wall Street On Parade can now break the news that the surveillance system is even worse than employees imagine. How do we know? We looked up the patent for the system at the U.S. Patent and Trademark Office.
Based on the patent information we located, it suggests that this employee surveillance system has been in place inside JPMorgan Chase for more than eight years. The patent was filed on March 13, 2014 and was granted patent number 10,719,799 on July 21, 2020.
The brainiac inventors who came up with this plan, according to the patent application, are William V. Harris, Jonathan B. Teplitz, and Ganesh Murugan. The profile for Teplitz at LinkedIn, who is now a Managing Director at JPMorgan Chase, says a past job at the bank was to "manage the Technology for Social Good initiatives." JPMorgan Chase owns the patent.
There's a copious amount of redundant verbiage in this patent application – likely to obfuscate the Orwellian nature of its intentions, so we have isolated below some of the more eye-popping passages:
"A computer-implemented method for analyzing employee productivity… wherein generating employee metrics includes generating a digital footprint for each employee…
"…wherein the structured data comprises: employee location data; employee activity data; employee output data; and employee cost data…
"Embodiments of the virtual management computing system of the invention track employee productivity and efficiency through large-scale collection and analysis of disparate forms of employee data from multiple different and distributed data sources. The collected data may include large unstructured datasets. The virtual management computing system normalizes the collected data into a standard format and creates a digital profile of daily activity for each employee. The usage of these digital profiles and the combination of the disparate data enables visualization of relationships that provide insight into productivity and resource management than the independent data sources…
"The devices and systems may include, for example, corporate data sources…, home computing systems…office computing systems…mobile devices…, biometric systems…, security systems…, and client systems… These source and destination systems that interact with the virtual management computing system are merely exemplary. Additional systems or devices may be included in the operating environment…
"The building information system may track building capacity and building utilization. Additionally, badge swipe and biometric systems may provide data as they track entry and exit of employees from buildings, floors, rooms, and complexes."
The above text raises a multitude of troubling privacy questions. For example, is JPMorgan Chase using "biometric systems" to identify employees' comings and goings? If so, did it get permission from the employee? In the above paragraph, where it mentions tracking employees to "rooms," is it keeping tabs on how many times a worker uses the bathroom in a day?
Then there is the heightened concern that JPMorgan Chase might be tracking this employee using biometric data such as facial recognition throughout his or her comings and goings in Manhattan. Wall Street On Parade previously revealed that JPMorgan Chase occupies one of the seats alongside the New York City Police Department at the Lower Manhattan Security Coordination Center, a high-tech surveillance center which operates around the clock. That center utilizes thousands of private and government spy cameras located on the streets of Manhattan, which relay live video feeds to the center of people's comings and goings.
According to photos we located that were taken by a foreign news agency during a press tour of the center, security representatives from JPMorgan, Goldman Sachs, Citigroup, the New York Fed and the New York Stock Exchange have cubicles in the center, designated with a brass name plate.
That the New York City Police Department is sharing a law enforcement operation with JPMorgan Chase is nothing short of Orwellian in and of itself. Since 2014, JPMorgan Chase has racked up an unprecedented five criminal felony counts brought by the U.S. Department of Justice, to which it admitted guilt. These were no small matters. Two felony counts came in 2014 for the bank's role in the greatest Ponzi scheme in history – the Bernie Madoff swindle. Another felony count came in 2015 for the bank's role in a cartel that was rigging foreign exchange trading. Two more felony counts came in September 2020 for the bank engaging in "tens of thousands of instances of unlawful trading in gold, silver, platinum, and palladium…as well as thousands of instances of unlawful trading in U.S. Treasury futures contracts and in U.S. Treasury notes and bonds…."
But those five felony counts barely scratch the surface of JPMorgan's rap sheet, with all of these crimes occurring with Jamie Dimon at the helm of the bank, and no pushback from regulators, Congress or the bank's Board of Directors that Dimon should be removed from his post.
The crime culture at JPMorgan Chase is so unprecedented that in March 2016, trial attorneys Helen Davis Chaitman and Lance Gotthoffer published a book titled: JPMadoff: The Unholy Alliance between America's Biggest Bank and America's Biggest Crook. The trial attorneys wrote this jaw-dropping paragraph:
"In Chapter 4, we compared JPMC [JPMorgan Chase] to the Gambino crime family to demonstrate the many areas in which these two organizations had the same goals and strategies. In fact, the most significant difference between JPMC and the Gambino Crime Family is the way the government treats them. While Congress made it a national priority to eradicate organized crime, there is an appalling lack of appetite in Washington to decriminalize Wall Street. Congress and the executive branch of the government seem determined to protect Wall Street criminals, which simply assures their proliferation."
Chaitman and Gotthoffer added this for good measure:
"If Jamie Dimon is running a criminal institution, he should be prosecuted for it. And law enforcement has the perfect tool for such a prosecution: the Racketeer Influenced and Corrupt Organizations ACT (RICO)."
In fact, the Justice Department used the RICO statute, which is typically reserved for organized crime enterprises, to charge precious metals traders at JPMorgan Chase in 2019 with turning the precious metals trading desk at the bank into a racketeering enterprise.
According to news reports, some of those traders are cooperating with the Justice Department's investigation.
In April of last year, Donald Turnbull, a former Global Head of Precious Metals Trading at JPMorgan Chase, filed a federal lawsuit against the bank. Turnbull worked on the same precious metals desk that was deemed to be a racketeering enterprise by the U.S. Department of Justice when it handed down indictments in 2019.
Turnbull's lawsuit alleged that the bank trumped up false charges against Turnbull as a pretext to terminate him when it was actually terminating him for cooperating with the Department of Justice's investigation.
Turnbull was not one of the traders that was indicted by the Department of Justice. Nonetheless, Turnbull alleges in the lawsuit that the indicted traders received better benefits when they were released from employment than he did. Despite a seriously-ill wife, Turnbull states in the lawsuit that JPMorgan Chase cancelled his health insurance, did not pay him severance, and took away his unvested stock awards.
And two previous female lawyers who worked at the bank have also charged that fraud is condoned inside the bank.
All of this raises the question as to what the real motive is for JPMorgan Chase to be operating sprawling surveillance of its employees.
~~~~~
You might be wondering what prompted Wall Street On Parade to look for patent filings on this surveillance system. It's because we are aware that the bank is paying huge salaries for more software developers than Google, and would thus expect to get patent protection for its money.
Dimon wrote in his 2014 annual shareholders' letter that JPMorgan employs "nearly 30,000 programmers, application developers and information technology employees…" According to JPMorgan's Anish Bhimani in an interview in 2013, JPMorgan has "more software developers than Google, and more technologists than Microsoft…we get to build things at scale that have never been done before."
Just because you can do things that have never been done before, doesn't mean that you should – whether it's tracking employees' moves from room to room or racking up a rap sheet that's the envy of the Gambino crime family.
The Senate Banking Committee will soon be holding its annual hearing with all of the CEOs from the megabanks on Wall Street, including Jamie Dimon. Committee members need to have questions ready on this unprecedented crime wave at the largest federally-insured bank in the United States, why Dimon is still allowed to sit at the helm, and what's really going on with this sprawling employee surveillance system.