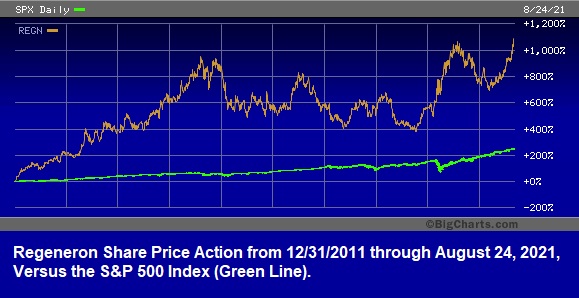 By Pam Martens and Russ Martens: August 25, 2021 ~
Billionaire hedge fund titan Ken Griffin's Citadel Advisors has had a stake in the biotech company, Regeneron Pharmaceuticals, since at least December 31, 2011 – a decade ago. The same is true for billionaire Jeffrey Yass' giant hedge fund, Susquehanna International Group. Both stakes have grown in size in recent years.
As of the most recent 13F SEC filing for Citadel Advisors for the quarter ending June 30, 2021, it and its related entities held a stake in Regeneron of long call options and common stock with a value of $189.7 million versus a short position of puts with a value of $188.5 million.
As of its filing with the SEC for the quarter ending June 30, 2021, Susquehanna International Group reported a long position of common shares and calls of 1,116,127 shares valued at $623.4 million versus a short position of puts representing 1,102,800 shares valued at $615.95 million.
It will be very interesting to see what both hedge funds report on their next 13F filings with the SEC for the quarter ending September 30, because something rather dramatic has happened since their last filing.
The Republican Governor of Florida, Ron DeSantis, is attempting to save his political career as Florida registers an average daily COVID-19 new case count of 21,263 and average daily hospitalizations of 17,225 – the worst in the United States. DeSantis is also battling school districts throughout his state who are defying his orders not to impose mask mandates in schools and to leave the decision up to parents.
In an effort to get out in front of growing COVID-19 cases and overtaxed hospitals, on August 12 DeSantis embarked on a plan to open treatment centers in counties throughout the state to provide a monoclonal antibody treatment made by Regeneron. The company's stock has climbed 10 percent since that announcement on August 12.
Since December 31, 2011, Regeneron is up 1000 percent versus 200 percent for the S&P 500 Index. Much of that move is explained by this reporting from Matt Herper and Ellie Kincaid in a July 26, 2018 article as Forbes. Herper and Kincaid write:
"Regeneron, like other biotech firms, spends giant sums to find new cures, and it charges accordingly. Its big seller, the eye drug Eylea, costs $11,000 a year per eye. A newer Regeneron product, Dupixent, treats skin rashes; that one can run $37,000 a year. A cholesterol treatment costs $14,000 a year. Even more insane: These eye-catching prices really are cheap by pharma standards."
So far, DeSantis has opened 18 Regeneron treatment centers around the state, including at libraries, parks and fairgrounds. DeSantis is quick to point out that the treatments are free to patients. That's because the federal government has already paid for the treatments, shelling out $2.625 billion for 1.25 million doses on January 12 of this year. That works out to a cost to the taxpayer of $2100 per dose. That $2.625 billion transaction occurred just 8 days before President Trump left office.
The $2100 cost per dose of Regeneron's treatment compares to an estimated average cost of $50 per patient for two doses of the mRNA vaccines in the United States. The federal government also paid for those vaccine shots, making them free to patients.
Republicans have been huge beneficiaries of political campaign contributions from both Ken Griffin and Jeff Yass.
According to data at the Federal Election Commission (FEC), during the 2019-2020 election cycle, Griffin sent 21 checks of $1 million or more each to PACs and Super PACs working on behalf of, exclusively, Republicans. That included $37 million to the Senate Leadership Fund for Republicans.
Griffin made so many contributions to individual Republican candidates that we filtered the FEC data by looking at just the checks he wrote out for $1 million or more. That turned up a total of $61 million in just the 2019-2020 cycle for PACs and Super PACs working to elect Republicans. His total outlay on behalf of Republicans was millions of dollars more.
Griffin is also a big donor to Republicans in Florida, including Ron DeSantis. State records show Griffin made the following contributions since 2018:
$500,000 to Friends of Ron DeSantis on May 14, 2018; $250,000 to the same group on June 21, 2018; $5 million to the same group on October 3, 2018. On April 30 of this year, Griffin made another $5 million donation to Friends of Ron DeSantis.
In addition, Griffin donated $500,000 to the Republican Party of Florida on October 14 of last year. On the same date, he donated another $500,000 to the Florida Republican Senatorial Campaign.
Griffin's hedge fund is located in Chicago. Why he is so interested in DeSantis and the Republican party of Florida is more than a little curious.
We found no similar contributions in Florida for Jeff Yass. However, the Center for Responsive Politics reports that Yass donated $28.8 million to SuperPacs supporting right-wing Republicans in the 2019-2020 election cycle. That included some members of Congress who refused to certify the election for Joe Biden after their states had already done so.