By Pam Martens and Russ Martens: July 20, 2021 ~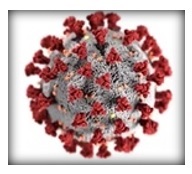 Yesterday, the Dow Jones Industrial Average fell 725.8 points out of fear that there will be renewed business restrictions to deal with spiking COVID cases in all 50 states in the U.S.
On July 8 the Food and Drug Administration and the Centers for Disease Control and Prevention jointly released an unequivocal statement on the COVID-19 vaccines that are in use in the United States. The statement read in part:
"People who are fully vaccinated are protected from severe disease and death, including from the variants currently circulating in the country such as Delta. People who are not vaccinated remain at risk. Virtually all COVID-19 hospitalizations and deaths are among those who are unvaccinated."
That statement is now coming under growing scrutiny as evidence mounts of fully vaccinated Americans getting COVID-19, with hundreds ending up in the hospital. (An individual is considered "fully vaccinated" two weeks after receiving the second dose of either the Pfizer-BioNTech or Moderna vaccine, or two weeks after receiving the single-dose Johnson & Johnson vaccine.)
The largest challenge to the unequivocal statement from the FDA and CDC came on July 5 from the Israel Ministry of Health. The Pfizer-BioNTech vaccine was used in Israel. It was also one of the vaccines used widely in the U.S. The Israel Ministry of Health said this about that vaccine:
"From the epidemiological analysis by public health services in the Ministry of Health, it is evident that since June 6th there was marked decline in the effectiveness of the vaccine in preventing infection (64%) and symptomatic illness (64%). This decline has been observed simultaneously with the spread of the Delta variant in Israel.
"Nevertheless, the vaccine maintains an effectiveness rate of about 93% in preventing serious illness and hospitalization cases."
The Israel study suggests that persons who were fully vaccinated with the Pfizer vaccine still have a 36 percent chance of getting COVID and a 7 percent chance of serious illness or hospitalization.
Unfortunately, statistics from some U.S. states suggest a far more serious outcome. The U.S. is calling cases where fully vaccinated persons contract the virus "VB" cases or "Vaccine Breakthroughs."
On July 19, NBC News reported that "151 people in Illinois have died due to COVID-19 or complications after being fully vaccinated. That figure equates to 2.2% of COVID-19 deaths in the state since Jan. 1, officials said. At least 563 fully vaccinated people have been hospitalized in Illinois," according to the Illinois Department of Public Health.
According to a report from the Department of Health and Social Services in Alaska, from February 1 to June 30, 2021, they classified 656 COVID cases as VB cases. The report notes that "Seventeen persons with VB infections were hospitalized and two died (both had substantial comorbidities)." Seventeen hospitalizations out of 656 VB cases represents 2.5 percent.
Another troubling report was released yesterday by Kentucky's Lexington-Fayette County Health Department. According to an NBC News affiliate, that Health Department reported "a growing number of 'breakthrough' COVID-19 cases, which are positive cases found in people who are fully vaccinated. The health department said about 20-25% of new cases are considered breakthrough."
Those are deeply troubling statistics for vaccines that were originally promoted in the U.S. as being more than 90 percent effective.
Last Friday, the Salt Lake Tribune in Utah reported these troubling statistics:
"Breakthrough cases are up in a big way in Utah. Cases among vaccinated people are still much less common than those among unvaccinated people, but both are growing, due to the Delta variant and its increased level of contagiousness.
"Basically, we're seeing between 50 and 100 cases per day among the vaccinated, and 300 to 600 cases per day among the unvaccinated."
The stock market had factored in a return to normal – with "normal" being no new COVID cases among the fully vaccinated or, at least, an infinitesimal amount. Clearly, 50 to 100 new cases a day among the vaccinated in just one state is not the return to normal the stock market was hoping for, nor is it the outcome that millions of Americans were hoping for.
On July 13, a CBS news local affiliate station reported that in Provincetown, Massachusetts, "entire homes of visitors over the Fourth have tested positive, despite being fully vaccinated."
The effectiveness of the Johnson & Johnson vaccine is also coming under scrutiny. Yankee players and staff were vaccinated with the J&J vaccine in early April. On May 13, the MLB announced that a Yankee player, three coaches and four members of the travelling staff (all fully vaccinated) had tested positive for COVID-19.
Just last Thursday evening, July 15, the Yankees had to cancel a game with the Boston Red Sox when six Yankee players tested positive for COVID-19. ESPN reported that "the majority had received a COVID-19 vaccine and were asymptomatic."
The spike in COVID cases in Los Angeles has reached the point that the county has reinstated its indoor mask policy – including for those who are fully vaccinated.
Given how very little is known about the Delta variant at this point in time, wearing a quality mask in indoor settings, and avoiding crowded social gatherings, would seem to be the responsible thing to do, for both yourself and others.
The American Academy of Pediatrics appears to agree. It is recommending that "All students older than 2 years and all school staff should wear face masks at school (unless medical or developmental conditions prohibit use)."