By Pam Martens and Russ Martens: May 4, 2021 ~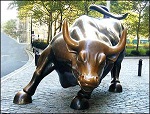 It was just 11 days ago that we wrote the following about family office hedge funds like Archegos that are failing to publicly file a list of their stock positions along with the market values, as the SEC requires for entities managing more than $100 million:
"Another example is billionaire Bill Gates' family office, Cascade Investment LLC. According to CaproAsia it ranks number 3 among the world's largest family offices with $51 billion in assets. Cascade Investment LLC hasn't filed a 13F form with the SEC since the quarter ending September 30, 2008 (coincidentally, the same quarter that Wall Street blew itself up, taking the stock market along with it). At that point in time, Cascade Investment showed $4.32 billion in stock positions. Its only filings since that time simply show what stocks it's acquired and sold, but not the 13F which would show the full positions in its portfolio and their value."
Since yesterday's announcement that Bill and Melinda Gates have decided to divorce, we decided to wade through all of those individual filings by Cascade Investment. Here's what we found.
First, Bill Gates lists himself as the sole member of Cascade Investment and makes clear that the stocks that he and Melinda own jointly through the Bill & Melinda Gates Foundation Trust are completely separate from his direct ownership of what's in his family office hedge fund, Cascade Investment, which operates out of Kirkland, Washington.
According to SEC filings dating back to 2015, Gates owns the following through Cascade Investment, based on yesterday's closing prices:
AutoNation $1.9 Billion
Berkshire Hathaway Class B $1.69 billion
Canadian National Railway $11 Billion
Deere $11.7 Billion
Ecolab Inc. $6.9 Billion
Liberty Global PLC $235.6 Million
Otter Tail Corporation $165.5 Million
Republic Services $11.75 Billion
Waste Management $2.3 Billion
That's a cool $47.6 billion that it would appear Bill Gates has carved out for himself. And that doesn't include any cash or money market funds that are sitting in the portfolio.
We also couldn't track down what happened to the large position that Cascade held in 2015 in Strategic Hotels & Resorts, Inc. According to an SEC filing in 2015, Cascade owned 9.8 percent of the company's stock, or 26,912,800 shares. We found no subsequent filing indicating the shares had been sold or acquired. However, on December 11, 2015, a unit of Blackstone announced that they were acquiring the company and paying existing common stock holders $14.25 in cash. That would have been a nice haul of $383.5 million for Gates, assuming he cashed in his shares. Blackstone subsequently flipped the company less than a year later in a sale to a Chinese firm, Anbang Insurance Group Co. Ltd.