By Pam Martens and Russ Martens: February 1, 2021 ~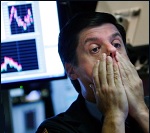 When it comes to the shares of GameStop, most of the mainstream media's focus has been on the Reddit message board commentators who stood to make millions of dollars from boosting the stock price. It's a good bet that the SEC, FBI, Financial Stability Oversight Council, Senate and House investigators are setting their sights on those who stood to make…not millions but billions. The overarching question will be: did any of the big players engage in a direct role on Reddit or incentivize the people posting on the Reddit message board, WallStreetBets, to hawk the shares of GameStop.
It's very clear from the volume of trading in GameStop that amateur traders are not the major movers of this stock. The stock has gone from trading less than 13 million shares a day in November to over 150 million shares per day on multiple days last week.
This is looking more like a vicious war between rich guys who held big stakes in GameStop versus a handful of hedge funds that were massively short the stock. (To short a stock means to bet the share price will fall.)
Aside from the hedge funds like Melvin Capital that has lost billions of dollars on its short bet, another big loser in the tug of war appears to be a South Korean group that was long the stock (owned it) but sold way ahead of the big jump in share price. According to a filing with the SEC dated January 27, 2021, for the period ending December 31, 2020, the South Korean MUST Asset Management had dumped all of the 3.3 million shares it owned by the end of last year. Ownership of those shares had been acknowledged to the SEC in a filing on March 20, 2020. We do not know at present exactly when in 2020 MUST Asset Management sold their shares. GameStop traded below $25 a share throughout 2020. GameStop closed at $325 last Friday.
Kurt Wolf's Hestia Capital Partners and Hestia Capital Management dumped 810,000 shares of GameStop on January 12-13, 2021 at prices ranging between $19.99 and $31.08. That's a far cry from where GameStop was trading intraday on Friday, reaching a high of $413.98 before closing at $325.00. Based on the data provided to the SEC, Hestia sold off approximately $17.19 million. That would leave Hestia with 1,180,000 shares, which had a market value of $383.5 million as of Friday's close.
Ryan Cohen's RC Ventures increased its position in GameStop to 9,001,000 shares on January 10, 2021 according to its filing with the SEC, representing 12.9 percent of the company's outstanding stock. That was an increase of 2.5 million shares from RC Ventures' position in GameStop as of September 21, 2020. If Cohen's firm still held its position as of last Friday's close, it had a value of $2.9 billion.
Senvest Management, founded by Richard Mashaal in 1997, owned 3.6 million shares of GameStop according to an SEC filing made on October 7, 2020. If it still held that position at Friday's close, it was worth $1.17 billion.
Permit Capital, which has had a very testy relationship with the Board of GameStop, owned 3.1 million shares as of September 30, 2020. Permit Capital sold 190,000 shares of GameStop between September 2 and September 8, 2020 at prices ranging between $7.70 and $8.04. Those 3.1 million shares, if they are still owned by Permit Capital, would have been valued at just over $1 billion at Friday's closing price.
As of May 4, 2020, Michael Burry, the man who bet against subprime debt and made a fortune in the 2008 financial crash (his character was played by Christian Bale in the movie, The Big Short) owned 2.8 million shares of GameStop through his company, Scion Asset Management. Those shares would have had a value of $910 million at Friday's close. The same report shows that in April, Scion had owned 3.4 million shares of GameStop but had sold off 598,000 shares in early May 2020 at prices ranging between $5.30 to $5.75. We're guessing Burry would rather not talk about that.
We will continue to watch for SEC filings to see who was taking profits during the frothy runup in the stock last week.
The CEO of GameStop, George Sherman, is another large holder. As of April 20, 2020, according to GameStop's proxy statement, Sherman owned 1,127,762 shares of GameStop of which 978,748 were unvested restricted shares. Assuming Sherman stays with the company until his shares vest, his holdings were worth $366.5 million as of Friday's close.
It wasn't a good look for Sherman when the Chair of his Board of Directors, Kathy Vrabeck, sold 50,000 shares on January 13, 2021 for $1.4 million, at prices ranging between $26.74 to $30.94. At the time, the 50,000 shares represented 22 percent of her holdings.
We've purposely left out big GameStop shareowners like BlackRock and Vanguard whose GameStop shares are held in Exchange Traded Funds or mutual funds that beneficially belong to millions of investors.
There may also be other large players whose percentage ownership of GameStop's outstanding shares was less than the amount required to be reported to the SEC.
Editor's Update February 1, 2021: Billionaire Jeffrey Yass is one of the founders and now Managing Director at trading powerhouse, Susquehanna International Group (SIG). The company filed a 13F with the SEC for the period ending September 30, 2020 showing the following position in GameStop: it owned 4.44 million shares outright; it held puts (short bets that the price would decline) on 2.8 million shares; and it owned calls (bullish bets that the price would rise) on 697,700 shares. In other words, SIG was net long (bullish) on GameStop.
Notably, the company says: "Game theory rings true in everything we do. We're big on competition, strategy, and managing risk – just like great gamers are. Find out how we use our favorite games to hone our skills and apply them to complex financial markets."
Philadelphia Inquirer reporters Joseph N. DiStefano and Erin Arvedlund describe SIG like this: "…it was founded in 1987 on the floor of the old Philadelphia Stock Exchange by a gang of SUNY-Binghamton grads who had been banned from casinos for using math to beat the house. Its publicity-shy founders, Jeff Yass and Arthur Dantchik, have built it into a powerhouse of 2,000 traders and support people, known for using poker to train new hires and for making big bets on small movements in hot stocks and cool bonds."
The Center for Responsive Politics reports that Yass donated $28.8 million dollars to SuperPacs supporting right-wing Republicans in the 2019-2020 election cycle, including some members of Congress who refused to certify the election for Joe Biden after their states had already done so. Yass is also on the Board of Directors of the nonprofit, right-wing Cato Institute, which was secretly owned by a handful of men, including the Koch Brothers, for years. (See Secret Owners of Cato Institute Surface as Koch Brothers Move to Take Control.)