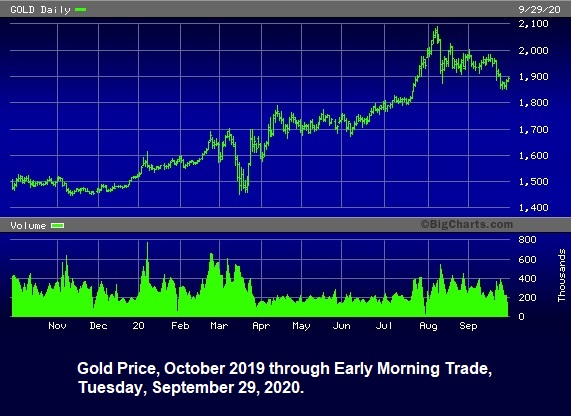 By Pam Martens and Russ Martens: September 29, 2020 ~
On December 6 of last year, Bloomberg News reported that Goldman Sachs and the Justice Department were in discussions to settle criminal charges related to the 1MDB Malaysia sovereign wealth fund bribery and kickback scheme for possibly $1.5 to $2 billion. Bloomberg reporters wrote that "a settlement could be announced as soon as next month." It's 10 months later and there has been no such settlement with the Justice Department. So you might want to factor that into your reading of the latest reporting at Bloomberg News predicting an imminent settlement between the Justice Department and JPMorgan Chase over the bank's role in rigging precious metals markets. (Although JPMorgan might, indeed, be eager to settle the case with this Justice Department rather than gamble on a new Justice Department under a different president.)
While multiple indictments have been handed down against JPMorgan precious metals traders since last year by the Justice Department, charging some of the traders with RICO (Racketeer Influenced and Corrupt Organizations Act) crimes, the bank itself has yet to be charged.
Apparently, the gang that has been rounded up is good enough to give the giant Swiss bank, UBS, the confidence to put out a "buy gold" call. Kelvin Tay, the Regional Chief Investment Officer for UBS, put out a "buy" call on CNBC today, stating that "We like gold, because we think that gold is likely to actually hit about $2,000 per ounce by the end of the year."
Not to put too fine a point on it, but that call would have been a lot better on July 16 when gold was trading at $1800 an ounce. (See chart above.) A "sell" call would have also been handy on August 6 when gold hit an historic intraday high of $2089.20. It's been on a downward slope ever since.
If you've ever been to a traditional Chinese or Indian wedding, you'll be in a better position to evaluate the validity of the UBS call on gold.
We had the pleasure of attending a Chinese wedding in Manhattan in the 1990s. The wedding ceremony took place in the morning. Guests were then free to tour Manhattan until the reception early that evening to provide time for the bride and groom to visit with their respective families and receive wedding gifts. When the bride appeared at the reception, she had changed out of her wedding dress into a stunning red sheath dress adorned with so much heavy gold jewelry that it appeared that her small frame might collapse under the weight. It was explained to us that it is traditional for the groom's family to shower the bride with gold to show how much they value her addition to the family and to give her an asset to fall back on, should hard times arrive. It is traditional that only the purest forms of gold, for example, 24-karat jewelry, be presented to the bride.
Apparently, gold is also a really big deal at weddings in India.
Our experience at that beautiful Chinese wedding in Manhattan came to mind yesterday when reading the Financial Times. It reported this from a mega jewelry store owner in India's financial capital, Mumbai:
"Indian consumers hurt by the economic fallout [from the pandemic] are opting instead to sell their family jewels or borrowing against the precious metal to make the most of high global prices."
The owner told the newspaper that "People are coming to sell gold, in case they require cash, in case they require liquidity…Very few people are coming to buy."
The Financial Times added this to the commentary:
"India and China combined account for more than half of global gold purchases. But demand fell by 56 per cent in India in the first half of this year, according to the World Gold Council and just over half in China, although Indian demand picked up in August."
And then there is this from FT:
"Weddings have been postponed as India records more than 80,000 new infections a day while the economic pain — gross domestic product contracted 24 per cent in the three months to the end of June — has reduced the appetite for ostentatious spending."
Apparently, there is a lot to evaluate in weighing the decision to buy gold. Weddings in India and China or the lack thereof; the generosity of grooms' families or lack thereof; prosecution of precious metals trading desks in the U.S., or lack thereof; a peaceful transition of power in the White House, or lack thereof causing a financial panic and setting off a stampede into the safety of gold. Good luck sorting all of that out.
Related Article:
OCC Report: JPMorgan Chase and Citibank Control 76 Percent of all Precious Metals Contracts at 5,362 Federally-Insured Banks