By Pam Martens and Russ Martens: August 10, 2020 ~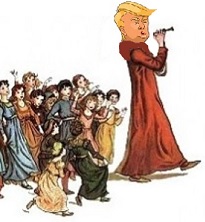 President Donald Trump has taken to governing from the 19th Hole in the midst of the worst economic crisis since the Great Depression. On Saturday, speaking from the clubhouse of the Trump National Golf Club in Bedminster, New Jersey, Trump announced four executive actions that he promised would "take care of, pretty much, this entire situation," meaning economic relief for struggling workers who have lost their jobs as a result of the pandemic. But by the time the Sunday talk shows rolled around, it became clear that the executive orders and memorandum had been hastily cobbled together with gaping holes and obstacles to providing meaningful relief.
Instead of actually extending the $600 supplemental federal unemployment assistance that unemployed workers have been receiving weekly under the CARES Act that Congress passed in March, Trump's Memorandum offers only the possibility of $400 in weekly assistance and directs FEMA to come up with $44 billion of Disaster Relief Funds from the Department of Homeland Security to fund the program. Unfortunately, the Disaster Relief Funds, under statute, require a state match of 25 percent. This means that states, many of which are in desperate financial shape themselves, would have to provide $100 of the $400 federal supplement.
Matthew Barakat of the Associated Press is reporting this morning that many state officials and governors are dubious about being able to afford to participate in the plan.
The $600 federal supplement was needed because most states provide a miserly amount of state unemployment benefits (an average of $378 weekly). In the state of Florida, which has been heavily impacted by COVID-19, the maximum benefit is $275 weekly for just 12 weeks, or a cap of $3300. (Most states provide 26 weeks of state unemployment insurance, but for workers who lost their jobs during the major business shutdowns in March and haven't been able to return to work, that will run out this month or next.) Florida's $275 weekly benefit hasn't increased in more than two decades, despite the cost of food and housing in Florida soaring over that period.
Trump's eviction relief Executive Order is far worse than his unemployment insurance quagmire. It does not order evictions to cease as a result of the pandemic. It simply directs that "The Secretary of the Treasury and the Secretary of Housing and Urban Development shall identify any and all available Federal funds to provide temporary financial assistance to renters and homeowners who, as a result of the financial hardships caused by COVID-19, are struggling to meet their monthly rental or mortgage obligations."
There is no specific language in the Executive Order on how this money will be allocated; what agency will distribute it; or how individuals can apply for the aid.
This amorphous eviction relief plan comes at a time when the U.S. Census Bureau is reporting that 23.7 million Americans had little or no confidence that they would be able to pay their next month's rent. More than half of those indicated that they were unable to pay their most recent month's rent.
The CARES Act included a 120-day eviction moratorium for renters who were living in a property with a federally-guaranteed mortgage and for renters in federal housing assistance programs. That moratorium, unfortunately, ended on July 24. In addition, the Center on Budget and Policy Priorities estimates that the federal moratorium didn't cover approximately 31.4 million renter households.
The CARES Act also provided foreclosure relief for owners of single family homes which had a federally-guaranteed mortgage. The Federal Housing Finance Agency had extended that program but it ends on August 31.
There have also been state and local government-imposed moratoriums on evictions of renters but some of those have expired or will expire soon.
Studies have shown that an eviction is one of the most emotionally-damaging events that can occur in young school-age  children. The traumatic effect of a sudden, forced move may disrupt ties to a beloved caregiver or teacher, close friends, the need to move into an unsafe area as a result of financial hardship, and to have to adapt to a strange school environment on top of all other dislocations.
Surely such eviction trauma for children deserves more research and effort and federal support than a hasty weekend announcement from a rich man's golf club.