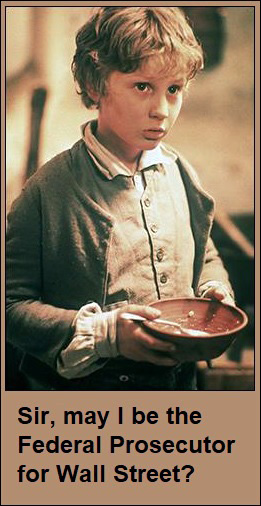 By Pam Martens and Russ Martens: June 24, 2020 ~
There has been surprisingly little attention paid to the fact that members of a House hearing scheduled for tomorrow will get the first shot at asking SEC Chair Jay Clayton the question that is on everyone's minds: why he didn't want to return to his highly compensated job at the Wall Street law firm of Sullivan & Cromwell (where he had previously spent more than two decades of his life) but wanted instead to become the U.S. Attorney (federal prosecutor) for the Southern District of New York – a job for which he lacked one scintilla of prosecutorial experience.  In fact, Clayton wanted that job so badly that he was willing to have U.S. Attorney General William Barr oust the sitting U.S. Attorney in that district, Geoffrey Berman, late last Friday night in order to open the slot for Clayton.
Since that is the District where the serially crime-riddled Wall Street banks are located, and those same banks are some of the most lucrative clients for Clayton's former law firm, Sullivan & Cromwell, let's hope somebody on that hearing panel can frame a question or two in this regard.
The hearing will be conducted by the Investor Protection, Entrepreneurship, and Capital Markets Subcommittee of the House Financial Services Committee. That subcommittee is chaired by the feisty Congressman Brad Sherman of California,  who is certainly up to the challenge of Clayton and his Big Law background. Sherman has a law degree from Harvard where he graduated magna cum laude.
Other tough questioners on that committee include:  Katie Porter of California – another magna cum laude graduate of Harvard Law; and the gutsy Alexandria Ocasio-Cortez of New York. Congressman Bill Foster of Illinois is also usually a good questioner. Foster is the only PhD physicist in Congress.
The hearing was scheduled prior to the uproar over the ouster of Berman and is titled "Capital Markets and Emergency Lending in the COVID-19 Era." The Subcommittee's concerns about Clayton's stewardship of the SEC and oversight of markets can be detected in the Memorandum the Subcommittee previously released for the hearing.
One clear area of concern is how much de-regulation Clayton has attempted to push through as the pandemic distracts Congress. The Subcommittee Memorandum notes the following:
"Shortly after the start of the COVID-19 crisis, over forty non-profit public advocacy organizations as well as SEC Commissioner Allisson Lee and lawmakers called on the Commission to temporarily suspend rulemaking activity not related to the pandemic. However, the SEC continues to propose and adopt rulemakings unrelated to the pandemic, including regulatory changes that revise disclosures, broaden the legal definition of an accredited investor, expand private market exemptions, and change how investors can receive information from proxy advisors.
"Last year, the Commission proposed rules to expand the definition of an accredited investor and place new requirements on proxy advisory firms. The proposed reforms would require proxy advisers to disclose conflicts of interest, and require advisors to provide the companies and others an opportunity to review and provide feedback on the contents of the advisor's recommendation before providing it to the advisor's client, shareholders. The Commission is reportedly considering changes to its initial proposal, and appears close to finalizing its recommendations.
"On March 4, 2020, the SEC proposed changes to its exempt securities offering framework to expand the ability of companies (issuers) to raise capital without having to register their securities. Among other changes, the revisions would raise the limits for how much issuers can raise on a single offering, establish new safe harbors from integration, which occurs when a regulator determines that multiple offerings should be considered to be one 'integrated' offering, and eases rules preventing certain communications between issuers and investors designed to prevent insider trading.
"On May 21, 2020, the SEC announced that it adopted amendments to portions of Regulation S-X, which dictates the disclosures SEC registered companies must make when they acquire or sell other businesses or real estate. These changes reduce the information required to be disclosed in financial statements in connection with these transactions, and clarify these rules as they apply to investment companies. Commissioner Lee critiqued these revisions, noting that the amended regulations provide less transparency for investors and may accelerate merger and acquisition activity, potentially facilitating predatory takeovers of smaller businesses struggling under the current economic conditions."
Last Friday's night coup at the U.S. Attorney's office in Manhattan has put both Barr and Clayton under an unflattering spotlight. Both New York Senators, Chuck Schumer and Kirsten Gillibrand, have said they will not give the greenlight to Clayton's nomination to move into the U.S. Attorney spot. Senator Lindsey Graham, Chair of the Senate Judiciary Committee, has said he will not move Clayton's nomination forward without the approval of those two Senators, following a longstanding policy of the Judiciary Committee.
According to a report at CNN, 65 law professors and faculty from Barr's alma mater, George Washington University Law School, sent a letter on Tuesday stating that Barr's actions "have undermined the rule of law, breached constitutional norms, and damaged the integrity and traditional independence of his office and of the Department of Justice."
As additional fallout, CNN reports that the New York City Bar Association has sent a letter to House and Senate leaders which states that Barr is unfit for the "high position he occupies in our federal government" and should step down.
The backlash this week comes on top of over 2,000 former Justice Department officials calling for Barr's resignation in February. That statement came as fallout over "Mr. Barr's actions in doing the President's personal bidding" in meddling in the sentencing of Trump ally, Roger Stone.
You can watch the live webcast of the House hearing with Clayton at 12 noon tomorrow at this link.