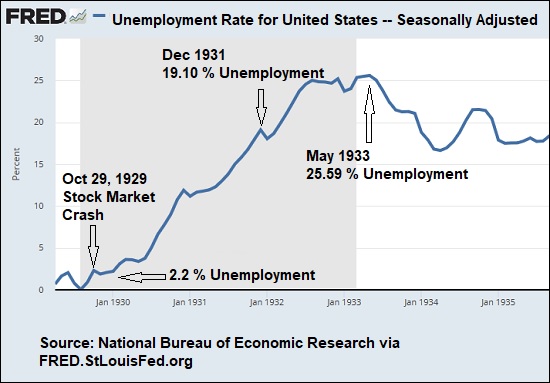 By Pam Martens and Russ Martens: May 8, 2020 ~  
The data is out this morning and it's not pretty. Nonfarm payrolls collapsed by 20.5 million jobs in April and the unemployment rate rose to 14.7 percent. The United States is now seeing the worst unemployment rates since the Great Depression.
We prepared the above chart from data available at the Federal Reserve Economic Data (FRED) archives at the Federal Reserve Bank of St. Louis. Following the stock market crash of October 29, 1929, it was not until August 1931 that the unemployment rate reached 15.01 percent. We're now at 14.7 percent unemployment from a rate of 3.5 percent just two months ago in February.
Consider using the chart above to figure out just how much cash on hand you need to maintain.