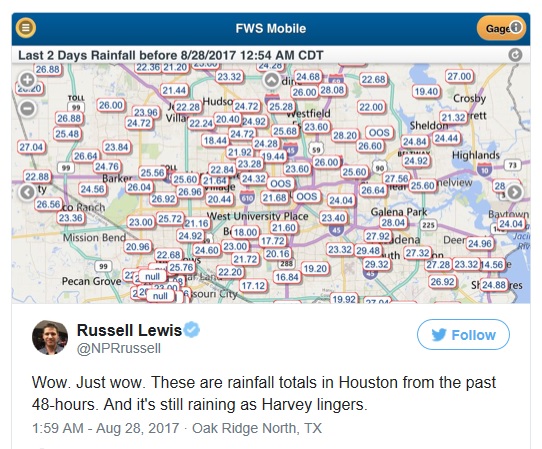 By Pam Martens and Russ Martens: August 28, 2017
When Mayor Sylvester Turner of Houston, Texas briefed reporters yesterday evening, it was clear that Houston, the fourth largest city in the United States with 2.3 million residents, was in deep trouble. The Mayor appeared calm but the numbers he presented evoked images of a nightmare unfolding in a city vastly understaffed for an epic flood disaster.
With highways and residential streets experiencing unprecedented flooding, people were trapped in cars, on rooftops and in homes across the city. The mayor said there had been 6,000 calls for rescues but only more than 1,000 people thus far rescued. With much of the city impassable, flood waters rising fast and the Army Corps of Engineers releasing more water from reservoirs to prevent dams from failing, these were the rescue assets that the Mayor listed: 35 boats making rescues, 22 airplanes looking for people in trouble, 93 dump trucks doing high water rescues. The Mayor said FEMA had provided 16 people for search and rescue missions.
The Associated Press and Houston Public Media reported that "Rescuers have to give top priority to life-and-death situations, leaving many affected families to fend for themselves."
The National Weather Service released a statement saying that "the breadth and intensity of this rainfall is beyond anything experienced before," adding that before the storm passes, some portions of Houston and its suburbs could get as much as 50 inches of rain in total from Hurricane Harvey and its aftermath – the highest amount ever recorded in Texas.
In Houston's southwestern suburbs, officials in Fort Bend County issued mandatory evacuation orders on Sunday affecting a wide area along the Brazos River levee districts over fear of potential levee failure. The order impacts approximately 50,000 people.
In what sounded like an appeal of desperation from an under-prepared FEMA, which should have had massive assets deployed in safe regions of Texas prior to the arrival of Hurricane Harvey, the FEMA Administrator, Brock Long, asked for citizen volunteers. Long said citizens should visit NVOAD.org to register to assist in the disaster. While providing money to reputable disaster assistance groups is a noble undertaking, the prospect of thousands of citizen volunteers heading toward a flooded, impassable city could actually make the situation worse for an already overtaxed municipal rescue operation. It would make far more sense for highly-trained first responders from other cities to provide assistance.
Reporters are already raising questions about the conflicted advice the residents of Houston received: Texas Governor Greg Abbott had urged people to get out of harm's way from the path of Hurricane Harvey while Houston Mayor Turner failed to issue evacuation orders and urged everyone to remain in their homes.
Given the paucity of rescue assets in Houston, there is now likely to be a tendency to under-report the number of deaths that result from drowning. Wall Street On Parade found a concerted effort in this regard in the aftermath of Hurricane Sandy in New York City. Both Mayor Bloomberg and major media attempted to downplay the deaths from drowning and blame fallen trees. Shortly after Hurricane Sandy has passed, we reported the following:
Fourteen of the 22 deaths, or 64 percent, were from drowning, storm surge or water related. And the number of deaths is expected to rise as search and rescue operations continue…
Three people, aged 50, 57 and 72, drowned in separate basements in the Rockaways. The 57-year old was Henry Sullivan, according to the Associated Press. A man in his 50s was also found dead in a flooded lower Manhattan basement. In Tribeca, a middle-aged parking garage worker was killed when he got trapped in the basement by flash flooding. Police found a 70-year-old woman floating in water inside a home on 98th St. in Queens about 1 a.m. Tuesday morning. The body of a 55-year-old man was found in a commercial building at 90 Broad St. in lower Manhattan on Tuesday morning. According to police reports, it appeared he was carried into the building by a wall of water that crashed through the glass front of the building.
And, very slowly, the news of a massive wall of water that toppled homes into piles of debris on Staten Island is seeping out. At least 7 deaths, thus far, have occurred on Staten Island and appear related directly to drowning or the giant storm surge.
Artur Kasprzak, an off-duty NYPD officer in his late 20s, was found drowned in the basement of his Staten Island home, after he had moved other family members to safety on higher ground in the house.  The New York Daily News, which did not release his name, quoted Police Commissioner Raymond Kelly as follows:
"Somehow he got trapped in his basement and he drowned in the basement." (The multiple drownings in basements strongly suggest that even an under-thirty, physically fit NYPD officer was no match for a fast and furious wall of water that quickly filled low-lying areas.)
Another confirmed Staten Island death was a teenage girl, Angela Dresch, found dead near her demolished home on Manhattan Street in Staten Island, likely collapsed by the storm surge. Her mother, Patricia, was located alive and taken to the hospital and is in serious condition; her father as of last evening is still missing.
NBCNewYork.com reported "Two victims were found in the rubble near the Staten Island shoreline. Emergency responders say they're finding homes that were completely flattened by a wall of water during the storm surge."
A 51-year-old man and his 20-year-old son were found dead in the basement of a Fox Beach Avenue home on Staten Island. An 80-year-old woman, Beatris Spanola, was found dead floating in water in her flooded Staten Island home.
What happened to the drowning victims in New York does not have to repeat itself in Houston. All that is needed to change this outcome is adequate, competent and timely search and rescue efforts.