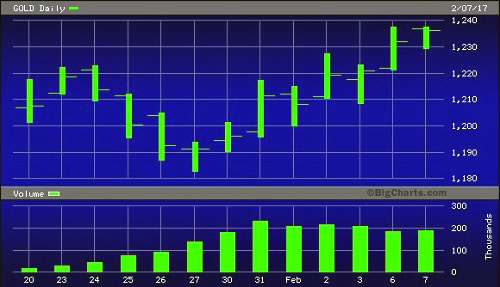 By Pam Martens and Russ Martens: February 8, 2017
The price of gold (see above chart) has been rising and its volume spiking since President Donald Trump signed his infamous Executive Order on immigration on January 27. That action ushered in a new U.S. era of uncertainty in which thousands of agreements, such as Lawful Permanent Resident status known as a green card, can be casually broken by one man in the Oval Office signing an Executive Order and setting off pandemonium in lives and airports around the globe. It raises the fear of what other established laws or rights the President might attempt to sign away.
Gold typically rises when there is fear in stock markets. But the stock market has not been following its typical relationship to gold by selling off. Since Trump's presidential win in early November, the Standard and Poor's 500 has been on a steady uptrend. We'll analyze that further in a moment, but first some necessary background.
At the top of the list of what the stock market hates is uncertainty. Thus, one would have suspected that when the United States elected a President who had never before served in public office with a penchant for hurling insults at the country's largest trading partners, and who promised radical changes in the oversight of Wall Street, there would have been a major selloff in stocks.
That didn't happen because Trump quickly sent hand signals to the biggest traders on Wall Street: the big Wall Street banks (yes, despite the Volker Rule they're still major traders) and the hedge funds. Trump quickly placed Goldman Sachs progeny in key spots in his administration. To make sure the SEC didn't crack down on high frequency trading or Wall Street's Dark Pools – the magical wings beneath the market's buoyancy – someone whispered in Trump's ear that Jay Clayton, an outside lawyer to Goldman Sachs at the powerful law firm, Sullivan & Cromwell, should become the nominee to Chair the Securities and Exchange Commission.
Having Clayton sitting atop the SEC will work especially well for Goldman as Clayton's wife works for Goldman as one of its many Vice Presidents. Under Federal rules, the conflicts of the spouse become the conflicts of the government employee, meaning that Clayton will conveniently have to recuse himself from any decisions directly impacting Goldman. If Clayton proves to be as efficient as his predecessor, Mary Jo White, he'll bring his enforcement chief along from his same law firm – so they are both on the same page when it comes to handing out minor fines and settling without an admission of guilt for Wall Street's serial larcenies. And, of course, they're both highly likely to return to Sullivan & Cromwell and get a nice pay bump when their government service has run its course. If they're as lucky as Eric Holder, the former U.S. Attorney General who failed to prosecute even one top executive of a major Wall Street bank after the greatest financial frauds in U.S. history, their law firm might even have a corner office waiting for them. Holder also brought along Lanny Breuer from his law firm, Covington & Burling, and made him the head of the Justice Department's Criminal Division. According to the PBS program Frontline, Breuer made sure there were "no subpoenas, no document reviews, no wiretaps" against the largest Wall Street banks. In other words, the typical criminal investigation techniques went missing at the Holder/Breuer Justice Department when it came to Wall Street.
Someone also whispered in Trump's ear that any Wall Street uncertainty would be assuaged further by spreading the law partners of a big corporate law firm throughout his administration. On the very day of Trump's inauguration, January 20, the Jones Day law firm announced that a cool dozen of its law partners were moving into the Trump administration. That roster included: Donald F. McGahn II, who had worked for Trump's campaign, as Trump's new White House Counsel; Noel Francisco, who was named Principal Deputy Solicitor General; and Chad Readler, named Principal Deputy Assistant Attorney General of the Civil Division of the U.S. Justice Department. We mention those three in particular since one would have expected the White House Counsel to have vetted a sweeping Executive Order like the one Trump signed on immigration on January 27. One would have further expected Francisco and Readler to be fully prepared to argue against any challenges in the courts.
But what happened instead was this: a young woman named Michelle Bennett from the Justice Department made the oral arguments on behalf of the government before the District Court on February 3. Francisco and Readler's names did appear in first and second place on the government's notice of appeal to the Ninth Circuit Court, but making the actual oral arguments yesterday was a career lawyer from the Justice Department, August E. Flentje, not Francisco or Readler.
Suggesting further uncertainty and disarray in the Trump administration, Francisco and Readler had to recuse themselves from representing the government because Jones Day, the law firm they had left just weeks before, was arguing in the same case for the opposition. Jones Day lawyers Meir Feder and Nicole Henning represented constitutional scholars in an Amicus brief opposing Trump's Executive Order. The brief warned the court that there was "extensive evidence" that the "seven countries were selected because of the religion of their citizens" and that this raised  "a host of constitutional questions as to the rationality of the Executive Order and as to its discriminatory impact. Further, the Executive Order has caused great disorder through its abrupt and dramatic disruption of the specific federal statutory scheme in place…The assertion of unfettered Executive authority, resting in part on congressional legislation from a 1952 statute, is breathtaking in its disruption of the procedures in place, and would authorize even what in the domestic context would be recognized as the most clearly unlawful invidious discrimination."
Not to put too fine a point on it, but that comes from the law firm from which Trump has just hired 12 law partners and put them in key posts in his administration.
Wall Street's favorite index for measuring fear in the market is known as the VIX, short for the Chicago Board of Options Exchange Volatility Index. The VIX measures the suggested volatility in the S&P 500 index options over a 30-day, forward-looking period. It has been as calm as a canoe trip on a ripple free lake.
Because mega Wall Street banks and hedge funds actively trade the VIX, our advice would be to keep an eye on the gold market to measure just how much fear and uncertainty there is in global markets about our new President.