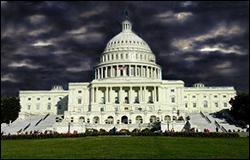 By Pam Martens and Russ Martens: January 17, 2017
The currency of Washington's power politics is campaign money. Much of that campaign money flows from Wall Street's biggest banks: its lobbyists, its Political Action Committees, its employees and their spouses. After flooding the presidential campaign with money, Wall Street is then rewarded by being allowed to make cabinet hiring decisions as part of the new President's transition team, ensuring continuity government and an incurable malignancy on American democracy. To begin the process of draining the corrupt swamp in Washington, it means cutting off the money flow from Wall Street – not looking for a new savior who is deeply indebted to the same Wall Street banks.
Tens of millions of U.S. consumers have the power to pull the plug on the swamp by moving their deposits from big Wall Street banks to their local community banks or their credit union. This would not only deplete Wall Street's coffers to corrupt in Washington, it would provide the cash to reinvigorate the cities and towns that Wall Street has blighted through its dirty swap deals and its evil genius subprime housing bust.
Community banks have the same level of FDIC insurance as the big banks, so you're not taking on more risk when you move your money – providing you hold your funds in FDIC-insured accounts and stay within the insurance limit. FDIC-insurance is backed by the full faith and credit of the U.S. government. (You should ask for a statement in writing from your new bank that the type of account you have selected is insured. See video below for more details. Mutual funds, municipal bonds and annuities are not FDIC-insured, even when you buy them from a bank.)
Federal credit unions have their own Federal insurance system known as the National Credit Union Share Insurance Fund (NCUSIF). See details on this program here.
According to the ICBA (Independent Community Bankers of America) community banks benefit their communities in the following ways:
Community banks fund more than half of small businesses under $1 million;
Most community bank loans benefit the neighborhoods where depositors live and work;
Community banks employ 700,000 Americans and create countless jobs thanks to their role in lending to small businesses and agricultural enterprises;
Community banks hold more than $3.9 trillion in assets, $3.1 trillion in deposits, and $2.6 trillion in loans to consumers, small businesses and the agricultural community;
Community banks make 90 percent of agricultural loans;
More than 2,500 community banks have been in business for over 100 years.
ICBA mentions one other key difference between the big Wall Street banks and the local community bank. It says: "Community banks' boards of directors are made up of local citizens who want to advance the interests of the towns and cities where they live and where their banks do business."
Compare that statement to one member of the Goldman Sachs Board of Directors, M. Michele Burns. In addition to serving as a Director of the sprawling global bank, which is regularly charged by its regulators with serious crimes, Burns simultaneously serves as a Director of Alexion Pharmaceuticals, Inc., Anheuser-Busch InBev, Cisco Systems, Inc. and Etsy, Inc., according to her official bio. Burns has served on the Board of Goldman Sachs since 2011.
In 2015 Goldman Sachs was sued by a shareholder over excessive compensation to its Board of Directors. Jeran Binning argued in Delaware Chancery Court that the company's nonexecutive directors were paid an estimated $500,000 to $600,000 in 2014, far more than a peer group of big Wall Street banks. In the complaint, Burns is listed as having received compensation of $600,019 in 2014 (despite owing her loyalties to multiple corporations). Oral arguments in the case were set to be heard on December 5, 2016.
Another major benefit of draining the Wall Street swamp in Washington is to put an end to the get-out-of-jail-free card that this cozy nexus has spawned. Despite being charged with serial crimes for the past eight years, no top executives of Goldman Sachs or Citigroup or JPMorgan Chase or Bank of America have gone to jail.
Citigroup's Michael Froman effectively controlled the staffing of President Obama's first term and now Goldman Sachs will hold top slots in President-elect Donald Trump's administration. Americans should have learned long ago that pinning one's hopes on a savior is a failed strategy that is doomed to bring on more economic pain. It's time for every American to engage before it's too late to prevent another epic financial crash.
Related Articles:
Senate Specifics on Why Goldman Sachs' Gary Cohn Should Not Have a Role in the U.S. Government
Goldman Sachs' Rich Man's Bank Backstopped by You and Me
Goldman Sachs Beats Another Fraud Rap: Can the Public Ever Get Justice in New York Courts?
If You Remove Trade Secrets from Goldman Sachs You're Prosecuted; If You Remove Top Secret Files from the Government, You're Good to Go
Blowing the Whistle on the New York Fed and Goldman Sachs
Occupy Goldman Sachs — Bring Pitch Fork (And Property Tax Bills)
Barofsky Book: Goldman Sachs and Morgan Stanley Would Have Failed Next
Goldman Sachs to America: F*** You!
Why A Criminal Case Against Goldman Sachs Matters and Why Charges Could Stick