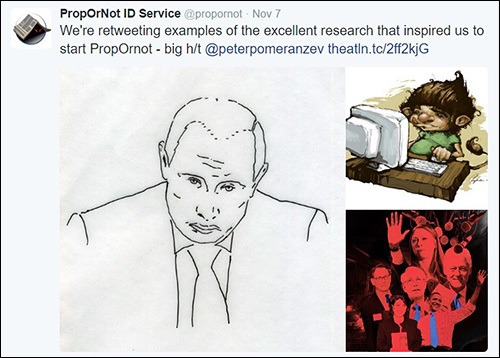 By Pam Martens and Russ Martens: December 7, 2016 
A shadowy group called PropOrNot (shorthand for Propaganda Or Not) that has gone to a great deal of trouble to keep its funders and principals secret, is promulgating a blacklist of 200 alternative media websites that it has labeled "Russian propaganda outlets." On Thanksgiving Day, Washington Post reporter Craig Timberg amplified this smear campaign in an article giving credence to the anonymous group's research.
While a handful of state-funded sites are included on the list, both the Washington Post and PropOrNot have come under withering criticism for engaging in McCarthyism by including dozens of respected sites like Naked Capitalism, Truthout, Truthdig, Consortium News and, initially, CounterPunch, on the list. (CounterPunch has since been removed and Naked Capitalism's lawyer has sent a scorching letter to the Washington Post demanding a retraction and an apology.) The widely read Paul Craig Roberts also landed on the blacklist. Roberts is a former Assistant Secretary of the U.S. Treasury for Economic Policy under President Ronald Reagan, a former Associate Editor of the Wall Street Journal and a former columnist at BusinessWeek. He held Top Secret clearance when he worked for the U.S. government.
Wall Street On Parade closely examined the report issued by PropOrNot, its related Twitter page, and its registration as a business in New Mexico, looking for "tells" as to the individual(s) behind it. We learned quite a number of interesting facts.
As part of its McCarthyite tactics, PropOrNot has developed a plugin to help readers censor material from the websites it has blacklisted. It calls that its YYYCampaignYYY. In that effort, it lists an official address of 530-B Harkle Road, Suite 100, Santa Fe, New Mexico 87505. That's one of those agent addresses that serve as a virtual address for the creation of limited liability corporations that want to keep their actual principals secret. The address has dozens of businesses associated with it. There should also be a corresponding business listed in the online archives of the business registry at the Secretary of State of New Mexico. However, no business with the words Propaganda or PropOrNot or YYY exist in the New Mexico business registry, suggesting PropOrNot is using a double cloaking device to shield its identity by registering under a completely different name.
PropOrNot's Twitter page provides a "tell" that its report may simply be a hodgepodge compilation of other people's research that was used to arrive at its dangerous assertion that critical thinkers across America are a clandestine network of Russian propaganda experts. Its Tweet on November 7 indicates that the research of Peter Pomerantsev, a Senior Fellow at the Legatum Institute in London, who has also been cooperating on research with the Information Warfare Project of the Center for European Policy Analysis (CEPA) in Washington, D.C, inspired its efforts.
According to SourceWatch, the Legatum Institute "is a right-wing think tank promoting 'free markets, free minds, and free peoples.' " SourceWatch adds that the Legatum Institute "is a project founded and funded by the Legatum Group, a private investment group based in Dubai." According to the Internet Archive known as the Wayback Machine, the Center for European Policy Analysis previously indicated it was an affiliate of the National Center for Policy Analysis (NCPA). We can see why they might want to remove that affiliation now that the Koch brothers have been exposed as funders of a very real network of interrelated websites and nonprofits. According to Desmog, NCPA has received millions of dollars in funding from right wing billionaires like the Koch brothers and their related trusts along with the Lynde and Harry Bradley Foundation, the Sarah Scaife Foundation (heir to the Mellon fortune) along with corporations like ExxonMobil.
CEPA's InfoWar Project is currently listed as a "Related Project" at PropOrNot's website. Indeed, there are numerous references within the report issued by PropOrNot that sound a familiar refrain to Pomerantsev and/or CEPA. Both think the U.S. Congress is in denial on the rising dangers of Russian propaganda and want it to take more direct counter measures. Pages 31 and 32 of the PropOrNot report urge the American people to demand answers from the U.S. government about how much it knows about Russian propaganda. The report provides a detailed list of specific questions that should be asked.
In the August 2016 report released by CEPA (the same month the PropOrNot Twitter account was established) Pomerantsev and his co-author, Edward Lucas, recommend the establishment of "An international commission under the auspices of the Council of Europe on the lines of the Venice Commission" to "act as a broadcasting badge of quality. If an official body cannot be created, then an NGO could play a similar advisory role."
On its website, PropOrNot recommends a much stronger censorship of independent media websites, writing:
"We call on the American public to… Obtain news from actual reporters, who report to an editor and are professionally accountable for mistakes. We suggest NPR, the BBC, the New York Times, the Wall Street Journal, the Washington Post, Buzzfeed News, VICE, etc, and especially your local papers and local TV news channels. Support them by subscribing, if you can!"
It has been the experience of Wall Street On Parade that the editors of the New York Times are more than willing to ignore brazen misreporting of critical facts, even when the errors are repeatedly brought to their attention; even when those erroneous facts are then repeated by the President of the United States. (See our report: President Obama Repeats the Falsehoods of the New York Times and Andrew Ross Sorkin on Restoring the Glass-Steagall Act.)
CounterPunch was quick to point out that the Washington Post's former publisher, Philip Graham, supervised a disinformation network for the CIA during the Cold War, known as Mockingbird. Graham was reported to have died of a self-inflicted gunshot wound at his farm in 1963.
CEPA's website indicates that on May 10 it hosted Senators Chris Murphy and Rob Portman to discuss "Russia's sophisticated disinformation campaign." CEPA's President, A. Wess Mitchell is quoted as saying: "What's missing is a significant effort on the part of the U.S. government. Not nearly enough has been done."
Six days after Washington Post reporter Craig Timberg ran his first PropOrNot story, he published another article indicating that "Congressional negotiators on Wednesday approved an initiative to track and combat foreign propaganda amid growing concerns that Russian efforts to spread 'fake news' and disinformation threaten U.S. national security." Quoted in the story was none other than the very Senator who had met with CEPA in May on that very topic, Senator Rob Portman.
Portman is quoted as follows: "This propaganda and disinformation threat is real, it's growing, and right now the U.S. government is asleep at the wheel." Among Portman's top three donors to his 2016 Senate race were Citigroup and Goldman Sachs, two Wall Street behemoths that would very much like to pivot the national debate to anything other than Wall Street power and corruption.