By Pam Martens and Russ Martens: December 29, 2016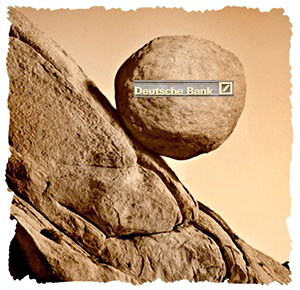 Typically, it takes two to settle bank fraud charges – the bank committing the fraud and the law enforcement agency bringing the charges. But in the case of the announcement late last Thursday evening that Deutsche Bank and the U.S. Justice Department had reached an agreement to settle claims against the bank for allegedly swindling investors in the sale of toxic residential mortgage backed securities, all that could be heard was the sound of one hand clapping in a press release issued by the defendant, Deutsche Bank. Nowhere to be found was a statement of particulars on what the bank was admitting to or a man behind a podium bearing the seal of the U.S. Justice Department in a press briefing room, as typically occurs in a real settlement.
The lack of substantive details to this "settlement" and no confirmation from the Justice Department that an agreement actually existed did not hamper expensive media real estate from running with the story. The New York Times plopped the story on the front page of its business section on Friday, December 23 – the last trading day before Christmas – under the decidedly declarative headline: "Deutsche Bank to Settle U.S. Inquiry Into Mortgages for $7.2 Billion." The Times article said the bank's statement "came ahead of a formal announcement in the case." It's now a week later and as of this writing there is still no formal announcement from the Justice Department.
The timeline for this potentially fake news spreading like wildfire at major media outlets went like this:
At 7:56 p.m. on Thursday evening, December 22, Reuters ran this headline: "U.S. sues Barclays, ex-executives for mortgage securities fraud." This headline was based on very material evidence. The U.S. Justice Department had just filed a 198-page lawsuit against Barclays in the U.S. District Court for the Eastern District of New York replete with allegations of breathtaking securities fraud. The lawsuit alleges that Barclays "knowingly securitized defaulted, delinquent, and defective" loans "to get them off Barclays' books" and then lied to investors and ratings agencies about the quality of the loans. The lawsuit makes clear that the Justice Department has the emails to back up these charges. The Justice Department also disseminated a scathing press release on Thursday evening in which it excoriated the conduct of the bank and named two executives that are being charged: Paul K. Menefee, who served as Barclays' head banker on its subprime residential mortgage backed securitizations and John T. Carroll who served as Barclays' head trader for subprime loan acquisitions.
Just 37 minutes after this Justice Department fireball was dropped on Barclays and its red-faced legal team, Reuters was running this headline: "Deutsche Bank says it has reached settlement with U.S. DoJ on mortgages case." The headline correctly indicates that Reuters is getting its information strictly on the basis of what the bank "says."
Deutsche Bank's legal team had simply released a 255-word press release to garner major headlines across big media's digital and print platforms. In actuality, it was the Seinfeld version of a settlement agreement – it was about nothing concrete. The first clue should have been the words that ran above the title of the Deutsche Bank press release: "Ad-hoc." According to the American Heritage Idioms Dictionary, used in that context, it means "improvised or impromptu." Indeed, Deutsche Bank notes in the second paragraph of its 255-word missive that "The settlement is subject to the negotiation of definitive documentation, and there can be no assurance that the U.S. Department of Justice and the bank will agree on the final documentation."
If there can be "no assurance" of a future agreement between the only two parties that can settle this case, how can this legitimately be called a settlement in headlines.
Adding to the potential for a deceptive public relations tactic on the part of Deutsche Bank, in September of this year the Wall Street Journal reported that the Justice Department was seeking $14 billion from Deutsche Bank to settle the case – almost twice what the bank now says it has reached an agreement on. The $14 billion initial tab suggests that the Justice Department has strong evidence of wrongdoing against the bank and could, as it did with Barclays, drop all that sordid laundry in a detailed complaint in Federal Court if Deutsche refuses to admit to its wrongdoing.
Another irony of big media taking the word of Deutsche Bank to write its headlines is that at the very heart of why the Justice Department is seeking billions of dollars from the bank is that it has engaged in serial deceptions.
In April of 2015, Deutsche Bank entered into a deferred prosecution agreement with the Justice Department over wire fraud and antitrust charges related to its role in manipulating U.S. Dollar LIBOR and engaging in a price-fixing conspiracy to rig Yen LIBOR. (LIBOR is an interest rate benchmark used to set rates on everything from credit cards to mortgages.) At the same time, a bank subsidiary pleaded guilty to wire fraud for manipulating LIBOR. The tab to Deutsche Bank was $775 million in criminal penalties. In June of this year, the Justice Department indicted two Deutsche Bank traders on LIBOR-rigging charges.
In November of 2015, Bloomberg News reported that "Deutsche Bank will pay $258 million and fire six employees to resolve a probe into sanctions violations from 1999 to 2006 after a string of e-mails showed employees discussed the 'tricks' used to move money in and out of Iran, Libya, Syria, Burma and Sudan."
In 2013, FHFA, the conservator of Freddie Mac and Fannie Mae, announced a $1.925 billion settlement with Deutsche Bank to resolve claims that the bank had misled the mortgage giants in the sale of mortgage-related investments. Deutsche Bank did not admit wrongdoing in that settlement.
In 2010, Deutsche Bank agreed to pay $553.6 million to the U.S. and admitted criminal wrongdoing in a fraudulent tax shelter scheme that facilitated billions of dollars in U.S. tax losses.
Even after Deutsche settles or goes to court in the current matter with the Justice Department, there are still potential new charges that may be brought. According to Ed Caesar, writing in the August 29, 2016 issue of The New Yorker, Deutsche Bank is currently under investigation by "the U.S. Department of Justice, the New York State Department of Financial Services, and financial regulators in the U.K. and in Germany" for so-called "mirror trades," a technique used to "turn rubles that were stuck in Russia into dollars stashed outside Russia."
The above list is by no means exhaustive. It is simply meant to point out that big media should know better than to rely on a global bank that has been serially charged with egregious frauds and deceptions to write its headlines.