By Pam Martens and Russ Martens: July 27, 2016
It had been in the planning for weeks and it was executed as flawlessly as the DNC's own strategy to steal the election for Hillary Clinton. As Clinton's nomination to serve as the presidential candidate was confirmed at the Democratic National Convention yesterday, hundreds of Senator Bernie Sanders' delegates staged a walkout protest, leaving large swaths of the seats in the convention center empty.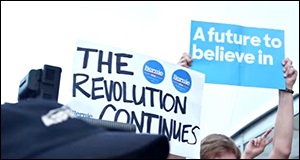 Waving signs that read "The Revolution Continues," "A Future to Believe In," "No TPP," and chanting "This is what democracy looks like," the marchers peacefully left the convention center and rallied outside. Numerous protestors wore tape or material over their mouths to protest how the DNC's actions had illegally silenced their voices. (See second video below.)
Several hundred Sanders' supporters also took over part of the media tent for the convention for a period of time. Shyla Nelson, a Sanders' delegate from Vermont, explained what was behind the action to a reporter for The Young Turks. (See first video below.) Nelson said that while Sanders' supporters respected his right to endorse Clinton, the protestors were giving a voice to the 13 million grassroots organizers and Sanders' supporters. Nelson called the system "deeply diseased."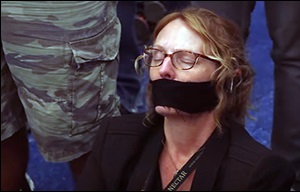 Nelson is affiliated with Election Justice USA (EJUSA), which has been tracking voter suppression and election fraud in the Democratic primaries in states like New York, Arizona and California. According to a 96-page report released by the group, they have evidence suggesting that more than 500,000 voter registrations were "tampered with or improperly handled." The report also notes:
"The widespread and illegal efforts to manipulate the election results in the 2016 Democratic Party primaries are not the only visible indications of election fraud. EJUSA has also identified irregular patterns in precinct-level Democratic vote tallies which are strongly suggestive of electronic voting machine tampering. In all eleven primaries where discrepancies between exit polling and official results exceeded the margin of error, the discrepancy favored Hillary Clinton."
Groups involved in planning the walkout included Occupy Wall Street, Bernie or Bust and Movement4Bernie. Occupy Wall Street published the following statement prior to the walkout:
"Walking out collectively from the Democratic National Convention will be the clearest and most powerful rejection of the neoliberal politics of the DNC.
"Clinton and DNC have made crystal clear to our movement that they plan to ignore us on all key issues. The choice of Tim Kaine as VP shows Clinton paid no heed to Sanders supporters on the most important political question facing her presidential campaign. She chose her neoliberal political twin as running mate, with Wall Street's enthusiastic stamp of approval. Perhaps as a signal to Corporate America, Tim Kaine only last week reasserted his full support for TPP and further banking deregulation.
"Meanwhile, the DNC Wikileaks have fully exposed how rigged the (un)Democratic primary was from start to finish, with thousands of emails showing the absolute non-neutrality of a corrupt party leadership who made the primary into utterly hostile terrain for Bernie Sanders…"
As we watched the peaceful demonstrations in Philadelphia, we were reminded of the brutal and violent methods used to quash the Occupy Wall Street movement in New York City, home of Wall Street, which is Hillary Clinton's largest donor base. One has to wonder what would have happened had Senator Sanders led his grassroots supporters in a revolt at the convention rather than acquiescing to the quintessential establishment candidate.
The crawl-under-a-rock moment of embarrassment for Sanders and Senator Elizabeth Warren (who gave a gushing, over-the-top endorsement to Clinton in a Monday night speech) will be when Clinton nominates unsavory Wall Street cronies and her wealthy, tainted donors to critical posts in her administration. As Maureen Dowd noted in her July 9 column at the New York Times, the Clintons seem to delight in contaminating brands perceived as wholesome.