By Pam Martens and Russ Martens: November 9, 2015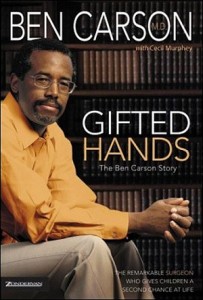 Republican Presidential candidate, Ben Carson, came under media scrutiny last week over his longstanding claim that he had been offered a "full scholarship" to West Point, which turned out to have been a mere suggestion that he might qualify for one by persons whose names he could not remember. Politico broke that story while other media outlets have challenged the accuracy of his portrayal of himself in books he has authored as prone to violence as a young man, including an attempt to stab a friend, followed by turning his life over to God and going on to become a world renown neurosurgeon. The scenario of God's redemption of Carson has greatly appealed to evangelical Christians who now form a large base of Carson's supporters for his White House bid.
One highly significant area of Carson's life that has not come under recent media scrutiny is the broad perception that Carson made history in 1987 by successfully separating Siamese twins, Patrick and Benjamin Binder, who were joined at the back of the head. Book promotion for Carson's autobiography, Gifted Hands, released on May 24, 1990, described the outcome as follows:
"In 1987, Dr. Benjamin Carson gained worldwide recognition for his part in the first successful separation of Siamese twins joined at the back of the head."
As recently as November 3 of this year, Emily Cadei wrote a feature story for Newsweek characterizing the 1987 operation as successful.
Writing in his book, The Big Picture: Getting Perspective on What's Really Important in Life, Carson describes the Binder operation as a key driver of his fame: "That one operation more than any other event in my medical career, had catapulted me to new and surprising prominence in my profession. It had opened doors throughout the world medical community. It had led to professional and personal opportunities I had never dreamed possible and provided me a platform from which to address audiences I would never have been able to reach before." That book was released on February 1, 1999. Publishers Weekly, in its review, again calls out the "successful" 1987 operation as a seminal event in Carson's life, writing: "In 1987, pediatric neurosurgeon Carson performed a successful operation that separated two twins born joined at their heads."
But by 1999, it had been clearly established to Carson and key members of the medical team that had performed the separation of the Binder twins that while the boys had survived the surgery, they would be neurologically limited for life.
On January 11, 1998, reporter Jonathan Bor wrote in the Baltimore Sun that "Patrick and Benjamin Binder of Germany, survived with severe neurological deficits that left them institutionalized."
As early as June 26, 1989 the Associated Press had reported on the poor prognosis for the Binder twins, writing:
"Nearly two years after surgeons separated a pair of West German Siamese twins connected at the head, the children remain far from normal, doctors say.
"Patrick Binder remains in 'a vegetative state,'' said David Nichols, a Johns Hopkins Children's Center pediatric anesthesiologist who participated in the surgery and now directs the hospital's pediatric intensive care unit.
"Patrick's brother, Benjamin, is improving, but is 'clearly not normal and developmentally delayed,' the doctor was quoted as saying in Monday's editions of The (Baltimore) Sun."
After the 1987 operation, Carson went on to perform at least four other surgeries on Siamese twins joined at the head. In 1994, female infants Nthabiseng and Mahlatse Makwaeba died – one during surgery and the other within hours following surgery. In 1997, Carson performed surgery on infant Siamese twins Joseph and Luka Banda in South Africa with both surviving and reported at that time to be doing well. However, at age five, CNN reported that the father of the Banda twins, David Banda, told the news outlet that "Luka's grades are very good" but "Joseph's development is slow." There have been no detailed media reports on the Banda twins in the past decade that Wall Street on Parade could locate. The Banda twins would be approximately 18 years old now with their medical outcome seemingly of major interest to a wide swath of the medical community.
In 2003, Carson was one of the lead surgeons attempting to separate 29-year old Iranian Siamese twins Ladan and Laleh Bijani. Both women, who had achieved law degrees, died. There was angry reproach from a family member, as reported by the UK Guardian newspaper.
In 2004, Carson led a team attempting to separate infants Lea and Tabea Block. Tabea died within hours of surgery. Lea appears healthy in this 2009 photograph at Johns Hopkins Children's Center.
Of the five sets of Siamese twins, or 10 individuals, which Carson surgically attempted to separate, five people died and two were institutionalized with serious neurological damage. According to the New York Times, those results are not anymore stellar than the results dating back to the 1920s. In The Times report on the Bijani adult twins, writers Wayne Arnold and Denise Grady report the following:
"Similar operations have been reported on 30 to 40 sets of infants and young children since the 1920's, but the death rate has been high, about 50 percent, and many survivors have suffered brain damage."
New York Times OpEd columnist Charles M. Blow writes in today's print edition that "Carson may no longer be a practicing physician, but he is a full-time profiteer, selling his story in books and speeches and paid handsomely to do so. Good work, if you can get it…Media observers seem to me too focused on Ben Carson the candidate. I remain focused on Ben Carson the enterprise, and apparently, so is he."