By Pam Martens and Russ Martens: June 12, 2014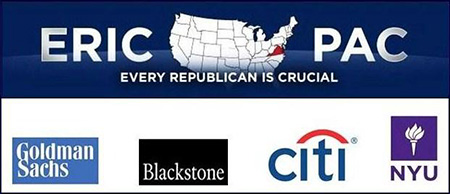 Eric Cantor's campaign may have eaten its way through $168,000 of steak dinners but big players on Wall Street are eating crow.
Between 2000 and 2007, Goldman Sachs' Chairman and CEO, Lloyd Blankfein, personally stuffed $73,500 into the Democratic Senatorial Campaign Committee to help elect Democrats to Federal office. But by 2012, Blankfein had decided that "Every Republican is Crucial" and gave just defeated Virginia Republican and House Majority Leader Eric Cantor's leadership PAC by the same name $5,000 in 2012 and another $5,000 in 2013. In addition, Blankfein gave the Cantor Victory Fund $10,200 on December 6, 2013 according to receipts at the Federal Election Commission.
In the 2013-2014 election cycle, Goldman Sachs' employees and/or their family members gave a total of $88,500 to Cantor's leadership PAC – which sluices money to Republican candidates around the country – and another $16,600 to Cantor's campaign according to the Center for Responsive Politics.
Cantor's "Every Republican is Crucial" leadership PAC (which goes by the acronym ERIC PAC) says on its web site that it is "determined to take our country back, House district by House district." With the House Majority leader now soundly defeated in Tuesday's primary in Virginia by an upstart economics professor supported by the Tea Party, David Brat, who took 56 percent of the vote and sprinkled his speeches with the phrase "crony capitalism," Wall Street money may not be able to travel from Gotham across state lines as effectively as it once did.
In addition to Goldman Sachs, among the top four corporations giving the most to Cantor's leadership PAC and his campaign committee combined, three are Wall Street entities: Goldman Sachs, Blackstone Group, and serially in trouble Citigroup. Rounding out the top four is Big Tobacco representative, Altria, previously known as Philip Morris.
On June 14, 2013, Stephen Schwarzman, Chairman and CEO of Blackstone, gave the ERIC PAC $5,000. In total, Blackstone employees and their family members gave the Cantor campaign and his leadership PAC $96,000. Blackstone's corporate PAC gave another $7,000 according to records from the FEC and the Center for Responsive Politics.
Citigroup employees and their family members gave $54,750 to Cantor's leadership PAC or his campaign while the Citigroup corporate PAC chipped in another $10,000 according to the FEC and the Center for Responsive Politics.
You are no doubt waiting to understand how and why the progressive university, NYU, ended up in the top four donors to the Cantor campaign (but not in the top four of those giving to both his leadership PAC and election campaign).
According to the Center for Responsive Politics, there are three NYU listings within the top 100 donors to Cantor's campaign: NYU Langone Medical Center at $18,050; New York University at $13,950; and NYU Medical Center at $11,400. (In all cases, the monies came from employees of the NYU entities or their family members, not the nonprofit organizations themselves.) If you add those sums together, that's $43,400, putting this progressive university in the top four of donors to this decidedly not progressive candidate. How did this happen?
According to James Covert, writing at the New York Post in July of last year, billionaire Ken Langone who is Chairman of the Board at NYU Langone Medical Center, was directly soliciting donations for Cantor at the NYU Medical Center and irked a number of faculty in doing so. One professor told the Post: "I think some people could feel pressured and threatened if they don't show up to these events."
Langone is Chairman of the investment bank, Invemed, and has populated the Board of NYU Langone Medical Center with a sprawling assortment of hedge fund and private equity titans as well as top dogs on Wall Street like Gary Cohn, President and COO of Goldman Sachs and Jamie Dimon, Chairman and CEO of JPMorgan Chase.
In addition to Langone backing Cantor, the long-serving Chairman of NYU itself, Marty Lipton of the Wall Street go-to law firm, Wachtell, Lipton, Rosen & Katz, personally chipped in $2600 to Cantor via his Cantor for Congress committee on December 17, 2013 according to the FEC.
NYU  has received withering criticism by both its faculty and the media for turning itself into a corporate model of obscene perks while students suffer under one of the highest rates of tuition in the nation and crushing student debt that has a decidedly unsavory odor to it.