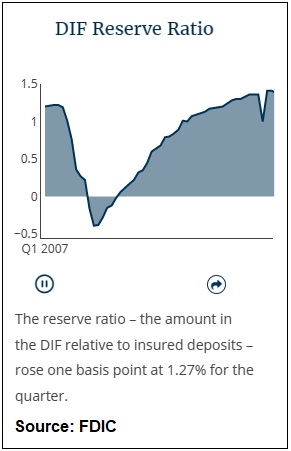 By Pam Martens and Russ Martens: March 8, 2023 ~
A very peculiar headline appeared at Bloomberg News yesterday concerning the collapsing federally-insured bank, Silvergate Bank, which became the go-to financial institution over the past few years for crypto exchanges around the globe. The headline read: "Silvergate Is in Talks With FDIC Officials on Ways to Salvage Bank." That headline moved quickly to other news outlets, which dutifully regurgitated that there was an effort underfoot by the Federal Deposit Insurance Corporation to save Silvergate Bank.
Bloomberg News then went further out on a shaky limb with this paragraph:
"Federal Deposit Insurance Corp. officials have been discussing with management ways to avoid a shutdown, according to people familiar with the matter. One possible option involves lining up crypto-industry investors to help Silvergate shore up its liquidity, said one of the people. FDIC examiners arrived at the firm's La Jolla, California, offices last week, the people said."
For starters, "FDIC examiners" are not investment bankers from Goldman Sachs or Perella Weinberg Partners. They don't arrange mergers and acquisitions. If bank examiners from the Federal Deposit Insurance Corporation are on the premises of Silvergate Bank, it is because officials of that bank put a big red target on their bank for the Feds on March 1 when it made a filing with the Securities and Exchange Commission that stated that the bank had concerns about its "ability to continue as a going concern."
The SEC filing also indicated that record-keeping at the bank is so suspect that it can't even file its annual report for the full year of 2022 (Form 10-K) on time; and it needs more time to "record journal entries." Equally troubling was the phrase that "its independent registered public accounting firm" will require more time "to complete certain audit procedures, including review of adjustments not yet recorded and the evaluation of the effectiveness of the Company's internal control over financial reporting."
And if all that weren't enough, it added for good measure that it was under multiple investigations from regulators, Congress and – oops – those folks with criminal prosecution powers – the U.S. Department of Justice.
So, to summarize, that devastating information was released seven days ago and yet, yesterday, Bloomberg News' reporters think that the Feds are on the premises of Silvergate to "salvage" the bank.
Here's an alternative theory: the FDIC bank examiners are on the premises of Silvergate Bank to find out how big a hole there is between what the bank owes to depositors, its cash on hand, and what its liquidated assets might be worth.
Silvergate's ability to find a white knight bidder to "salvage" the bank ended when gutsy U.S. Senators Elizabeth Warren (D-MA), John Kennedy (R-LA), and Roger Marshall (R-KS) released a letter on January 30 to the bank's CEO, Alan Lane. The letter revealed that the bank had been stonewalling the Senators on their inquiries about the bank's dealings with Sam Bankman-Fried's collapsed crypto exchange, FTX, and his hedge fund, Alameda Research. Federal prosecutors have charged that Alameda and its principals looted more than $8 billion from FTX customer accounts and the money is missing.
The letter from the three Senators to Silvergate CEO Lane explained the situation as follows:
"We are disappointed by your evasive and incomplete response to our December 5, 2022 letter regarding Silvergate Bank's role in the improper transfer of FTX customer funds to cryptocurrency hedge fund Alameda Research (Alameda). We wrote to you seeking information on what appeared to be an egregious failure of your bank's responsibilities to monitor and report suspicious financial activity. Your response confirms the extent of this failure – but then neglects to provide key information needed by Congress to understand why and how these failures occurred. Moreover, in the month since you provided your inadequate reply to our request for information, new reports have emerged detailing the run Silvergate Bank (Silvergate) faced in the wake of the FTX collapse, and the funding sources the bank turned to as its coffers ran low, further underscoring the need for full transparency from you and your bank.
"Most notably, new reports revealed that as it sank further into distress in 2022, Silvergate turned to the Federal Home Loan Bank (FHLB) of San Francisco for an injection of cash large enough to 'stave off a further run on deposits.' Your bank 'now holds roughly $4.6 billion in cash,' the vast majority – $4.3 billion – of which it secured as an advance from the FHLB. By using the FHLB as its functional 'lender of last resort,' Silvergate has further introduced crypto market risk into the traditional banking system. If Silvergate were to fail – as have banks facing a fraction of the withdrawal rates Silvergate has faced – FHLB could 'assert statutory lien priority on other assets – essentially putting the Home Loan bank ahead of all other creditors,' including the Federal Deposit Insurance Company's (FDIC) deposit insurance fund. Financial experts have noted that such a scenario could leave the FDIC – and therefore the American taxpayer – holding the bag."
It turns out that the people running Silvergate Bank did not quite grasp the concept of hot money. Hot money can pour in really fast to a bank and boost its deposit base but it can also drain deposits in record time, leaving the bank teetering. On January 5, Silvergate reported to the SEC that its "total deposits from digital asset customers declined to $3.8 billion" as of December 31, 2022 (down from the previously reported $11.9 billion on September 30, 2022.) That's a 68 percent drop in one quarter – an astonishing figure for a federally-insured bank in the United States.
A federally-insured bank is not some local mom and pop bakery that puts a sign on its door that it's closing due to its rent going up. A federally-insured bank is part of a complex system of deposit insurance that, ultimately, puts the U.S. taxpayer on the hook for unrecouped losses.
On an ongoing basis, the Deposit Insurance Fund (DIF) is funded primarily through quarterly assessments on insured banks. A bank's assessment is calculated by multiplying its assessment rate by its assessment base. A bank's assessment base and assessment rate are determined and paid each quarter.
According to the FDIC, the Deposit Insurance Fund (DIF) held $128.2 billion as of December 31 while the total of domestic deposits tallied up to $17.7 trillion. But some of those deposits exceed the insurance limits. According to the FDIC, as of December 31 the Deposit Insurance Fund's balance was just 1.27 percent of the insured deposits held at the nation's banks. (See chart above from the FDIC.)
That low reserve at the Deposit Insurance Fund has not been a problem heretofore but if crypto fraudsters are allowed by Congress to continue to invade federally-insured banking in the U.S., it could become a problem very fast.
That problem would not only raise the cost of insurance premiums to the ethical banks in the system but it could also do serious reputational damage to the safety and soundness of the entire U.S. banking system.