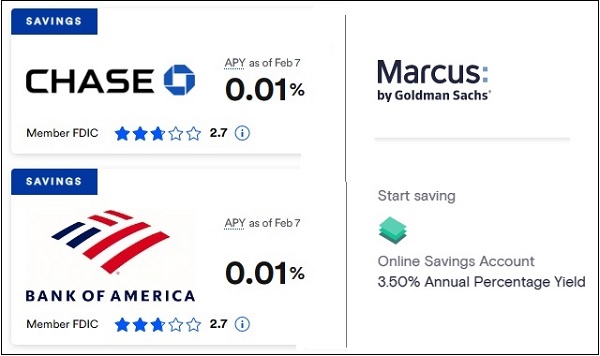 By Pam Martens and Russ Martens: February 7, 2023 ~
Goldman Sachs' online bank, Marcus, is offering an interest rate on its savings accounts that is 350 times the interest rate being offered by its competitors, JPMorgan Chase and Bank of America. That's not normal. Not normal at all. (Above screen shots were taken this morning. Chase and Bank of America screen shots come from BankRate; Marcus screen shot comes from Marcus.)
Marcus is the online banking platform offered by Goldman Sachs Bank USA – a federally-insured bank backstopped by the U.S. taxpayer. But what 99 percent of Americans don't know about Goldman Sachs Bank USA is that it is the unit of Goldman Sachs that holds trillions of dollars in derivatives, including the kind of credit derivatives that blew up the U.S. economy in 2008 and would have taken down Goldman Sachs were it not for sneaky bailouts.
According to the most recent report from the Office of the Comptroller of the Currency (OCC), Goldman Sachs Bank USA has $513.9 billion in assets and $50.97 trillion in derivatives as of September 30, 2022. Yes, you read that correctly. (See Table 24 of the OCC report.) The most dangerous of the derivatives, credit derivatives, tally up to $623.6 billion, which is $110 billion more than the bank has in assets.
This might help to explain why Goldman Sachs is offering 350 times the going interest rate of its competitors to attract deposits and shore up its capital base.
Other noteworthy things are happening at Goldman Sachs. On January 9, Reuters ran this headline: "Goldman Sachs readies biggest layoffs since the financial crisis," noting that "over 3,000 employees will be let go…."
Eight days after the ax fell on more than 3,000 workers' jobs, Goldman announced that its quarterly profit had plunged by 66 percent versus the prior year and that it was taking a $972 million provision for credit losses in the quarter. That credit loss provision compared to $344 million taken a year earlier.
Ten days later, the firm announced in a regulatory filing that its Chairman and CEO, David Solomon, would be getting a compensation package that was 29 percent less than the prior year – still an obscene $25 million for one year's toils.
Goldman is also being negatively portrayed in the business press. On Saturday, Bill Cohan reported at the Financial Times that "Goldman Sachs has lost its swagger. The market value of the venerable 154-year-old investment bank, at $121bn, is now $42bn less than its longtime arch-rival Morgan Stanley. It used to be that Goldman was the more valuable bank for many years." ("Venerable" is an interesting choice of words for Cohan to use to describe Goldman Sachs. See our report: Goldman Sachs Says Its Dark Pools Are Under Investigation – Along with About Everything Else the Firm Does.)
One day after Cohan's article ran, Emily Flitter and Katherine Rosman reported at the New York Times that Goldman's Solomon, who is pulling down a cool $25 mill at his day job, has a side hustle of DJ-ing at tiki bars and owns his own record label. (You can't make this stuff up.)
Goldman is also dealing with a big problem with its Apple credit card. On August 4 of last year, Goldman Sachs provided the following disclosure when it filed its quarterly report (10-Q) with the Securities and Exchange Commission:
"The firm is cooperating with the Consumer Financial Protection Bureau in connection with an investigation of GS Bank USA's credit card account management practices, including with respect to the application of refunds, crediting of nonconforming payments, billing error resolution, advertisements, and reporting to credit bureaus."
As it turns out, there are hundreds of complaints filed with the Consumer Financial Protection Bureau by consumers using the Apple credit card that is provided by Goldman Sachs. The Apple credit card holders allege being put through a living hell by Goldman Sachs when fraudulent charges are made on their Apple credit card, along with a host of other problems. In typical Goldman Sachs style, it has managed to earn the hostility of everyday consumers, airline pilots, and even a police officer with its handling of credit card complaints.
The Apple credit card via Goldman Sachs was launched three years ago in August of 2019. Goldman wrote at the time: "Goldman Sachs is the issuer of the card and is responsible for underwriting, customer service, the underlying platform and all matters related to regulatory compliance through Goldman Sachs Bank USA."
On January 13, Sridhar Natarajan at Bloomberg News reported how the Apple credit card was racking up losses at Goldman Sachs' Platform Solutions division:
"The division's $1 billion pretax loss reported for 2021 was mostly tied to the Apple Card, people with knowledge of the numbers said. And about $2 billion [in losses] in 2022 mainly stems from the Apple card and installment-lending platform GreenSky, the people said."
Is it possible that Goldman Sachs needs a CEO with no side hustles?