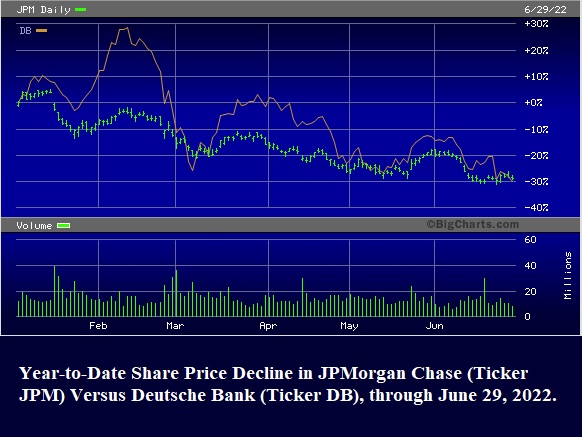 By Pam Martens and Russ Martens: June 30, 2022 ~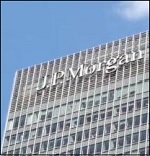 JPMorgan Chase's stock has lost 27 percent of its market value year-to-date through its June 29 closing price. But more disturbing than that is the above chart showing that the behemoth German lender, Deutsche Bank, has been trading like a clone of JPMorgan Chase for the past two months. Deutsche Bank's stock price is down just one percentage point more than JPMorgan Chase year-to-date. JPMorgan Chase is the largest federally-insured bank in the United States.
Looking like one is tied with an umbilical cord to Deutsche Bank has its perils on Wall Street. Let's start with the raids on the Deutsche Bank's headquarters, two of which coincided with dead bodies turning up.
On November 29, 2018, Deutsche Bank's headquarters in Germany were raided by 170 members of law enforcement. Prosecutors explained the action by stating that "Deutsche Bank helped customers found offshore organizations in tax havens by transferring illegally acquired money without alerting authorities to suspected money laundering." On September 24-25, 2019, the German police raided Deutsche Bank headquarters for the second time in less than a year. That raid was related to the $220 billion money laundering probe of Danske Bank, Denmark's largest lender. Deutsche Bank served as correspondent bank to Danske's Estonia branch where the laundering is alleged to have occurred. On September 25, as the raid was ongoing, the body of Aivar Rehe who previously ran the Estonia business of Danske Bank, was discovered by police in Estonia. Rehe had been questioned by prosecutors and was considered a key witness in the probe. Rehe's death was ruled a suicide.
On April 29 of this year, Deutsche Bank was raided again. The Financial Times reported that "Germany's federal police office, criminal prosecutors and the country's financial watchdog BaFin are raiding Deutsche Bank's headquarters in Frankfurt" this morning, according to a statement from prosecutors.
The April raid came just four days after the body of Valentin (Val) Broeksmit, 46, was discovered at Woodrow Wilson High School in El Sereno, just outside of Los Angeles. Val Broeksmit was the son of William Broeksmit who was found hanged in his London home on January 26, 2014. The senior Boreksmit was a top executive at Deutsche Bank involved in assessing risk on the bank's balance sheet.
According to a profile of Val Broeksmit written by David Enrich in the New York Times in 2019, the younger Broeksmit had obtained "a cache of confidential bank documents" left by his father that provided a "tantalizing" look into the internal workings of Deutsche Bank. Val Broeksmit was sharing the documents with the FBI.
Deutsche Bank had attempted to merge with Commerzbank in 2019 but the deal fell through, resulting in Deutsche Bank announcing plans to fire 18,000 workers in July 2019. Deutsche Bank also said it would be creating a good bank/bad bank, to separate toxic assets that it planned to sell. Since 2007, Deutsche Bank's share price has lost 92 percent of its market value. Nobody – absolutely nobody – wants their share price to be trading as a clone to Deutsche Bank.
Deutsche Bank is heavily tied to Wall Street because of its activities as a derivatives counterparty. In June 2016, the International Monetary Fund (IMF) released a report that found that Deutsche Bank posed the greatest threat to global financial stability than any other bank because of its interconnections to Wall Street megabanks and large banks in Europe. (See graph below.) JPMorgan Chase was one of the banks with the largest amount of exposure to Deutsche Bank.
JPMorgan Chase and Deutsche Bank have another thing in common. They were both secretly tapping trillions of dollars in cumulative repo loans from the Fed, beginning in September 2019 and accelerating into the last quarter of 2019. These emergency repo loans from the Fed occurred months before there was any COVID pandemic crisis and then continued into 2020 when the pandemic hit. According to the transaction data released by the New York Fed two years after the repo loans began, out of the 25 primary dealers that were taking these loans in 2019, JPMorgan Chase ranked number two in the dollar amounts borrowed; Deutsche Bank ranked number six. (See chart below.)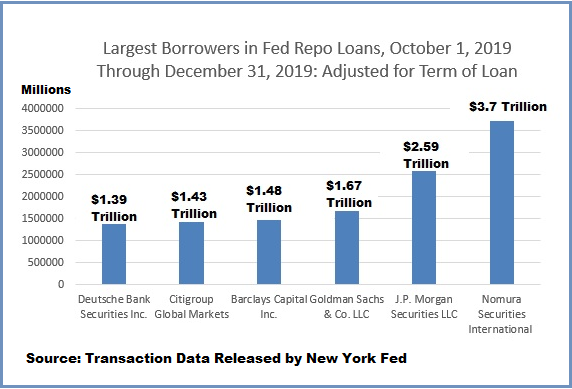 Deutsche Bank and JPMorgan Chase have one more thing in common: their rap sheets. For a sampling of Deutsche Bank's crime wave, see below. For a sampling of JPMorgan Chase's unprecedented history of crime, see its Rap Sheet here.
A Sampling of Deutsche Bank's Rap Sheet:
April 23, 2015: Deutsche Bank pleads guilty to the U.S. Department of Justice for its role in rigging the benchmark interest rate known as Libor. It pays fines of $2.519 billion to various regulators.
January 17, 2017: Deutsche Bank reaches a settlement with the U.S. Department of Justice in which it agrees to pay $7.2 billion in fines and restitution for its improper "packaging, securitization, marketing, sale and issuance of residential mortgage-backed securities (RMBS) between 2006 and 2007."
January 30, 2017: Deutsche Bank is fined a total of $630 million by U.S. and U.K. regulators over claims it laundered upwards of $10 billion on behalf of Russian investors.
January 29, 2018: Deutsche Bank is ordered to pay $30 million by the Commodity Futures Trading Commission for manipulating trading in the precious metals market.
November 8, 2019: Nomura and Deutsche Bank, along with numerous employees, were convicted in a trial in Italy for helping the Tuscan bank, Monte dei Paschi di Siena, commit fraud in derivatives deals to help it hide losses.
January 18, 2020: The Commodity Futures Trading Commission fines Deutsche Bank $10 million to settle two cases: one involving failure to properly report swap transactions and the other for spoofing.
July 7, 2020: The New York State Department of Financial Services settles a state civil matter with Deutsche Bank for $150 million over its involvement with child sex trafficker Jeffrey Epstein.
October 13, 2020: The Frankfurt, Germany Public Prosecutor's Office fined Deutsche Bank €13.5 million for failing to submit Suspicious Activity Reports in a timely fashion regarding potential money laundering activities.
January 8, 2021: The Justice Department and Securities and Exchange Commission settle charges against Deutsche Bank for $120 million for violating the Foreign Corrupt Practices Act. The charges related to paying bribes to foreign officials to obtain business.