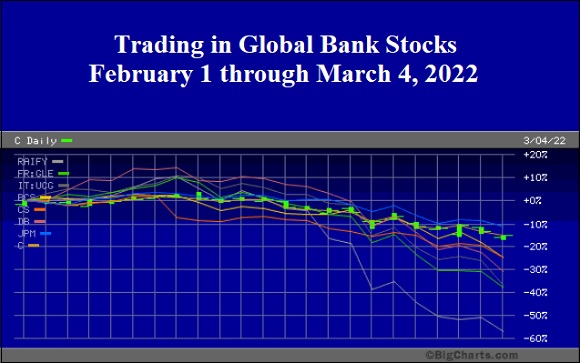 By Pam Martens and Russ Martens: March 7, 2022 ~
There is a known $41 billion in Credit Default Swaps (CDS) on Russian debt. There is likely many billions more in unknown amounts. There are also billions more in Credit Default Swaps on state-owned Russian corporate debt and non state-owned Russian corporate debt.
In addition to Wall Street not knowing which global banks and other financial institutions are on the hook to pay out on the Credit Default Swap protection they sold in case of a Russian sovereign debt default (or Russian corporate debt default), there is also approximately $100 billion of Russian sovereign debt (whose default is looking more and more likely) sitting on the balance sheets of foreign banks.
Put it all together and you have the makings of a replay of the 2008 banking crisis when banks backed away from lending to each other because they didn't know who would fall next from toxic subprime exposure. That led to a liquidity crisis and the unprecedented involvement of the Federal Reserve secretly pumping trillions of dollars into the megabanks on Wall Street and their foreign derivative counterparties.
The cost of buying a five-year Credit Default Swap on Russian debt has spiked from 5 percent of the total value of the debt in early February to 46 percent last Friday to 58 percent this morning. The market has now priced in an 80 percent likelihood of default.
Russia's debt was downgraded to junk status on February 25 by Standard and Poor's. On March 3, Moody's and Fitch downgraded the debt by six notches, also placing it in junk territory.
As the chart above indicates, the share prices of global banks with ties to Russia have been plunging since Russia began massive deployment of troops on the border of Ukraine and particularly since the invasion of Ukraine on February 24.
Reuters reported on February 28 that Citigroup has $10 billion in exposure to Russian loans and various other types of Russian exposure. Given Citigroup's history of understating its subprime exposure during the financial crisis of 2008, that $10 billion may not be the whole story. On February 1, Citigroup closed the trading day at $66.56. It closed last Friday at $56.59 – a decline of 15 percent.
Citigroup's commercial bank, Citibank, also has a significant commercial banking presence in Russia. Its website reports that it is "a key banking partner for about 3000 corporate clients including more than 600 global subsidiaries (virtually all of 500 Fortune companies), leading Russian companies and mid-sized clientele." Its website notes further that it has branches servicing approximately 500,000 individual customers in 10 major cities in Russia, including: Moscow, St. Petersburg, Yekaterinburg, Nizhny Novgorod, Samara, Sochi, Rostov-on-Don, Volgograd, Ufa and Kazan. Its operations center is located in Ryazan. The bank's Russian website lists the following services to Russian clients: "…cash management, trade finance, investment banking, corporate finance, lending, FX [foreign exchange] and hedging services, securities services, issuer services and retail banking solutions, including wealth management, credit cards and personal loans."
Interestingly, while a growing stream of famous brands like Hermes, Cartier, Nike, Apple, Ikea, Ford, Toyota, Disney, British Petroleum, Shell, ExxonMobil, FedEx, UPS, American Express, Mastercard and Visa (and numerous others) have announced they are closing stores, suspending services, or halting shipments to Russia – Citibank has made no announcement of closing its branches in Russia.
One of the largest foreign banks in Russia is Austria's Raiffeisenbank (shown under the symbol RAIFY on the above chart). It closed at $7.35 on February 2, 2022 versus $3.20 last Friday – a decline of 56 percent in a little over a month's time. Raiffeisenbank notes on its Russian website that it is "one of 13 systemically important banks in Russia," that it ranks number 10 by assets and number 8 by the number of retail customers. Its regional network in Russia includes five branches and 116 outlets.
Another global foreign bank with large operations in Russia is the French global bank Societe Generale's Rosbank (shown on the chart above under the symbol FR:GLE). According to its website, it has 5 million individual clients in Russia and 9,000 large corporate clients. Societe Generale's share price closed at $33.33 on February 1 of this year. Last Friday, it closed at $20.80 – a decline of 38 percent.
Italy's UniCredit also has large operations in Russia. Reuters reports that UniCredit's Russian bank is the 12th largest bank in the country with 7.8 billion Euros in customer loans at the end of last year. Its shares are shown under the symbol IT:UCG on the above chart. Its shares closed at $14.25 on February 2 versus $9.00 last Friday – a decline of 37 percent.
Other global banks like JPMorgan Chase (JPM), Deutsche Bank (DB), Barclays (BCS) and Credit Suisse (CS), which have significant derivative exposures in general, have also experienced significant share price declines since Russia invaded Ukraine.