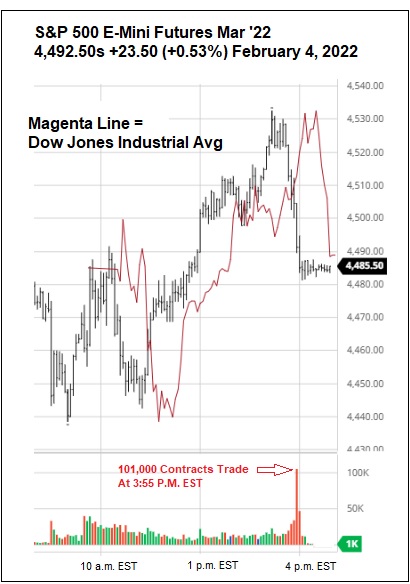 By Pam Martens and Russ Martens: February 7, 2022 ~
Winston Churchill once described Russia as "a riddle, wrapped in a mystery, inside an enigma." The same could be said of Bloomberg LP, parent of Bloomberg News, which last Friday ran the false headline "Russia Invades Ukraine." For still unexplained reasons, the headline was left up for at least 24 minutes on the digital front page of Bloomberg News.
But as the hundreds of thousands of traders around the globe that use the Bloomberg Data Terminal well know, Bloomberg News first publishes many of its headlines on the Bloomberg Data Terminal – the cash cow of Bloomberg LP that has made its majority owner, Michael Bloomberg, a billionaire. Bloomberg's largest customers for its Data Terminals include Wall Street megabanks like JPMorgan Chase that it also provides news coverage on via Bloomberg News. (Sometimes that coverage leaves a lot to be desired.)
Exactly when traders saw that headline is not precisely known. Bloomberg News said this in its statement: "We prepare headlines for many scenarios and the headline 'Russia Invades Ukraine' was inadvertently published around 4 p.m. ET today on our website. We deeply regret the error. The headline has been removed and we are investigating the cause." Right next to that statement was the black box with the familiar reminder: "Before it's here, it's on the Bloomberg Terminal."
What is known, from the chart above, is that 101,000 contracts in the E-mini S&P 500 futures traded at approximately 3:55 p.m. EST as the S&P 500 futures plunged, ostensibly as a result of that headline. That was, by far, the largest number of E-mini S&P 500 contracts traded in a short time span all day. If someone needed to exit a short position at a tidy profit, that was a very convenient headline. Stock exchanges in New York close at 4 p.m. weekdays. But the E-mini S&P 500 futures contract trades almost around the clock, from Sunday evening until 5 p.m. EST on Friday.
Bloomberg LP isn't just the owner of Bloomberg News and the Bloomberg Data Terminal. It also owns a trading platform called Tradebook, which is in business with Goldman Sachs. Tradebook's website tells us this:
"Equity: Institutional buy-side firms can access Goldman Sachs' world-class execution platform, robust liquidity offering, and breadth of global services through Bloomberg Tradebook. Clients can save invaluable time and make more informed trading decisions by leveraging Bloomberg's world-class data, analytics and technology all directly from the Terminal."
Goldman Sachs is not the first Wall Street firm to have a business relationship with Bloomberg. The giant brokerage firm, Merrill Lynch, now owned by Bank of America, was a minority owner of Bloomberg LP from its very beginning. After previously selling part of its stake back to Bloomberg, Merrill sold its remaining 20 percent stake back to Bloomberg in 2008 in the midst of the financial crisis.
Bloomberg LP has another division that would not appear to be ideal for a publisher of financial news. It's called "External Relations." The Bloomberg website includes the following description of how the "Corporate Communications" unit of External Relations works:
"We partner with senior business leaders across the world and work directly and regularly with Bloomberg's management committee. We advise, write and edit on behalf of these leaders as we communicate company news and innovations to our worldwide client base, global financial markets and our employees."
Bloomberg LP also does a significant amount of lobbying of the federal government. Since 2010, it has spent more than $6.2 million lobbying on issues that could negatively impact the profits of its Data Terminal and trading platform.
This is not the profile of a business that we can reconcile with an independent news organization covering Wall Street.