By Pam Martens and Russ Martens: December 1, 2021 ~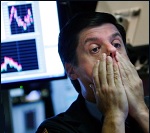 If you're a stock market watcher you might want to invest in a neck brace if today's whipsawing action is any gauge of what's ahead.
Just this morning we warned our readers to buckle up for the unwinding of the massive stock market bubble that Fed Chair Powell has been feeding with his keys to an unlimited, electronic-money printing press and his zero-interest-rate policy.
As if on cue, the Dow Jones Industrial Average put on a firework display today, first zooming to an intra-day high of 35,004.64, then plunging to a low of 34,006.98. By the closing bell, the Dow was down 461.68.
The decline in the Dow began shortly after 11 a.m. – almost three hours before the news broke that the first case of the new COVID variant, Omicron, had been reported in California. An Associated Press report was aired by Fox News at 1:52 p.m. indicating that the reported case came from a fully vaccinated person who had returned from South Africa on November 22, according to the CDC.
At the time of the Omicron news, the VIX (CBOE Volatility Index) was trading around 26. It proceeded to spike to over 32 before closing at 31.12. Oil went in the other direction on concerns of an economic slowdown. West Texas Intermediate (WTI), the U.S. domestic crude, which traded in the early part of November with an $85 handle, closed today at $65.62.
The airlines, anticipating a reluctance to travel by vacationers and business people until there is more clarity on the new COVID variant, were hard hit today. American Airlines lost 7.97 percent; United Airlines gave up 7.57 percent; Delta closed down 7.38 percent; and Southwest Airlines closed in the red by 4.17 percent.