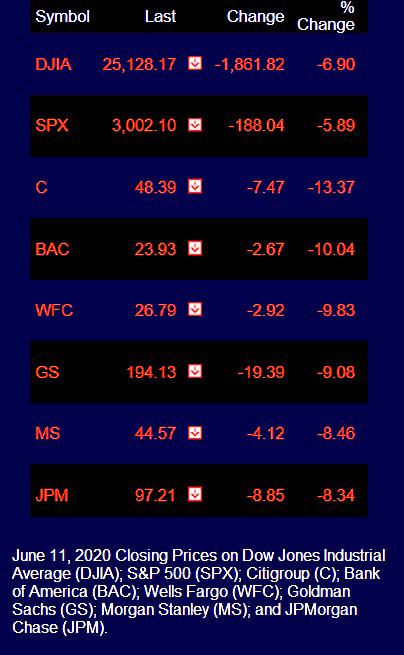 By Pam Martens and Russ Martens: November 30, 2021 ~
President Joe Biden clearly needs a new communications team that can explain to him the meaning of "under promise, outperform." Biden began yesterday's press conference on the newly discovered COVID variant, Omicron, stating that he had promised to always tell the American people the truth. Then he proceeded to deliver a pep talk devoid of hard evidence for the rosy promises he was making about his strategy for fighting the new Omicron variant.
At one point, Biden told reporters that this Thursday he would be "putting forth a detailed strategy on how we're going to fight COVID this winter – not with shutdowns or lockdowns, but with more widespread vaccinations, boosters and testing and more." At this point, there is zero hard evidence that the current vaccines provide significant immunity against the Omicron variant. Scientists around the world have said that it will take two to three weeks to determine existing vaccine effectiveness against the new variant.
A reporter asked Biden why he would take shutdowns and lockdowns off the table. Biden responded that if the American people are vaccinated and wearing their masks there's no need for the lockdown, but as of Monday's press conference, even Pfizer and Moderna, the makers of the two major vaccines used in the U.S., had no idea if their vaccines were effective against this new strain of COVID.
Pfizer CEO Albert Bourla stated yesterday that it will take two to three weeks to be able to determine how well the Pfizer vaccine works against Omicron. Moderna published a statement on the company's website this past Friday which stated:
"The recently described Omicron variant includes mutations seen in the Delta variant that are believed to increase transmissibility and mutations seen in the Beta and Delta variants that are believed to promote immune escape. The combination of mutations represents a significant potential risk to accelerate the waning of natural and vaccine-induced immunity."
Moderna further clarified its position in an interview in the Financial Times that was published early this morning, sending Dow Jones Industrial Average futures down more than 400 points before the stock market opened in New York.
The Financial Times quoted Stéphane Bancel, CEO of Moderna, as stating:
"There is no world, I think, where [the effectiveness of the current vaccines] is the same level…we had with [the] Delta [variant]."
Bancel added:
"I think it's going to be a material drop. I just don't know how much because we need to wait for the data. But all the scientists I've talked to…are like, 'This is not going to be good.' "
Winter is already upon much of the United States, forcing people indoors and thus more prone to spreading COVID. Pfizer CEO Albert Bourla said yesterday that if a new vaccine is required to provide immunity to the Omicron variant, it could take up to 100 days to get the vaccine tested and into production. That's more than three months from now when the worst of the winter season will have already passed.
During Biden's press conference yesterday, a reporter from the Wall Street Journal noted that the U.K. and various countries in Europe have already reported cases of Omicron and asked if Biden was considering additional travel restrictions. (The U.S. Centers for Disease Control and Prevention (CDC) and U.S. State Department on Saturday advised against travel to eight southern African countries after cases of Omicron were reported in the region.) For a list of all countries reporting cases of Omicron, see here.
Biden said the degree of the spread will determine if there is a need for additional travel restrictions. The reporter also reminded Biden that while he is calling on U.S. residents to wear masks at public indoor settings, many states and cities, including Washington, D.C., have lifted indoor mask mandates. The reporter wanted to know if Biden was going to ask states and cities to reinstate mask mandates. Biden said he was just encouraging people to wear their masks at indoor settings.
The stock market initially had a positive reaction to Biden's pep rally, with the Dow Jones Industrial Average closing up 236.6 points. The stock market has since had time to parse Biden's words against statements from the scientific community. At 8:34 a.m. ET this morning, Dow futures are down 416 points.
President Biden has no doubt conferred with Fed Chair Jerome Powell, who is likely fingering his worry beads over a replay of March to early June of 2020. At that time the mega banks on Wall Street, which are trading casinos in drag as federally-insured commercial banks, were tanking as the COVID pandemic spread around the world.
The chart above from June 11, 2020 came one day after Powell stated the following at a press conference:
"You have a banking system that is so much better capitalized, so much stronger, better aware of its risks, better at managing its risks, more highly liquid. You have all of those things and they've been lending, they've been taking in deposits, they've been a source of strength in this situation."
Powell has stuck with that mantra throughout this year. As Biden's nominee to Chair the Fed for another four years, the last thing Powell (or Biden) wants to see are more charts like the one above necessitating another round of bank bailouts.