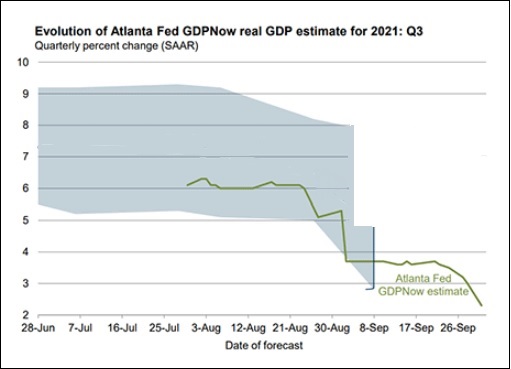 By Pam Martens and Russ Martens: October 5, 2021 ~
The closely watched Atlanta Fed's GDPNow forecast  for real GDP growth for the third quarter has been slashed by 63 percent since August 2 when the forecast was for 6.3 percent growth. The forecast now stands at a dismal 2.3 percent growth rate as of 7:30 a.m. (EDT) this morning. The Atlanta Fed's GDPNow forecast could be revised further today after the 10:00 a.m. release of the International Trade and ISM Nonmanufacturing Index. (The GDPNow update typically occurs within a few hours of a new data release.)
The Atlanta Fed's GDPNow model is the seasonally adjusted annual rate. It comes with the following caveat:
"GDPNow is not an official forecast of the Atlanta Fed. Rather, it is best viewed as a running estimate of real GDP growth based on available economic data for the current measured quarter…."
The U.S. is a consumer-based economy with consumer spending representing approximately two-thirds of GDP growth. Taking the pulse of the consumer is thus an important gauge of what might be ahead for the U.S. economy.
Weighing on a less than rosy consumer outlook is the growing awareness that COVID-19 is not going to "magically disappear" anytime soon; that wearing masks and social distancing are now a part of everyday life in America; that supply chain bottlenecks and rising commodity prices are pushing up inflation and raising prices to consumers; and that political gridlock in Washington is making all of the country's problems worse.
The mood of the consumer is darkening. The Conference Board's Consumer Confidence Index fell further in September, after declines in both July and August. The Index now stands at 109.3 from a reading of 128.9 in June – a 15 percent drop. The latest report was released on September 28 and noted the following:
"Consumer confidence dropped in September as the spread of the Delta variant continued to dampen optimism. Concerns about the state of the economy and short-term growth prospects deepened, while spending intentions for homes, autos, and major appliances all retreated again. Short-term inflation concerns eased somewhat, but remain elevated."
Adding to the loss of optimism is an alarming trend of low confidence in the major institutions in America. Gallup releases an annual poll of Americans' confidence in major U.S. institutions. The latest poll was released on July 14.
According to the latest Gallup poll, Americans who have "a great deal" or "quite a lot" of confidence in America's banks has fallen 5 points from 2020 to just 33 percent in the current poll. Since the mega banks in the U.S. effectively are the U.S. financial system, that poll number can be read to mean that two-thirds of Americans lack significant confidence in the U.S. financial system. Technology companies have lost ground as well, falling from 32 percent to 29 percent. (The revelations from the Facebook whistleblower, Frances Haugen, on Sunday evening's Sixty Minutes, with more revelations scheduled for a hearing by the Senate Subcommittee on Consumer Protection, Product Safety, and Data Security at 10 a.m. this morning, are likely to push that poll number lower in the next annual reading.)
The Gallup poll shows that Big Business ranks even lower than banks and technology companies, with just an 18 percent confidence reading. And at the bottom of the heap is Congress, with just a 12 percent confidence rank. It's pretty clear that if Congress stopped taking campaign money from Big Business, it would improve its ranking.