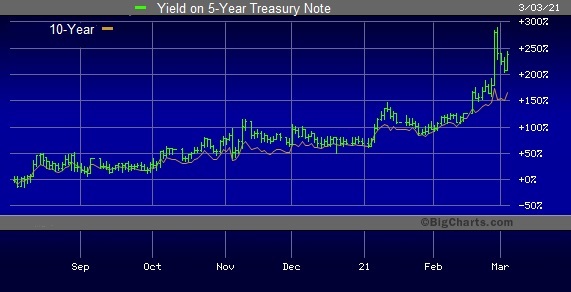 By Pam Martens and Russ Martens: March 4, 2021 ~
Pull up a chair and get comfy. You're about to watch the first act in what is likely to be a long-running show called "The Great Tech Wreck of Zero-Dividend Stocks." The show's sponsor is rising yields on U.S. Treasury notes which make tech stocks that have ballooned in price (as the Fed held interest rates artificially low) and pay no cash dividends to compete with the rising yields, particularly unattractive.
As the chart above indicates, yields on the 5-year and 10-year U.S. Treasury Notes have been rising sharply since early August, with the yield more than tripling on both. The 10-year Note has moved from 0.50 percent since early August to 1.46 percent early this morning. In the same span of time, the yield on the 5-year note has spiked from 0.20 percent to 0.72 percent.
The upward surge in yields comes despite the fact that the Federal Reserve has been buying $80 billion each month in various maturities of Treasury notes and bonds. That started in June of last year. As of this past Wednesday, the Fed owned $4.8 trillion of Treasury securities, the majority of that resulting from its purchases of Treasuries (QE programs) after the 2008 Wall Street crash.
If you want to keep tabs on how this show plays out going forward, the Ark Innovation ETF (Exchange Traded Fund; Symbol ARKK) is a good chart to watch. It lost 6.29 percent yesterday but some of its top ten holdings were down as much as 8 to more than 10 percent. ARKK has been in a steep descent since mid February. Not one of its top-ten holdings pays even a penny of cash dividends. (See chart below.)
ARKK's largest holding is electric vehicle maker, Tesla, headed by SEC tormenter, Elon Musk. Tesla states this on the company's website: "Tesla has never declared dividends on our common stock. We intend on retaining all future earnings to finance future growth and therefore, do not anticipate paying any cash dividends in the foreseeable future."
Another giant tech name that pays no dividend is Amazon. Its share price is down more than 15 percent since September.
Most Americans do not realize that cash dividends on stocks have historically represented, in real terms (after inflation), approximately 75 percent of stocks' long-term total return.
The late John Bogle wrote about this in his book: Don't Count on It!: Reflections on Investment Illusions, Capitalism, "Mutual" Funds, Indexing, Entrepreneurship, Idealism, and Heroes. Bogle was the founder of the low-cost mutual fund company, Vanguard Group. Bogle wrote:
"Theory tells us, and experience confirms, that dividend yields play a crucial role in shaping stock market returns. In fact, the dividend yield on stocks has accounted for almost one-half of their total long-term return…
"When we take inflation into account, the importance of dividend income is magnified even further. During the past century, the average rate of inflation was 3.3 percent per year reducing the nominal 5 percent earnings growth rate to a real growth rate of just 1.7 percent. Thus, the inflation-adjusted return on stocks was not 9.6 percent, but 6.3 percent. In real terms, then, dividend income has accounted for almost 75 percent of the annual investment return on stocks."