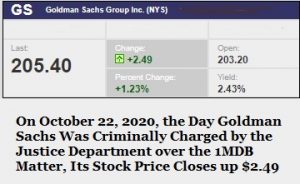 By Pam Martens and Russ Martens: October 23, 2020 ~
If you needed further proof that crime pays on Wall Street, look at the chart above. Goldman Sachs and its Malaysian subsidiary were criminally charged yesterday by the Justice Department, they admit to the charges, and its stock closed up on the day by $2.49.
The U.S. Department of Justice is being played like a fiddle at a tractor meet. Those big white shoe law firms that handle increasingly dirty cases against the mega banks on Wall Street have twice, in a period of just three weeks, managed to get the Justice Department to announce settlements of landmark criminal cases against two of the largest banks on Wall Street on the day of presidential debates when the public and the media are not paying attention to Wall Street.
On September 29, the day of the first presidential debate between President Donald Trump and former Vice President Joe Biden, the Justice Department brought two criminal counts against JPMorgan Chase for "tens of thousands of instances of unlawful trading in gold, silver, platinum, and palladium…as well as thousands of instances of unlawful trading in U.S. Treasury futures contracts and in U.S. Treasury notes and bonds…." That was the date of the first presidential debate.
To prevent the possibility that a reporter or two in the audience might ask the Justice Department why it was giving JPMorgan Chase a Deferred Prosecution Agreement when these were the fourth and fifth criminal counts it has brought against JPMorgan Chase in the past six years, (it has admitted guilt to all of the charges) the Justice Department simply skipped its usual procedure and did not hold a press conference announcing the charges. (Read our reporting here.)
The second presidential debate was cancelled. Yesterday was the date of the final and highly anticipated presidential debate. So that's when Goldman Sachs' outside counsel wanted to have the criminal charges announced against its client, in the looting and bribery scandal known as 1MDB. And that's what happened.
This time, however, because the 1MDB case had become an international scandal, the Justice Department did hold a press conference to announce the charges. You can watch that press conference in the video below and read the detailed charges here.
For the back story on this scandal, read our reporting here.