By Pam Martens and Russ Martens: July 2, 2019 ~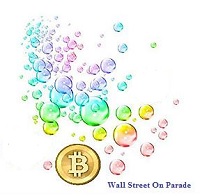 While the Securities and Exchange Commission and Congress finesse a delicate dance around the potential criminality of Bitcoin trading and other cryptocurrencies, NYU Professor and economist Nouriel Roubini has launched a savage attack on the "currencies," calling them "a joke," a "scam," a "sh*tcoin," and no better than "cocaine drug pushers."
Not to put too fine a point on it, but Roubini is also the man who correctly called the impending financial crisis that landed in 2008 while Federal regulators wore their blinders about the corruption and leverage building inside the largest banks on Wall Street.
Roubini, a long-time critic of Bitcoin, has launched his fiercest comments on cryptocurrencies in the past 24 hours on his Twitter page and in an interview on Bloomberg TV. In the Bloomberg interview, Roubini had this to say:
"Crypto currencies are not even currencies. They're a joke…The price of Bitcoin has fallen in a week by how much – 30 percent. It goes up 20 percent one day, collapses the next. It is not a means of payment, nobody, not even this blockchain conference, accepts Bitcoin for paying for conference fees cause you can do only five transactions per second with Bitcoin. With the Visa system you can do 25,000 transactions per second…Crypto's nonsense. It's a failure. Nobody's using it for any transactions. It's trading one sh*tcoin for another sh*tcoin. That's the entire trading or currency in the space where's there's price manipulation, spoofing, wash trading, pump and dumping, frontrunning. It's just a big criminal scam and nothing else."
(That last sentence could equally describe what's going on among high frequency traders at hedge funds and big banks on Wall Street — but we digress.)
Later in the interview, Roubini adds this: "There are millions of degenerate gamblers that are retail suckers, and they're gonna create something where they can leverage not 10 times, not 50 times, but 100 times. It's worse than those drug pushers who give you crack cocaine for free to get you addicted and then lead you to be broke…." (See the interview at 19:30 elapsed time on the Bloomberg video here.)
The heated rhetoric is coming one day before a much-hyped "Tussle in Taipei" where Roubini will debate BitMEX cofounder and CEO Arthur Hayes at the Asian Blockchain Summit. BitMEX is a cryptocurrency exchange. The war of words between the two is beginning to sound a lot like the rhetoric leading up to the famous "Rumble in the Jungle" boxing match between George Foreman and Muhammad Ali in 1974. (Ali won in a knockout victory.)
The next main event on cryptocurrencies will be a hearing called by the House Financial Services Committee at 10 a.m. on Wednesday, July 17. The hearing is titled "Examining Facebook's Proposed Cryptocurrency and Its Impact on Consumers, Investors, and the American Financial System." That hearing follows an announcement in June that Facebook, a company already under wilting criticism for its stealthy collection of data on users and management practices, was planning to launch a cryptocurrency called Libra. Maxine Waters, the Chair of the House Financial Services Committee, issued the following statement at the time:
"Facebook has data on billions of people and has repeatedly shown a disregard for the protection and careful use of this data. It has also exposed Americans to malicious and fake accounts from bad actors, including Russian intelligence and transnational traffickers. Facebook has also been fined large sums and remains under a Federal Trade Commission consent order for deceiving consumers and failing to keep consumer data private, and has also been sued by the government for violating fair housing laws on its advertising platform.
"With the announcement that it plans to create a cryptocurrency, Facebook is continuing its unchecked expansion and extending its reach into the lives of its users. The cryptocurrency market currently lacks a clear regulatory framework to provide strong protections for investors, consumers, and the economy. Regulators should see this as a wake-up call to get serious about the privacy and national security concerns, cybersecurity risks, and trading risks that are posed by cryptocurrencies. Given the company's troubled past, I am requesting that Facebook agree to a moratorium on any movement forward on developing a cryptocurrency until Congress and regulators have the opportunity to examine these issues and take action. Facebook executives should also come before the Committee to provide testimony on these issues."
Yesterday, in an editorial, the U.K.'s Guardian newspaper had this to say about Facebook's Libra:
"Obviously, many people would be extremely unhappy to trust Facebook with an even more intimate knowledge of their spending habits than it already has. Although the company now claims that it would never use the knowledge acquired by its money-handling business to increase the efficiency of its advertising business, it made similar promises when it acquired WhatsApp.
"But Facebook's ambitions for Libra go beyond a simple electronic payment system, like WeChat Pay or even PayPal. These are all means of transferring existing currencies around the world. Facebook wants to build not only the transfer system, but the currency itself. This will be embarrassing for the company if it fails, and potentially disastrous for the world if it succeeds."
As for our own take on Bitcoin, see our 2014 article: Bitcoins, Tulips, and the Madness of Crowds.